Kormac will perform the latest incarnation of his epic orchestral show, Equivalent Exchange at the inaugural Puca Festival on Saturday, November 2nd - below, he writes for Culture about his journey from DJ to Big Band leader to 'one of the best moments of my career' - writing a large-scale work for orchestra.
I remember it so well - walking into that first rehearsal with the Irish Chamber Orchestra at their studio in Limerick with a huge bunch of sheet music under my arm. 
I was terrified.  
We need your consent to load this YouTube contentWe use YouTube to manage extra content that can set cookies on your device and collect data about your activity. Please review their details and accept them to load the content.Manage Preferences
Watch: Kormac and the Irish Chamber Orchestra perform Equivalent Exchange
I began my career DJing and releasing sample-heavy, hip hop influenced records mainly aimed at the dancefloor. 
Requests for a live show meant I gradually started bringing live instruments into club environments which, at the time, wasn't too common. 
Kormac's Big Band - my own 10-piece live ensemble made up of brass, vocals, drums, bass and electronics - was born from these early forays and a lot of people would know me best for KBB shows we played at festivals here in Ireland and all over the world.  
I'd watched a lot of artists I admire beginning to work with string sections and larger orchestras and always thought "I'd love to do that", and I was filled with ideas on how I would go about it. Instead of using the orchestra to play music I had already written, I imagined writing a whole new suite of music for them to play. I would build it from the ground up. In any case, I filed this away under "one for the future" as it was a massive ask, for a whole bunch of reasons.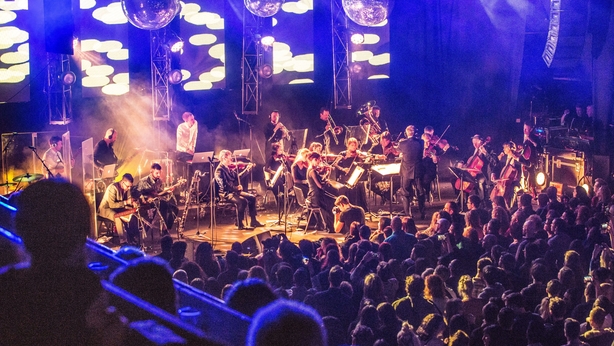 In 2017, through a serendipitous turn of events , it all just kind of happened.. A "what if" discussion with my manager led to a meeting with the Irish Chamber Orchestra which led to Karen Walshe, artistic director of the St. Patricks' Day Festival (to whom I'll be ever grateful), offering to give me the closing show of the festival to take this orchestral idea and run with it. 
I wanted to write an hour of new music for my band, the orchestra and to feature a bunch of vocalists and other artists throughout the show. The problem was, I had a relatively short amount of time and very little experience writing for ensembles of this size.  
I figured if I planted myself well out of my comfort zone, I'd be forced to react musically in a way I wouldn't have otherwise. As I say, A lot of my earlier productions would have been predominantly aimed at the dancefloor. This time I really wanted to try and make people feel something too. 
I read, watched and listened to every orchestral recording I could. I went to the National Concert Hall about 3 times a week. I decamped to Bulgaria for a month to study with an orchestra over there, getting roared at by angry conductors because my C sharp was written as D flat . I annoyed anyone I knew who played an instrument in an orchestra with question after question. My long-suffering wife and I were like ships in the night as I raced into the studio at five every morning.  
It was probably the hardest I have ever worked. On anything.  
I was nervous arriving at that first rehearsal in Limerick as I figured they'd think my writing simple and rudimentary compared to all the masterpieces they usually play. I worried it might be viewed as "loopy dance music."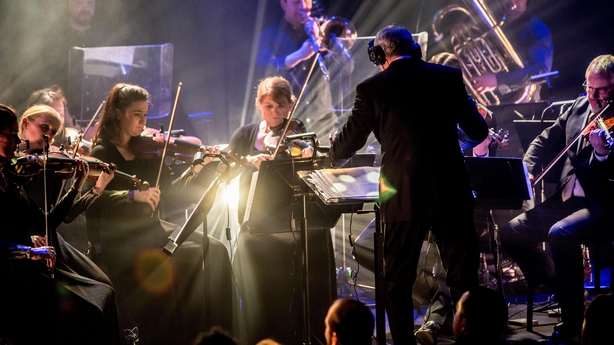 We played the first track and I've never felt anything like it. It sounded enormous. I tried to keep calm and scanned the room for reactions.   
They didn't think it less than. They thought it really interesting. They jumped in with both feet. It was one of the best moments of my career.  
The ICO were used to playing seated, acoustic shows. In the months that followed they found themselves in front of audiences that not only stood but danced, jumped and screamed.  
We've become great pals. We've played Electric Picnic, Other Voices and sold out Vicar Street and the Guinness Storehouse. 
I invited a bunch of artists to collaborate with me on all this new music. Loah was the first person I approached, having long held the idea that her voice was exactly they type of thing I wanted. Jack O' Rourke kindly transformed my moody, dissonant, 7-min piece New Day into an anthemic radio single. Eimear Noone, best known for writing for and conducting massive orchestral pieces for the video game world, turned my title track into a breathtaking, drumless, behemoth. I found myself recording the santoor, tar and tomback with Persian classical musicians, Shayan and Shahab Coohe and Maser came up with a palette of visuals, reacting to what he heard from the speakers in my studio. 
My orchestral chops have improved and my friend, arranger and conductor of the show, Ken Rice, have been making tweaks and improvements each time we do one. We've also been lucky enough to have other artists like Stephen James Smith, Mango and Saint Sister perform with us along the way.  
On Nov 2nd I'm bringing this mammoth show to Trim Castle to close the inaugural Puca festival and I'll have my band, The ICO, Loah, Jack O' Rourke, Stephen James Smith, Shahab and Shayan Coohe, Claire Young and many more with me.  
We'd love you to join us... 
Kormac will perform the latest incarnation of his epic orchestral show, Equivalent Exchange, along the Irish Chamber Orchestra and a host of guests including Loah, Stephen James Smith, Jack O' Rourke, Kormac's Big Band and Shahab and Shayan Coohe, as part of the inaugural Puca Festival at Trim Castle on Saturday, 2nd November - find out more here.