Singer-songwriter David Keenan is one of the most acclaimed emerging Irish music talents of recent years - of late, he's been opening for Hozier, and his eagerly-anticipated debut album A Beginner's Guide to Bravery is released in January 2020.
This weekend, he's appearing in his native County Louth, at Crescent Concert Hall in Drogheda on Friday 1 November as part of the inaugural Puca Festival - find out more here.
We asked David for his choice cultural picks...
FILM
Le Haine (1995) Starring Vincent Cassel. I was passed this piece recently by a friend and it had a deep affect. Cassel's performance is magnificent, as well as Hubert Kounde who tries to maintain some sense of equilibrium. Young men with everything to prove it seems trying to survive the violent concrete code of their environment, needing an enemy. Brotherhood, brutality but also a real sense of innocence within as they explore without.
MUSIC
Nick Cave & the Bad Seeds' Ghosteen - I managed to source a ticket for the playback of this new record in Brick Lane's Rough Trade on a recent anchorage in London. Dozens of strangers sat in mutual awe, still in silent contemplation. It was a beautiful thing to witness.
BOOK
David Keenan (Namesake) - For the Good Times. Myself and this man met recently at All Together Now and the synchronicity charged and flowed. I carried it with me as I moved through a European tour, and it acted as a sparring partner and reference point for lost colloquialisms along the way. Visions spew out onto page. Mapping the story of somehow likable psychopaths, wheeling and dealing, breaking arms and spinning yarns for their ruthless causes. Full of Homeric aphorisms and intense hallucinations, it drove me up the walls, but I didn't want to put it down.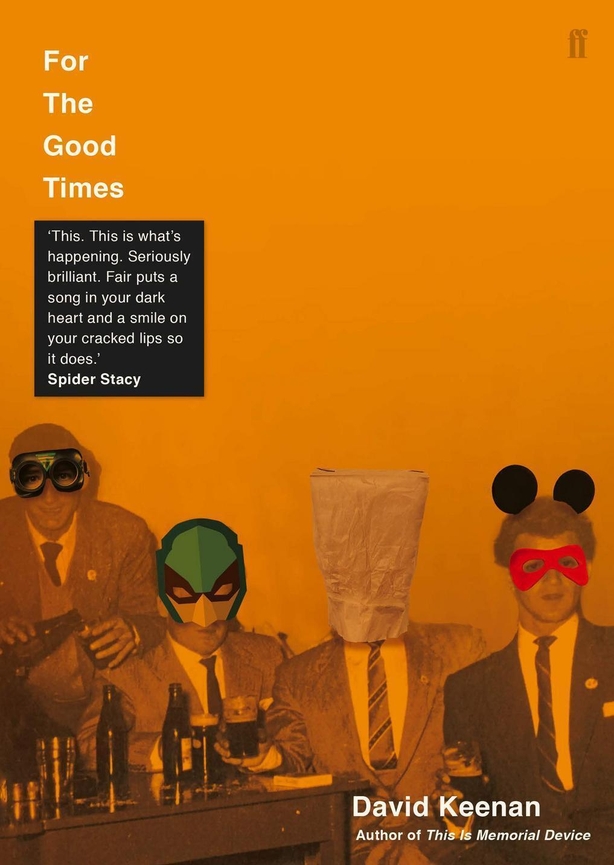 THEATRE
Misterman by Enda Walsh. Disco Pigs was the first piece of Enda Walsh's work that I absorbed as a teenager. I can always go back to that point of life source energy that it conjured up in me. It brought me to Misterman. Incredible storytelling matched by Cillian Murphy's pure be'ing. Sweat dripping from the elbows performance, no half measures. I'd love to work with both of these artists. To learn and observe their approaches and immense artistry. Watching Ulysses in the Abbey also invoked a need in me to shape my own live gatherings in a more theatrical way. Like the three acts of the play concept.
Not to detract from the essence of the music but to add to the drama in the song and to allow for a deeper connection with the audience and myself as one body working in unison to reach that climatic end, that celebration before we go our separate ways.
GIG
Liam O Maonlai and Ronan O Snodaigh at The Bowery, Rathmines. I was lucky enough to be support on the night as these two elders soared as one. Alchemy, healing, connection, it was a privilege to witness. I hear they didn't even rehearse beforehand.
Forthcoming: 13th of January 2020 - my very first headline gig in Dublin's Olympia Theatre. I have to plug this gig out of pride and excitement. A culmination of so much, the beginning of something new.
ART
Degas Fluidity, Frida's defiant projections, the self-destructions of Bacon, Jack B Yeats and his city in the morning mushroom dreams, Ema Berta's beasts, Hannah Clegg's poetic flow and Illuminations.
RADIO
I'd listen to the radio the odd time if I was writing late at night through the quiet and it's pissing rain outside. It narrates my scribblings. I turn the dial until I hear dialogue devoid of adds. Audiobooks enter the sphere now and again but the physical thing always wins the day, dig.
THE NEXT BIG THING...
There is some young girl or boy at home somewhere in Ireland expressing themselves with pen and paper or brush or guitar or imagination, honing their craft, getting ready to start a creative revolution with their art. I'll take this opportunity to thank them in advance for their work and their bravery.
This year's inaugural Puca Halloween Festival, which will take place in a trio of locations across Meath and Louth from 31 October – 2 November 2019 - find out more here.