With Wexford Festival Opera's forthcoming production of Vivaldi's Dorilla in Tempe live-streaming on RTÉ Culture as well as in select cinemas around the country and on RTÉ lyric fm, it's never been easier to experience the magic of opera. But many still feel a little daunted by the opera world...
So you don't know your Massenet from your Vivaldi, or your Rossini from your Bizet? Not to worry! We're here to help. ALL you truly need to know to enjoy yourself at the opera is that you love live, theatrical performances on an epic scale with exquisite singing and a full, top-class orchestra. Think about it - you don't need to be a wine expert to enjoy a glass or two, do you? Opera is no different.
Let's address a few common fears...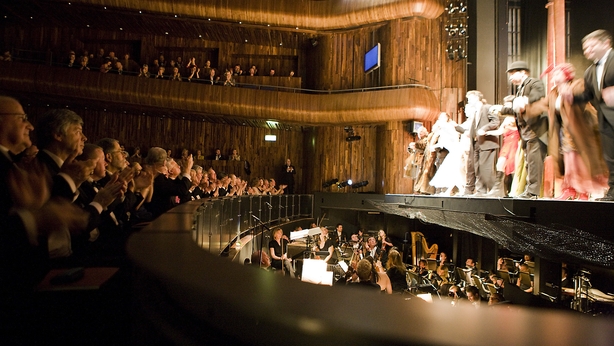 Fear: I don't know much about opera or music in general, so I might feel out of my realm.
Fact: Since Wexford presents rarely performed operas, even the more experienced audiences haven't heard or seen what we produce either. The newcomer and the aficionado all discover together! It's an equal playing field – and that is why productions sell out every year.
Fear: It's sung in a foreign language, so I won't understand what's happening.
Fact: The beauty of opera is that it is about the music first and foremost, but you can follow the story by reading the synopsis in the programme ahead of time and/or by reading the English surtitle translation, which is projected on a screen above the stage during the opera.
Fear: It's so stuffy and you have to dress up.
Fact: Wexford Festival Opera was founded in 1951 by a group of Wexford people including a G.P., a postman and a hotelier, who simply loved opera and wanted to stage their own productions rather than having to travel to the continent to see and hear opera on an international level. And the community of Wexford backed their idea! But they wanted it to be not just an event, but an occasion; an experience; something to combat the dreary, dark October evenings. So they established a dress code of black-tie/evening wear - something our patrons still love to do today. But as they like to say in Wexford: We dress to celebrate – not intimidate.
Feel more at ease yet? Here are few handy terms that may help draw back the curtains of intimidation further - and a few phrases you can throw into conversation for fun!
A
ARIA: Quite plainly: a song sung by one of the main characters of the opera. 'Wow! That aria at the end of Act 1 gave me goosebumps!'
B
BASS/BARITONE: A low, male singing voice. In opera basses and baritones are often the 'baddies' or fathers. Not always – but often.
C
COMPOSER: A person who writes music for the opera. Mozart was a composer. So was John Lennon. A composer is a composer, no matter the style of music.
D
DIVA: Literally means "goddess", and refers to a female opera star. 'Divo' is the masculine form. Nowadays, the term is interpreted as derogatory and is often used to describe someone who is self-important and demanding. But this isn't the true meaning of the word. 'She's such a diva!'
E
ENCORE: Literally means "again." Singers often give encores at the end of a concert but not at an opera (you might be glad to know!)
Watch: RTÉ Culture presents Il bravo (The Assassin), an opera in three acts by Saverio Mercadante, presented live from the Wexford Opera House.
F
FLY (TOWER): A high space above the stage where pieces of the set are often raised up or flown out of sight when not in use. The National Opera House prides itself on having a fly-tower as Wexford Festival Opera performs a different opera on stage every night, thus allowing many pieces of the other two sets to hang out of sight.
G
GRAND OPERA: A serious opera of epic proportions with no spoken dialogue. Guiglielmo Tell (William Tell) by Rossini is an example of 'Grand Opera'. Most people would be familiar with its overture – often known as the theme to The Lone Ranger.
H
HARPSICHORD: A piano-like instrument with horizontal strings which are plucked by points of quill, leather, or plastic operated by depressing the keys. It is used chiefly in European classical music of the 16th to 18th centuries. In this year's Wexford opera presentation, Dorilla in Tempe by Vivaldi, features the harpsicord in the orchestra.
I
INTERMEZZO: A long, instrumental piece of music (no singing) in the middle of an opera.
L
LIBRETTO: The text or words of an opera is written by the LIBRETTIST, who rarely get as much praise or recognition as composers. 'I love the music, but the libretto is a bit far-fetched!'
M
MEZZO-SOPRANO: The middle female singing voice. This voice type is often written for secondary, smaller roles, usually portraying mothers, villains or sometimes young male characters, known as 'trouser roles'. There are many exceptions to this however, namely Bizet's Carmen, which is written for a mezzo. This year in Wexford, 3 of the 4 leading ladies are mezzo-sopranos.
N
NOTES: A musical sound; a tone; a tune. 'I've never heard a soprano sing so many notes in one breath!'
O
OVERTURE: An orchestral introduction to an opera. The Can-Can is actually part of the overture from the opera Orpheus and the Underworld by Jaques Offenbach.
P
PIT: A sunken area in front of the stage where the members of the orchestra play: 'I love sitting up in the balcony because I can see straight into the pit and watch the conductor."
Q
QUARTET: An extended musical passage performed by 4 singers.
R
RÉPÉTITEUR (reh-peh-ti-TEUR): A member of the music staff who plays the piano for rehearsals and, if necessary, in the orchestra too. They are also responsible for coaching the singers with their music and pronunciation and assist with orchestra rehearsals.
S
SOPRANO: The highest female singing voice and often the 'star' of the opera. Maria Callas, Joan Sutherland and Renée Fleming are famous sopranos, not to mention Irish superstar Celine Byrne:
T
TENOR: The highest common adult male singing voice. A tenor is usually the hero and/or romantic interest, either pursuing the soprano or breaking her heart. Think John McCormack or Pavarotti.
U
U-THE OPERA: The first authentic Klingon opera on earth. As this opera is rarely performed, it technically fits into Wexford Festival Opera's ethos. However, it is unlikely that it will be staged in this Galaxy anytime soon!
V
VERISMO: A style of opera that developed in the late 19th century which depicted stories and characters of 'real life'. La bohéme by Puccini is an example of verismo style opera.
W
WAGNERIAN: An opera singer who specializes in Wagnerian roles, which demands big, big voices – though Bugs Bunny and Elmer Fudd did ok too.
Y
YODELLING: Almost never heard in opera. So don't worry about it!
X
X-TRAS or supernumaries (supers): Non-singing roles in the opera, usually demanding specific acting skills that can't be fulfilled by the members of the chorus.
Z
ZEFFIRELLI, FRANCO: One of the most famous opera directors of the 20th century. Many would be more familiar with his work as director of the 1968 film Romeo and Juliet.
Wexford Festival Opera and RTÉ have partnered with Classical Arts Ireland to broadcast Wexford's stunning production of the Baroque opera, Dorilla in Tempe by Antonio Vivaldi in the Lighthouse Cinema, Dublin, Pálás Cinema, Galway and Century Cinema, Letterkenny on Saturday 2nd November at 8pm. This marks the first time that an Irish-produced opera will be broadcast live in cinemas. Audiences across the country and the globe who can't make it to either the festival or the cinema screenings will also be able to tune ii to the worldwide live-stream of this sold-out production - in full HD vision and RTÉ lyric fm broadcast sound - online at RTÉ Culture and on the RTÉ Player from 8pm on Saturday 2nd November - find out more here.