I'm sat in the lobby of the BFI in London wearing a false moustache and a handkerchief on my head. Though I am only a ten-minute pleasure boat ride away from the headquarters of British Intelligence - a term that could arguably be labeled an oxymoron the more BBC Parliament one watches these days - I remain completely inconspicuous.
I achieve this by, as it were, not being seen. For at another table across the way, there is a gentleman in near identical attire. Oh, and here comes two young ladies, rich of tash, resplendent in handkerchief and booted in wellies as they climb the stairs, grin, grin, snap, snapping on their camera phones while they bang two bricks together. English idiocy is a national treasure when it takes the benign form of a Gumby, who ironically, rather than retarding a nation, sticks to what they know best: brain surgery and flower arranging.
We need your consent to load this YouTube contentWe use YouTube to manage extra content that can set cookies on your device and collect data about your activity. Please review their details and accept them to load the content.Manage Preferences
Watch: Gumby World Record Attempt, 5 October 2019
What is all this silliness, you ask? Well, despite this lunacy officially going on for fifty years, if we really want to dig up its roots we need to go back, right back to the sixteenth century. Which was where, in fact, I went to the other week - in the footsteps of artist, animator, future film director, and founding member of Monty Python, Terry Gilliam. A half-century ago, In search of inspiration for animation as part of a new comedy show he and his mates were putting together, Terry paid a visit to London's National Gallery. Little did he realise he'd just waded into what would become his fountain of inspiration, one which would guide him through the years ahead slaving away alone in a dimly lit London basement. All baby steps to greatness.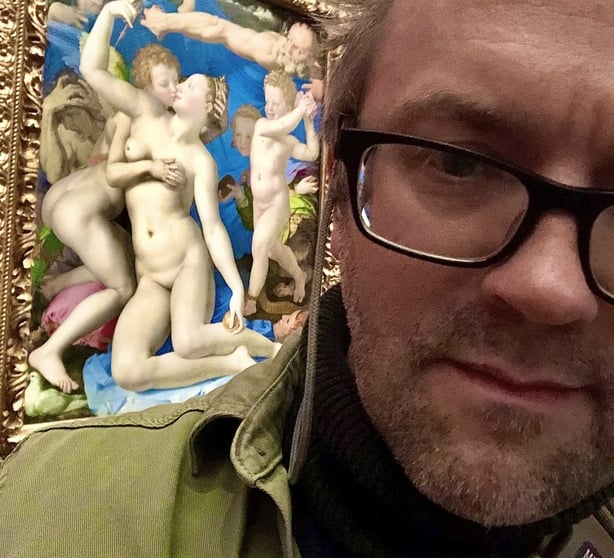 Cupid sure had big feet for an alleged child. At least that's how Angelo Bronzino, the great bearded Italian painter chose to depict him. And it was to this foot Terry was drawn. Except it wasn't quite right. Then he cocked his head - eureka!
Standing on the footsteps of giants...Chapman, Cleese, Jones, Idile, Gilliam & Palin.
?@montypython? ?@RTE_Culture? ?@IFI_Dub? ?@PythonChapman? ?@TerryGilliam? ?@EricIdle? https://t.co/6tcVcawCTT pic.twitter.com/MZ1vkgtmNi

— The Projectionist (@Ushabye) October 14, 2019
I'm not a religious man anymore. But the older I get the more pilgrimages I seem to be going on. Mostly as a way to both celebrate and thank the individuals - inevitably artists - who stepped up where religion failed, inspired me, and continue to make my own long strange trip in life so bloody worth it.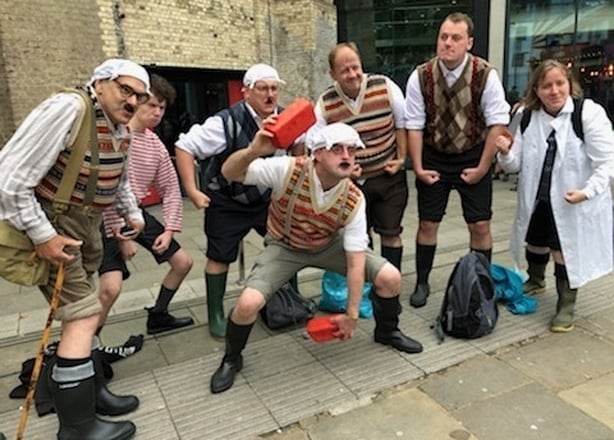 It is in this frame of mind and spirit that I showed up one morning in Kentish Town as a Gumby with my go-to wedding trousers rolled over my knees in a pair of wellies I scored in Guineys. Fifty years ago to the day - before I was even conceived - six men, who months before, had met over an Indian meal a half a dozen Tube
stops away in Hampstead, finally saw the fruits of their comedy mastication broadcast to the nation. Terry Jones, Michael Palin, Graham Chapman, Terry Gilliam, Eric Idle and John Cleese - often joined by the 'seventh Python', the wonderful Carol Cleveland - assailed the British public with their comedy programme, entitled Monty Python's Flying Circus.
We need your consent to load this YouTube contentWe use YouTube to manage extra content that can set cookies on your device and collect data about your activity. Please review their details and accept them to load the content.Manage Preferences
Was it a hit? Yeah. It also struck a chord, spoke a new language. People listened, so they didn't stop there. In the years following, the gospel of Python would reach America, taking root first in colleges then seeping into the great comedy intelligentsia through four seasons of television, regular vinyl record releases and several hugely successful concert tours. Such has been their legacy, I was joined at the Roundhouse in Kentish Town by Gumbys from as far away as Colorado, The Netherlands, Germany and exotic Sheffield - home town to a very kind woman who generously tied the corners of my knotted hanky while I struggled with my stick-on moustache. The fellows' widest reach, though has been through their movies. Four so far (believe it or not, there's more to come), the middle two are especially beloved across the globe, though for different reasons: The Americans fell in love with the endearing silliness of The Holy Grail, the gospel of Python even non-believers tend to find funny...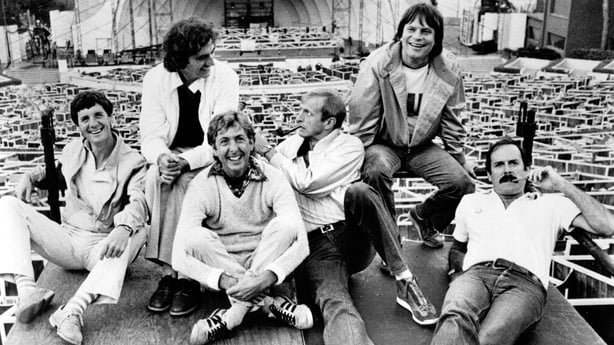 The same could not be said for the testament which followed. 1979's Life Of Brian, their masterpiece, was famously banned in Ireland, as was their follow up four years later, The Meaning Of Life. Think about that for a moment: Our church and state tried to keep the meaning of life from us.
The Pythons do in fact offer up their own answer to this question of questions, one which is both funny and profound in its obviousness. I spoiled it last time I wrote about them, so I won't spoil it here again. Personally, I don't think life's meaning can be put into words: because for me it's a feeling. One you get from art, a book, a
film, a song, a joke, a kiss, a random and fleeting moment of time that in and of itself defines your own particular human condition.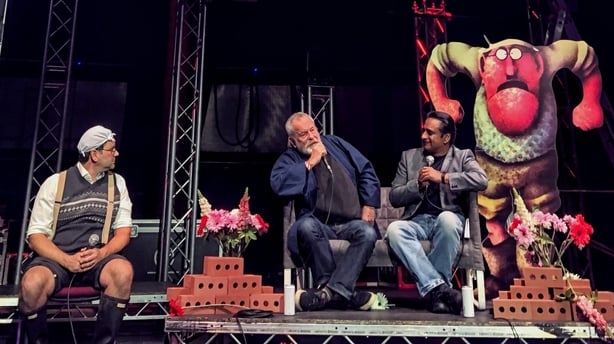 I am not a particularly silly person - at least in mixed company (when it's just me and the cat anything goes). So dancing and singing along with my sleeves rolled up in a pattern sweater-vest amongst a daft bunch of fellow-travelling Pythons was a wonderful nourishing life-affirming expression...of doubt: "What's the point of all this hoax? Is it the chicken and the egg time, are we just yolks? Or perhaps we're just one of God's little jokes, Well ca c'est the meaning of life!"
We need your consent to load this YouTube contentWe use YouTube to manage extra content that can set cookies on your device and collect data about your activity. Please review their details and accept them to load the content.Manage Preferences
Life has been good to most of the Pythons. Except the dead one. The co-author of the legendary parrot sketch ceased to be in 1989 from cancer at the age of 48. Graham Chapman was also a fully qualified doctor - life's little joke on him. Terry Jones, Brian's mother, is ailing from early-onset dementia and can no longer recognise his friends or speak - a cruel jape on the most erudite of fellows. Terminally nice Michael Palin, with the worst comic timing ever, chose to have a heart operation the month of the fiftieth anniversary. Terry Gilliam expressed his opinion to us gathered Gumby's that Palin going around the world without a heart would make an excellent TV show.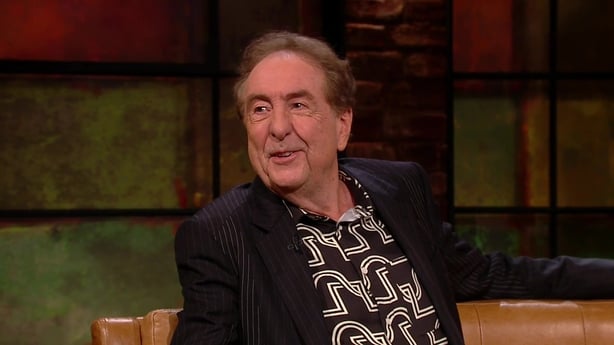 Eric Idle is now a permanent resident of Los Angeles and has recently released his autobiography. I'm still mad at him for appearing on the Late Late Show to promote the book but not bothering his arse to do a signing. I mean, you can't prise Palin out of Dubray's whenever he knocks out another travel tome. So I don't know what Idle's problem was. At least he is overseeing the next Python film, a movie adaptation of their Tony award-winning musical Spamalot. Who does that leave? Oh, John Cleese: left England for the Caribbean some time ago with the fourth of his expensive wives, and can be found trolling the Irish on Twitter while writing the second volume of his life story.
I love your use of words !

But,seriously, if an Irish 'bh' is a 'v' sound, why don't you write it with a 'v' ?

Of course, Bernard Shaw pointed out that in English, the word 'Fish' could be spelled G-H-O-T-I https://t.co/HcUkQRRd1V

— John Cleese (@JohnCleese) June 23, 2019
And then there was one: the American. Actually, British now. Terry Gilliam renounced his citizenship a few years ago and officially became an Englishman. The Anti-Cleese mingled in the bar at the Roundhouse and regaled us with tales of oriental fortune tellers, the perils of Hollywood and cranking up the Flying Circus. What it comes down to is this: It's all about the journey. Thanks for the flying lessons, fellows. I'll be laughing till my brain hurts and my heart stops.