One Irish literature's most enduring characters returns in the new novel from Pat McCabe...
Francie Brady, the broken Butcher Boy, leads a busy life in Fizzbag Mansions, where he was incarcerated five decades ago after the mistake with Mrs Nugent. Still obsessed with the comic books of his childhood, he has found a new vocation – as a publisher of his very own magazine, The Big Yaroo, and Francie throws himself into its production, working to a deadline in more ways than one. Along the way, he remembers Da, Uncle Alo, Joe Purcell and his beloved Ma, and wrestles a desire to escape his past with the world's need for him to exorcise his childhood demons. As Francie is drawn even further into the dark world of his own mind, the line between reality and delusion ceases to mean anything.
Read an extract from The Big Yaroo below...
---
The Big Chief Yaroo Kid – that, perhaps, might be a good name to put on me at this stage, now that all the former residents of Fizzbag hospital have finally packed their cases and headed off out to North County Dublin, that old happy end-of-days resort by the ocean – presumably filling their faces with no end of candyfloss and periwinkles and enjoying plenty of bracing rambles along the promenade.
With the result that, apart from the few others I've mentioned already, and who most of the time remain inside their rooms, thanks to Dr Cecil I pretty much exclusively have the run of the whole place.
And, in return for some light caretaking duties – which primarily involve raking leaves and picking up papers – I am permitted to wander wherever I may please. And which is why, if you happen to drop by, you'll see that old Frank twirling his pointed stick with aplomb as yet another sweet wrapper goes pitchaow! into the bottom of the basket.
That is, of course, when the gentleman concerned is not keeping himself busy down in the environs of the pump house polishing up his trusty old bicycle – a sturdy machine, which was left behind by Mr 'Blenners' Blennerhassett, God be good to him, whenever he finally passed away.
He was always heading off around Ireland on bikes – 'being a keen naturalist', as he used to say.
There was nothing old Blenners didn't know about birds and flowers. Himself and Muggsy Big Brains, they used to always enjoy these great chats in the arboretum about every conceivable subject under the sun.
But now, like so many, he's departed from this earth, and all that remains of his mortal presence is his bicycle – or 'Madame La Road Runner', as I like to call her. Meep! Meep!
Although I'm sure there's machines that could go a lot faster – but, all the same, she's still in very good shape, and will be more than capable of completing the task I have in mind – my own personal version, I guess, of the Tour de France.
We need your consent to load this rte-player contentWe use rte-player to manage extra content that can set cookies on your device and collect data about your activity. Please review their details and accept them to load the content.Manage Preferences
Listen: Pat McCabe talks The Big Yaroo with Marian Finucane
La Madame is light aluminium and has a wire basket and a saddle, not to mention twelve top-speed gears. All – thanks to my assiduous efforts over the past six months or so – I am happy to say, in perfect working order, perfected whenever Dr Cecil or his associate, the hospital pastor Fr McGivney, are not around – because the pair of them, believe me, would go stark raving bonkers if they happened to catch me.
Mr Blennerhassett died back in 2007 or maybe 2008 – so it's been lying there since with nobody bothering their arses about it, including myself, at least until recently.
I can remember his auntie coming for his effects and seeing her standing in the chapel corridor, looking out. Looking out at what, you may ask – well, the rain, what else?
With this awful look of sadness flickering past in her eyes – the exact very same as you'll see with Professor Big Brains, always on the verge of breaking down, or so it seems.
As along comes Dr Cecil to cheer him up.
–Ah yes, he was a great old man for the birds, he says.
–Aye, says The Professor, Mr Blennerhassett, he sure did love them birdies & no mistake.
He gave out to me once for trying to escape. Something, which, I'm sorry to have to say, I find myself deeply embarrassed about now.
Mainly because I made such a botch job of it.
Something, which, I can guarantee you this time, isn't going to happen. Although a lot of my catastrophic failure the first time around I have no hesitation in putting down to my medication at the time.
& with my new-found confidence probably being attributable to the feeling that I've got an awful lot more space to enjoy these days.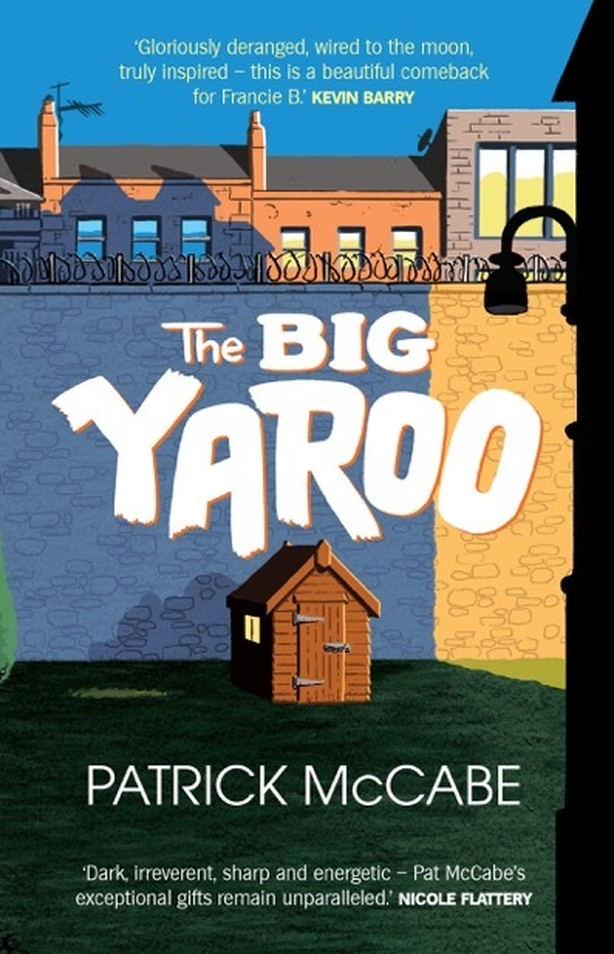 The Big Yaroo, by Patrick McCabe, is out now from New Island Books