Audiences in the mid-west will have the rare pleasure of a live performance from outstanding Scottish songstress Karen Matheson, lead singer with Capercaillie, as part of the Sruth na Maoile @ 25 concert in glór in Ennis, Co. Clare, on Saturday 5th October.
The line-up for the concert showcases a formidable array of musical talent: Moya Brennan and Cormac de Barra, Séamus Begley, Méabh Ní Bheaglaoich and Donogh Hennessy, Zoë Conway and John McIntyre, Pádraig Rynne, Tara Breen and Elaine Hogan, Bríd Ní Mhaoilchiaráin, Eabhal and Ruairidh Gray complete the lineup for the event, which celebrates a quarter-century on air for popular radio programme Sruth na Maoile, a co-production between RTÉ Raidió na Gaeltachta and BBC Radio nan Gàidheal.
Listen: Listen: Tá Sruth na Maoile ag ceiliúradh 25 bliain, clár idir RnaG agus Radio nan Gàidheal agus leis sin a cheiliúradh beidh ceolchoirm mhór ar siúl i mí Dheireadh Fómhair in Amharclann Glór in Inis.
The programme is presented bilingually, in Irish and Scottish Gàidhlig, by Seán Ó hÉanaigh and Mairi Anna Nic Ualraig, and celebrates the shared musical and cultural heritage of Ireland and Scotland. Seán recalls that Sruth na Maoile broke the mould when it first came on air. "Rud nua as an bpíosa a bhí sa tsraith mar ní hé amháin gur ceol agus amhráin atá i gceist, ach tá cumarsáid ann... daoine ag cur eolas ar a chéile faoi chultúr a chéile, faoi nósmhaireachtaí agus faoi thraidisiúin a chéile, agus thosaigh sé rud úrnua idir Éireannaigh agus Albanaigh agus tá go leor cláracha raidió agus teilifíse eile ag leanacht an múnla ó shin."
Listen: Aoife Nic Cormaic speaks to Scottish singer Mary Ann Kennedy about the musical connections between Scotland and Ireland, and about 25 years of Sruth na Maoile on RTÉ Raidió na Gaeltachta
The use of the two languages has, on occasion, lead to some confusion, with Seán recalling the time when Mairi Anna spoke of An Bhreatain Bheag, which in Irish means Wales, but in Gàidhlig means Brittany: "I may have interrupted Mairi Anna as she spoke during our recording, thinking she had mixed up her countries, as we had been talking about Brittany. Yellow card for me! We had a good laugh about it afterwards."
Both presenters are musicians in their own right, and come from families steeped in the tradition, but despite this they have both veered outside the strictures of the tradition in their own work, and also in their choice of music for the programme. "There have been so many exciting developments in Celtic and Gaelic music in the last quarter century," Mairi Anna says, "and we always aim to reflect that in the programmes – honouring our roots and musical elders, and being supportive of new directions."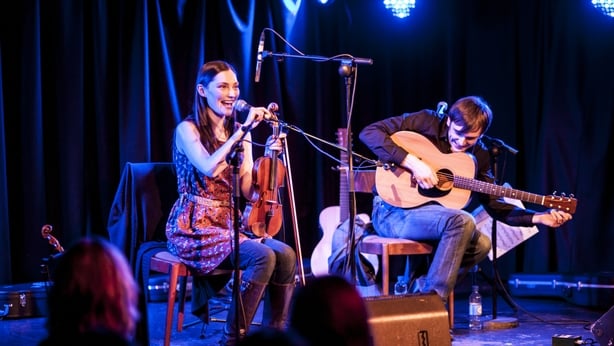 And the most surprising thing about the last twenty five years? For Seán, it's the similarities between the two cultures.
"Dá mhéid tochailte a rinne muid ar cheol a chéile, ar na hamhráin, ar na scéalta a bhaineann leis na hamhráin, thuig mé gur fáisceadh as an gcultúr céanna muid ... gur mar a chéile muid."
As for their favourite memory? For Mairi Anna, it was during the TV series spin-off that they did in 2000, when they introduced Scottish singer Arthur Cormack to Connemara's Tomás MacEoin. 'Arthur had recorded a Scottish Gaelic version of Tomás's legendary song, An Cailín Álainn, and they led a joint version of it on screen. Pure magic.'
Tickets for Sruth na Maoile @ 25 are €15/€18 and can be purchased from www.glor.ie. Listen to Sruth na Maoile at 14:00 Dé hAoine/Friday on RTÉ Raidió na Gaeltachta - listen back here.