An Taobh Tuathail, the flagship alt. radio show on RTÉ Raidió na Gaeltachta presented by Cian Ó Cíobháin, will be celebrating 20 years on air on 1 May, and Cian will mark this milestone with two special programmes, as well as a live event in the Róisín Dubh in Galway, on Friday 3 May.
We talked to Cian about 20 years of An Taobh Tuathail...
Can you remember the first show, and starting out?
I was working part-time as a continuity announcer in Casla in '99. When I heard that RnaG would commence broadcasting in the evenings for the first time, I put together a 20-page proposal (which I still have … somewhere) for my employers, outlining my ideas for a late night music show. Back then, one wasn't allowed to play any English lyrics on the station but I assured them that I would still be able to present an interesting and vital music show within these constraints. They liked my idea and entrusted me with four evenings on air each week, with Rónán Mac Aodha Bhuí presenting the show on the other three evenings. First show? I was very nervous. I had no idea if anyone was listening. My voice quivered. My hands shook. I recall that Night Side by The Prunes was the first track ever played.
Did you ever imagine it would last as long as it has?
I don't think I was thinking ahead in terms of decades back then, but I always wanted to ensure that I'd spent my life working in music in some capacity. Reading back through interviews I did back then, I see that I always stressed that I was interested in being in it for the long haul than be flavour of the month. It's always been more of a vocation than just a job for me. I live for the show and after 20 years it defines who I am more than any other aspect of my life.
Listen: An Taobh Tuathail on RTÉ Raidió na Gaeltachta:

What has been the most surprising part of the 20 years?
That the show has gone from strength to strength. That my appetite for music has never waned, in fact it's only increased over the years.
You would think that in the digital age, with so many more options for people to consume music, that ATT would be swallowed up by all fact that people has so many different avenues of entertainment to choose from. But not only are people still listening, so many people still seek out the show as one of their primary ways of experiencing new and interesting music. And the digital era means that the show has a worldwide reach. If fact, only the other day I noticed a Twitter thread discussing the show in Japan.
What place do you think ATT occupies in the radio landscape, in Ireland or perhaps further afield than that?
The show is still probably the leading show on the national FM airwaves where up and coming artists tracks will be debuted for the first time. The fact that the programme isn't dictated by commercial interests or by strict playlists and that I decide what gets played means it's a lot easier for artists from the underground to have their music broadcast on the airwaves, without having to go through committees and/or corporations. There are labels all around the world that highly regard the show as one of the few independent programmes out there that will play their music and their artists.
Who are your own radio heroes, and why?
John Peel is the obvious one, for his insatiable appetite for discovering and playing new artists and even introducing new genres to his shows at the expense of alienating loyal listeners.
Also for his wit, his charisma, his unique position as possibly the most important tastemaker of all time. Donal Dineen for his trailblazing approach to Irish radio back in the 90s, who put it out there that the entire history of recorded music could be celebrated on the airwaves and not just the main singles or key album tracks. Also: Mary Ann Hobbs, who seems to be the closest person out there ploughing a similar furrow to mine.
If you weren't a DJ, what would you be?
I'd definitely be working in music in some guise. Or writing. In an alternative universe, I might be a traffic cop, rigorously enforcing the rules of the road, taking special pleasure in handing out tickets to boorish drivers of speeding Mercs & tailgating BMWs.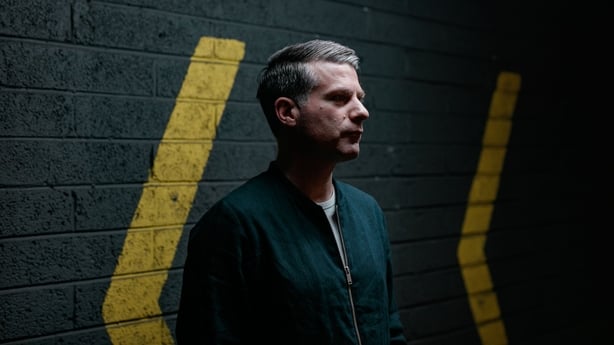 How important is it for you to be broadcasting as Gaeilge?
I'd love to present a show in English, even if it were once a week so that those that listen in who don't understand Irish might understand me. That said, I'm absolutely made up to be presenting the show in the beautiful language that I grew up with, the same language that I heard spoken all around me in west Kerry and bringing her cadences and rhythms to a worldwide audience whose ears appreciate both rhythm and cadence.
People might look at broadcasting as Gaeilge as an impediment, is that how you see it?
Obviously, not everyone will be able to understand you, that's the main impediment. But I regularly get mails from listeners telling me that ATT is the only way they keep in contact with the Irish language and some tell me that it spurs them on to try and learn the language. That blows my mind.
Tell us about the music scene in Galway over the last 20 years?
The scene has come on leaps and bounds for live music and festivals, but has become more difficult to run regular and successful club nights mainly because of our archaic licensing laws and small amount of venues. There are still DJs and promoters and venues out there fighting the good fight and I salute them.
And in Kerry, your homeplace?
Dingle is a different town from when I grew up. It used to be a much more conservative place, but now it's almost re-defined itself as a town for young people: lots of festivals, weekenders, live music, excellent venues to dance in. Dingle is probably my favourite place in the country to DJ in right now.
On Wednesday and Thursday 1 and 2 May, ATT will feature exclusively previously-unreleased tracks by artists that the show admires, or have been associated with the show over the past two decades. Then on Friday 3 May, Cian brings ATT to the streets, with a live programme from the Róisín Dubh in Galway featuring Ships, Mount Alaska and Anna Mullarkey - find out more here.