On The Trip Back To Tipp, screening on RTÉ 2 this Wednesday, September 18th at 11.30pm, broadcaster and occasional rock star Tom Dunne picks his favourite songs from last years Féile Classical Festival, with special guests and live performances from The Stunning, Hothouse Flowers, An Emotional Fish, The Four of Us and Frank & Walters and Tom's own band, Something Happens.
Below, Tom writes for Culture about the days leading to last year's triumphant return to Féile...
My main memory is one of a slight tentativeness, like building up to a first date that you are dying for but worried about. What if it doesn't go well? What if we don't get on with the orchestra or the Feile audience? What if fall on our faces? What if there is no chemistry?
A week before, I drove into the UCL rehearsal full of apprehension. The players of the Irish Chamber Orchestra looked so professional, so at ease. As they started to play a bit of Parachute, I looked at Ray, our guitarist, who had composed what they were playing, and Alan on bass, and Eamon behind the kit. They seemed at ease too. I swallowed, closed my eyes and sang a bit.
I stayed behind to watch the Flowers rehearse. "He's good, Dad", my 10-year-old whispered. 'Worryingly good,' I thought. Does competitiveness ever go away?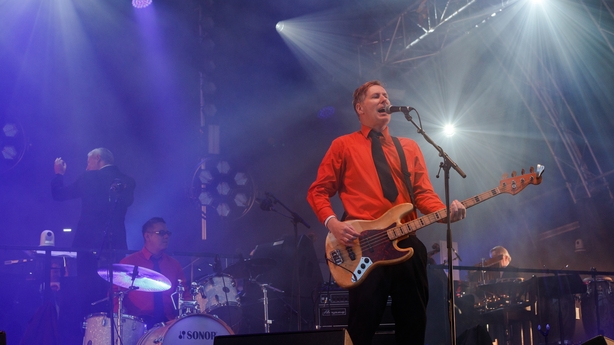 The day of the gig was sunny. I drove down, a bundle of nerves. Aoife the PR called me. "I just heard The Franks sound check with the ICO," she said. "Oh my God, Tom, I think it's going to be amazing." I said a silent prayer.
A few hours later I watched from side stage as the Franks did it for real. It was everything we hoped and more. Then the Four of Us, then An Emotional Fish, both amazing. But there was something missing. The audience were too far back. Sitting politely as requested in the stand seats. Dressed for a party, but too afraid to dance. So Jerry Fish went and got them.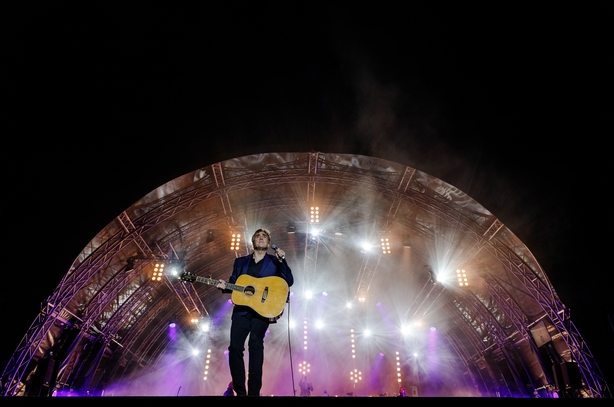 That changed everything. We played, the Stunning played. The Flowers played. I had joked that the long ramp into the audience (called in the business an 'ego ramp') would see little use amongst us shy retiring Irish types. Strangely enough, it was soon nearly worn out.
Watch: Tom Dunne talks the magic of Féile on The Late Late Show
To be in the midst of that crowd was life-affirming. I knelt down to be closer. A sea of happy faces, singing, hugging each other and laughing. From the very furthest end of the ego ramp, I looked back at the ICO and the band. It seemed incredible that I was actually a part of this. It looked like someone else's gig and yet there was a mic in my hand.
At the finale, all bands on stage, all singers well down the ego ramp, Liam O Maonlai, unaccompanied, sang the kind of keening refrain from the Cranberries' Dreams. I didn't recognise it for a moment. Then the audience all started to sing it back to us. All of Thurles seemed to be singing it. Everyone suddenly remembering Dolores, keenly feeling her absence.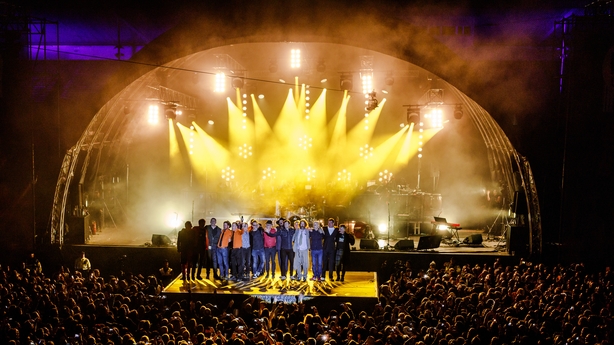 That moment will live with me forever. Every man, woman, dog, band member and lackey were singing their lungs out. Everywhere you looked, someone was singing that refrain, our voices carrying into the starlit sky. It was pure abandon, happiness, joy.
I asked each band after if it had been as special as it seemed. It was an overwhelming yes. People, bands and audience alike were floating on air. No pressure this year, then...
The Trip Back To Tipp, RTÉ 2. Wednesday, September 18th at 11.30pm.