Filmmakers Mike Ahern & Enda Loughman have been working together under the name D.A.D.D.Y. since 2002 - from early collaborations in graphic design and animation, they moved on to direct many animated and live-action TV commercials, as well as a number of acclaimed music videos and short films.
Bang! Sometimes we fight on set but usually not for long pic.twitter.com/KA541GfKcU

— D.A.D.D.Y (@team_daddy) October 23, 2018
Now they're making their feature film debut with the supernatural comedy Extra Ordinary, starring Maeve Higgins and Will Forte, in Irish cinemas now. We asked Mike and Enda for their choice cultural picks...
FILM
We are obviously going to say our debut film Extra Ordinary! which is out in cinemas all over Ireland from Friday the 13th. We have travelling a bit with Extra Ordinary and been at lots of genre festivals catching films when we can. Some excellent Irish genre films around right now - Looking forward to seeing Vivarium by Lorcan Finnegan, and Nessa Harrdiman's Sea Fever. Also can't wait for The Lighthouse from Robert Eggers.
MUSIC
Bill Callahan's music is always inspiring and moving, often darkly funny - and his latest (double) album is the incredible Shepherd in a Sheepskin Vest. his storytelling is warm and evocative and he seems quite happy at the moment, which somehow makes the universe more tolerable.
BOOK
We have been travelling a lot recently and love having something you can dip in and out of and have started rereading Sum: Forty Tales from the Afterlives by David Eagleman.
It is a collection of 40 short 'essays' on what the afterlife could be - It's concise, intelligent and funny. So in one you imagine the afterlife as a horse or in another, your life is replayed but all you experiences are grouped by time so for example you have all your showers together (two months), all your kisses (a week or something), all your sleeping ( a few years), etc. It's great for freeing your brain, and each section is so different it's refreshing and elegant to read.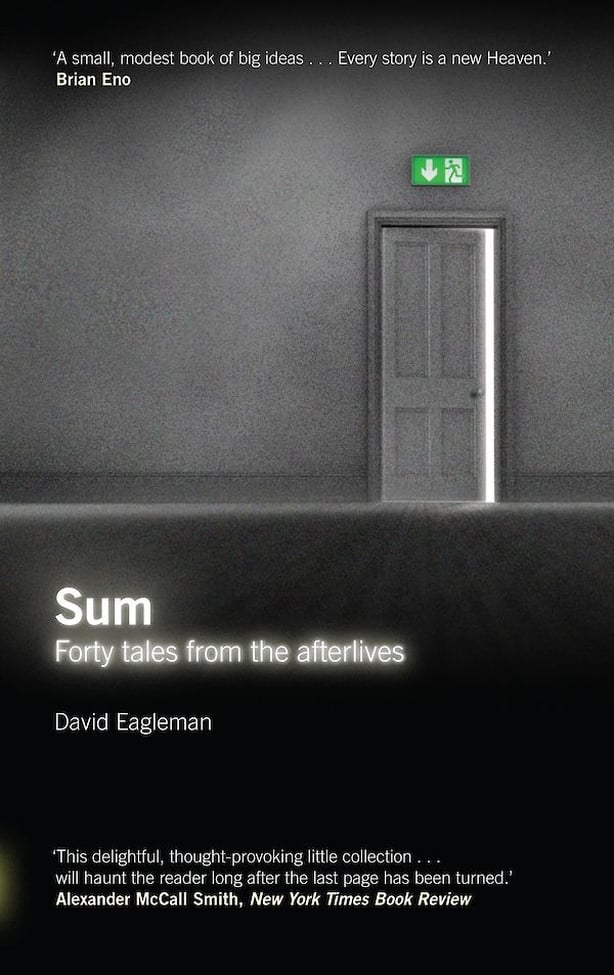 THEATRE
Just saw Symphony of Worms at the Dublin Fringe Festival, and really enjoyed it. Hannah Mamalis ' new show that I guess is about death and sex and magic. All the important stuff. It's original, strange and funny, and has a poignant and brave confessional element that steers the audience to a lovely emotional reaction.
⭐️ ⭐️ ⭐️ ⭐️ 's from the Irish Times for #SymphonyofWorms. Delighted doesn't cover it. https://t.co/HJgACPrFBg@HDziminski @panpantheatre @AOBArtsMgt @dublinfringe @FennaVon @RonanCareless @kmreed

— Hannah Mamalis (@Hantmam) September 11, 2019
TV
Just binge-watched Escape at Dannemora, which was easy as it's only 7 episodes in these days is a nice handy commitment The series is based on the true story of the 2015 Clinton Correctional Facility escape in upstate New York. The escape itself is the focus of the series - then we follow them through the manhunt for the two convicted murderers, expertly played by Paul Dano & Benicio Del Toro. They escaped with help from a married female prison employee (played by Patricia Arquette) with whom they both became sexually entangled. It's dark, cinematic and even funny at times and well-directed by Ben Stiller. If you going to watch don't read about it as it's better not knowing the story.
GIG
Going to finally see Bjork for the first time! We were in a stupid band for years and the last time Bjork played we were sadly on at the same time as her at two different festivals. Our gigs were obviously empty - Some members of our band didn't show up so they could go and see Bjork instead of playing...
PODCAST
The A24 podcast is randomly released but gets interesting filmmakers or people in film to chat to each other about their film and life.
TECH
David O'Reilly is an artist, filmmaker and animator, he has made a new set of weird and surreal glitchy instagram filters that are fun to play with. It's nice to see artists use these platforms instead of the usual bunny ears or that weird cute 'sexy dog face' thing.
THE NEXT BIG THING...
We always say National Treasure Maeve Higgins is set for world domination...
Extra Ordinary is in cinemas nationwide now.