Rising actress Zara Devlin, acclaimed in The Gate Theatre's production of The Glass Menagerie and soon to appear in Rough Magic's new adaptation of Hecuba at this year's Dublin Theatre Festival, shares her choice cultural picks...
FILM
I am always drawn to the classics such as Gone with the Wind, Goodfellas and Taxi Driver (or anything else with Robert de Niro). I love Vivian Leigh and Bette Davis too so anything that they're in. I recently saw Once Upon A Time In Hollywood and I loved every minute of it, and would highly recommend...
MUSIC
Anything but country music... I am loving Lana del Rey these days, her voice is the equivalent to red wine ot me. It's the same thing with the movies, I love the classic legends: Frank Sinatra, Elvis, Elton John but also love Tom Odell, Billie Eilish, yeah sometimes I do act like I'm 23 and not 83 : )
BOOK
I don't read as many books as I would like to. I am slowly getting through Stephen Fry's Heroes. It's about the Greek legends and it is very easy to follow and very funny and makes it relatable to nowadays. I would recommend if anyone wanted a fun way to learn about the Greeks.
THEATRE
Again the classics for me. I adore anything Tennessee Williams. I felt very lucky to be involved The Gate Theatre's The Glass Menagerie - his words just stay with me. I also love anything by Marina Carr, Woman and Scarecrow is one my favourites of hers, I get chills every time I read it. And I'm overwhelmingly honoured to be playing Polyxena in her adaptation of Hecuba with Rough Magic, at Dublin Theatre Festival.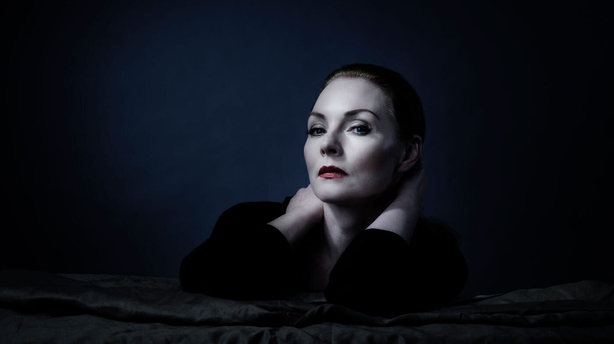 TV
Don't watch a lot of TV programmes but when I do, it's Derry Girls, Great British Bake Off or Escape To The Country. That's about it. Anything that I don't have to concentrate on, I guess.
ART
I was at the Galway International Arts Festival this summer and there was an incredible exhibition called 'In The Flesh' by Australian Sculptor Sam Jinks. He has made the most realistic, haunting sculptures I have ever seen and I was completely blown away.
PODCAST
I have recently been listening to the Rise Productions podcast. It's all about the theatre world and the different people who work in different areas of the arts - directors, actors, writers etc. It's on Facebook and it's very interesting.
TECH
I am constantly using Facebook and Instagram. I would say I am using it about an hour a day (which is a scary prospect). I would love to delete it sometimes, but then how else could I see what my friends are up to etc
THE NEXT BIG THING...
2020! I want us all to bring the 1920s style back. I will be doing it anyway, so everyone join me please... Also come see me in Hecuba at Project Arts Centre – that's my biggest next big thing.
Rough Magic stage the Irish premiere of Marina Carr's Hecuba at Project Arts Centre (Sep 25 – Oct 6) as part of Dublin Theatre Festival - find out more here.