Since she bid farewell to her iconic role as Niamh in RTÉ's Fair City, actress Clelia Murphy has enjoyed a string of noteworthy theatre roles, most recently in the acclaimed stage adaptation of Maeve Binchy's Light A Penny Candle, while returning to the small screen for a stint on Dancing With The Stars.
Now she's starring in GYM SWIM PARTY, a new play by Danielle Galligan and Gavin Kostick., coming to this year's Dublin Fringe Festival.
We asked Clelia for her choice cultural picks...
FILM
I'm lucky enough to live within spitting distance of the Lighthouse Cinema, so for this weekend it's the documentary Marianne & Leonard: Words of Love. For me, I think that time in Leonard Cohen's life was his musical Golden Age.
MUSIC
I'm in training at moment with Peter Stringer. We're working together on a project that is close to both of our hearts. We want to discuss balance and how it's missing from people's lives and how our bad training and bad diet habits are only concerned with the short term. We want to explore the notion are we just fashionably fit to look good on Instagram or at the next event, wedding, holiday, party - or in my case, the next job and should we not be training instead in a way that sees us being mobile and healthy well into old age. So in order to explore good fads from bad fads and good fats from bad, Peter is training me to compete in a Republic of Ireland Bodybuilding Federation (RIBBF) bikini bodybuilding competition in April. Because of that, the only music I'm listening to is in the gym. My favourite motivational album at the moment is Beast Mode: The Ultimate Gym Motivation Playlist! That, and a bit of Sia to cool down.
BOOK
My favourite author is Claudia Carroll, obviously, because she is my best friend and I'm reading her new book Women of Primrose Square.at the moment. I'm also a big YA fan: Joseph Delaney's The Spook's Apprentice series is something quite special. And I just finished Neil Gaiman's The Ocean At The End Of The Lane. Loved that. After Claudia, I'm determined to read Hilary Mantel's Wolf Hall. It's been on my nightstand for a ridiculously long time...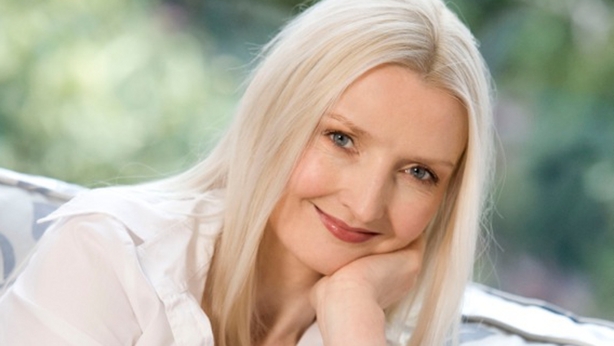 PLAY
Gym, Swim, Party, obviously, my next play, which is the O'Reilly Theatre from the 11th of September as part of the Dublin Fringe Festival, but other than that…. Pat Kinevane's Trilogy with Fishamble is amazing, Forgotten, Underneath and Silent. And his latest piece Before, which is actually a one-man musical, is special to me because I got to work with him on it. It's set in Clery's on the day it closes down and I play the voice over the tannoy. If you get a chance to see it, do not miss.
TV
I seem to watch everything after everyone has already seen it. But the thing that has me glued at the moment is on Netflix, it's a French police procedural with a twist called Black Spot. I'm a sucker for atmospheric French dramas. Love them! And this one is particularly moody and atmospheric.
GIG
I've been threatening to do this all summer. The Cobblestone Pub in Smithfield has the best trad sessions going. So there is a huge possibility that now I've actually committed this to print I'll get myself down there! A pint of Guinness would also be great for me iron levels! I'm just sayin'...
ART
One of the things I love doing is wandering around the artists on Merrion Square of a Sunday. It's a wonderful way of seeing current art and indeed meeting the artists and chatting with them about their work and inspiration. And I love their get-out-and-make-it-happen-for-themselves attitude. Well worth the ramble of a lazy Sunday. Great for the soul.
PODCAST
I don't really have a favourite podcast, I go through phases as I go through subjects. My favourite one at the moment was one that myself and Peter Stringer did recently called What's the Story with Graham Merrigan and Danny Jo Murray, we just had the absolute craic recording it.
TECH
I'm a luddite. But I love YouTube and am learning all about it because myself and Stringer will be putting put all our training videos online and across all the platforms starting this Sunday! Check us out on Instagram here (me) and here (him).
Clelia Murphy stars in GYM SWIM PARTY, premiering at the O'Reilly Theatre as part of the 2019 Dublin Fringe Festival - find out more here.