Brendan Behan is one of Ireland's great writers. Some of his most important work was influenced by time he spent in Paris just after WW2. Deirdre McMahon writes for Culture about her Documentary On One production, Brendan Behan in Paris, which features an interview never previously broadcast, in which Behan reveals the influence Paris had on him as a writer. Listen to Brendan Behan In Paris above...
While researching Brendan Behan's time spent in Paris during the late 1940s and early '50s, I was fortunate to meet Jacqueline Hélion who had known Behan when he was there. Jacqueline was then married to Sindbad Vail, the son of Peggy Guggenheim, who published Behan's work in Paris in the 1950s in his literary magazine, Points. Jacqueline provided new insights into Behan's Paris period, including details of the role that Sindbad played in the development of the writer's career and how he had preserved one of Behan's finest works.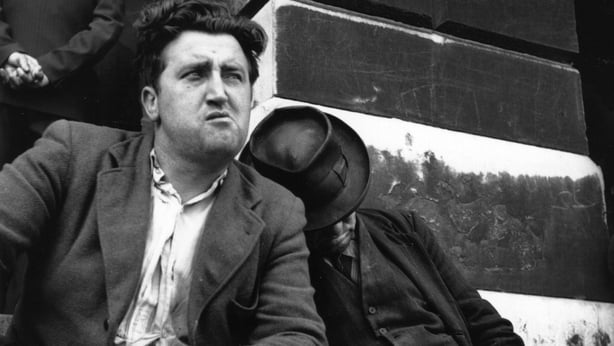 From 1948, Brendan Behan spent long periods of time in Paris, where he was taken seriously as a writer. Sindbad Vail published Points magazine between 1949 and 1955. The small, but important magazine featured work by young writers who were often published for the first time, and several went on to have literary success. One of the writers was Brendan Behan. Jacqueline recalled how taken Sindbad was with his work: "he was very impressed by Brendan, his writing was wonderful, it was so vivid and strong". While Behan was a welcome visitor to the couple's home, Sindbad also saw him by day in the vibrant cultural centre of Saint-Germain-de Prés, where the Points office was. Sindbad had rented two rooms in the same building as Les Éditions de Minuit, the French publishing house owned by Jerome Lindon, Samuel Beckett's publisher. The French were fascinated by Behan's past, "everyone admired him so much for having been an Irish rebel" recalls Jacqueline. There was much sympathy amongst the Paris circle for the history of the Irish Republic.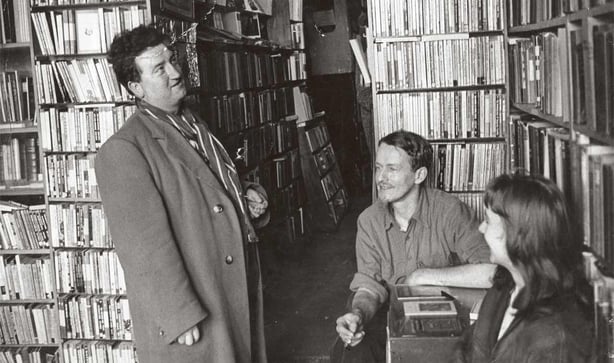 In 1950, Sindbad Vail published Behan's short story After the Wake. Given its theme of homosexuality, the story stood little chance of being published in Ireland. Commenting on Irish censorship of the time, Sindbad remarked "we are lucky that their bigotry is our fortune." In a pre-digital age, scripts were easily lost, and often were. Had Sinbad not published "After the Wake" we may never have known about it.
In Paris Behan got down to writing Borstal Boy in earnest. His short story Bridewell Revisited would become the opening pages of the book. Unable to find a publisher in Ireland for Bridewell Revisited, Behan gave the story to Sindbad Vail who published it in 1951. When Ian Hamilton, who later published Borstal Boy, read those same opening pages in 1957, he commented that he knew he had "the beginning of something extraordinary".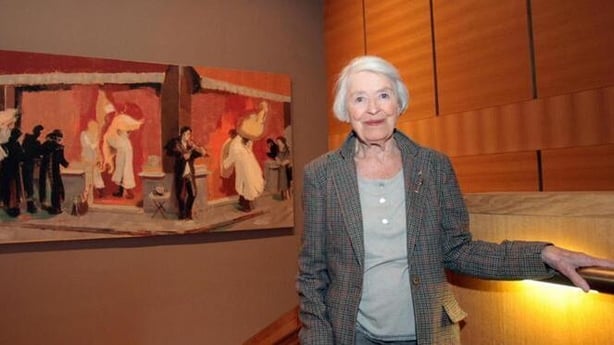 After the Wake was never published in Ireland during Behan's lifetime. Ulick O'Connor drew attention to the short story when he published extracts in his 1970 biography of Behan. However, those extracts were reproduced from an edited version of the story that featured in a 1955 book collection of the best short stories from Points. There, the ending had been toned down to remove the explicit reference of one man getting into bed with another. Even if up to that point the reader could be left in no doubt as to the outcome of the tale of seduction, the omission interrupts the structure of an otherwise meticulously crafted story. The first publication in Ireland of the original 1950 version of After the Wake was by Denis Cotter, literary editor of the Liffey Press, who published the story in 1978 in a limited edition of Behan's works. It came fourteen years after Behan's death.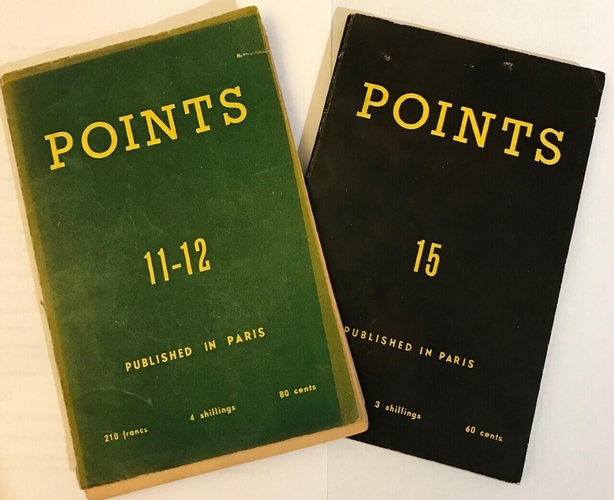 Professor John Brannigan notes that, "Sindbad Vail publishing After the Wake in Points established Behan's own sense of what he could achieve as a writer. It established a kind of literary credibility for his work". That affirmation was repeated by Sindbad when he published Bridewell Revisited. "I think there's a key turn in Behan's work around 1950 and '51", Brannigan adds, "and it's all to do with Points magazine".
From the time of Behan's first engagement with Paris, his work displays a new confidence and became more experimental. Three of his Irish-language poems are set in Paris, Buíochas le Joyce (Gratitude to Joyce), Oscar Wilde, and L'Existentialisme. In his 1950 poem Uaigneas (Loneliness) Behan experimented with the imagist form, influenced by Japanese Haiku. His short story A Woman of No Standing (1950) sees him rail against the religious and social codes that shamed the breakdown of marriage.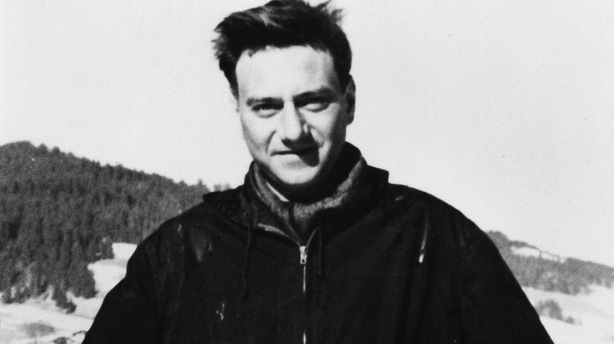 Post-World War Two Paris for Behan was where publishers, writers, artists and musicians gathered and enjoyed the social and intellectual freedoms the city offered, and where important contacts were made. "Circles cut each other", Jacqueline remarked.
Behan was part of an important group of writers in Paris, including at the frequent literary gatherings in George Whitman's Shakespeare and Company on the Left Bank, which still exists today. George adopted the name from the famous pre-war bookshop owned by Sylvia Beach, the woman who published Ulysses. For writers, George's bookshop became a nurturing environment, often providing a bed for the night. James Baldwin, Anaïs Nin, Henry Miller, and later Allen Ginsberg and William S. Burroughs were amongst the many writers who went there.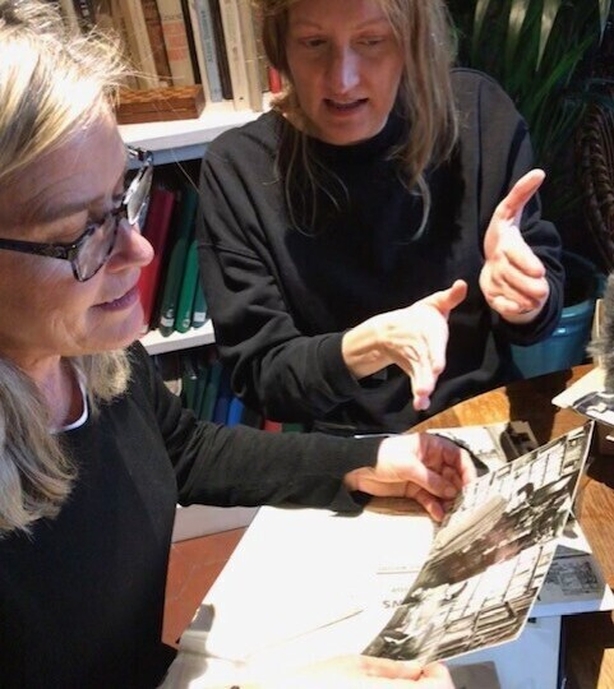 In the documentary, Behan speaks of his impoverishment in Paris and of being so weary sometimes just looking for a place to sleep that he lost the script he was working on. Anthony Cronin speaks of the spectre of Behan walking around Dublin with the script of what would become Borstal Boy physically disintegrating in his pocket. Behan shows his determination as a writer as he manages each time to gather fragments, rewrite, and produce the work that he did. The same determination he showed in seeking out Sindbad Vail in Paris to publish his work.
In 1966, two years after Behan's death, my father, Frank McMahon, was commissioned by the artistic advisor to the Abbey Theatre, Tomás Mac Anna, to adapt Borstal Boy for the stage. Tomás directed and designed the subsequent production. After its world premiere at the Abbey Theatre in 1967, Borstal Boy became the longest running play in the history of the Abbey. Niall Tóibín and Frank Grimes starred as the elder and younger Behan respectively.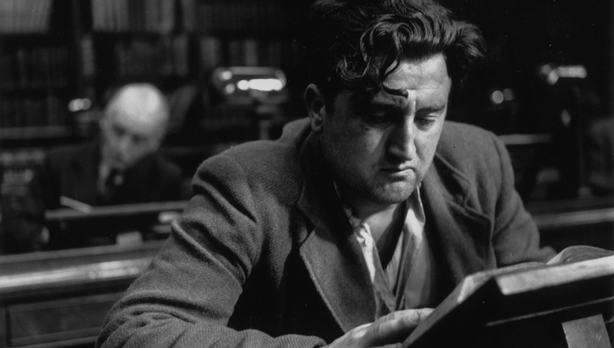 Paris again featured when the play was chosen to represent Ireland at the Théatre des Nations Festival in Paris in 1969. Ten years earlier, Behan's play The Hostage enjoyed success at the same festival, ironically, representing Great Britain. In 1970, Borstal Boy transferred to Broadway where it won a Tony Award – the first for an Irish play. Had Behan not gathered those fragments and persisted with his script in Paris, there would have been no book to adapt.
Listen back to more from Documentary On One here.
The original of Behan's notebook as referred to in the documentary forms part of the Brendan Behan Papers (C1596), held in the Manuscripts Division, Department of Rare Books and Special Collections, Princeton University Library. The full collection of Points magazine is available on microfilm from the Bibliothèque national de France.
Brendan Behan's works were reproduced with kind permission of the Behan Estate.