"The Murder Capital arrive as the latest in a new, hungry line of Irish rock bands giving the country – and its capital of Dublin in particular – a new reputation as a hotbed of vicious guitar music."
The opening line of NME's review of The Murder Capital's debut album When I Have Fears is as telling as it is accurate. Upon the occasion of its release, 2fm's Dan Hegarty takes another look at some other Irish debut albums from the recent and distant past.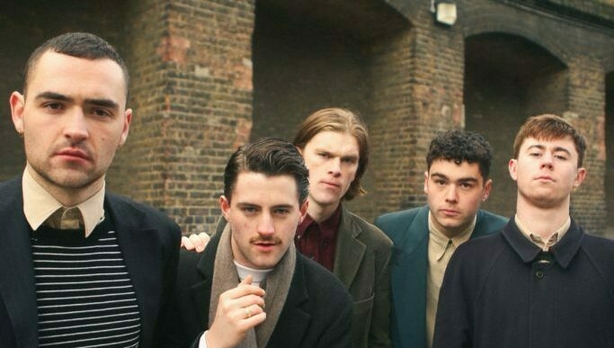 Virgin Prunes - If I Die, I Die (Rough Trade, 1982)
Too often Virgin Prunes have been dismissed as art-rock style over substance. They certainly had style, and if it's substance that you're after, then their debut If I Die, I Die is a perfect example of their substantial talent.
Was a conservative early 1980s Ireland ready for their cauldron of pomp theatrics and punk aggression? No it was not! All these years later tracks such as Bau-Dachöng and Baby Turns Blue still sound brilliantly off-kilter.
King Kong Company - King Kong Company (Gentleman Recordings, 2016)
For the last number of years, King Kong Company have been the unofficial heavyweight champions of the Irish festival circuit. They have brought their live show to a level where it can rival just about any international visitor you could name.
In 2016, they transferred these high standards into the studio, bringing us an album that matches the intensity of their live shows. King Kong Company is full of big beats with bad intentions. Standout tracks are iPop, Scarity Dan and Donkey Jaw.
The Chalets - Check In (Setanta Records, 2005)
"You got us thinking that maybe we got this good thing...
You got us thinking maybe you've got us all wrong...
We're slipping our black boots right off our feet...
We're slipping our keys right in your back door."
The narrative in Theme From Chalets is as amusing as it is all too often true to life. The Dublin band had more in common with The B-52's than most of their contemporaries during their relatively brief tenure, which saw them split in 2008.
Their only album Check In landed in 2005. Their brand of quirky pop wasn't just loaded with innuendos, there are abundant amounts of songcraft throughout this album. Two Chord Song is a piece of wonder, and Sexy Mistake and Nightrocker will serve as welcome earworms. It's a shame they didn't stick around for longer, as they had the potential to really jump to a greater altitude, which undoubtedly would have brought them the rewards that they deserved.
The 4 Of Us - Songs For The Tempted (CBS, 1989)
Some songs manage to knit themselves into the times that they were borne out of. In the late 1980s, Newry's The 4 Of Us made a significant impact with songs that would go on to feature on their debut album Songs For The Tempted. Mary was the biggest of these; it was a song adopted by buskers on what seemed like every street corner of Ireland.
The opening track Drag My Bad Name Down is a statement of intent. Listening to them in 2019, the album's guitar-fueled pop tunes sound of their time, but the very best of their time. It's hard to believe that August 31st marks 30 years since Songs For The Tempted was released.
Cara Dillon - Cara Dillon (Rough Trade, 2001)
Sometimes folk music brings you back to another time. Not in the hipster retro kind of way; it's where the songs conjure up images of those days that are slipping farther and farther into the past. A perfect example of this are the songs on Cara Dillon's self-titled debut album.
Recorded in Donegal, it opens with the stunning Black Is The Colour, which is equal part enchanting as it is beautiful. Blue Mountain River and She's Like The Swallow are other stand-out tracks; simple but perfectly formed.
Moloko - Do You Like My Tight Sweater? (Echo, 1995)
The duo formed in Sheffield in the mid 1990s, and delivered four albums between 1995 and 2003. Moloko were made up of Arklow born vocalist Róisín Murphy, and UK producer Mark Brydon.
Fun For Me was the track that grabbed a lot of people's attention at the time, and it was backed by other standout songs like Ho Humm and Party Weirdo. Brydon's rich lounge/funk heavy tracks mixed with Murphy's rhythmic vocals had more in common with what was happening in the US than Europe at the time. DYLMTS has aged remarkably well.
And So I Watch You From Afar - And So I Watch You From Afar (Smalltown America, 2009)
And So I Watch You From Afar's debut was released a decade ago... that's right, 10 years. As hard as that is to believe, the album's brilliant balance of abrasion and tenderness sounds as fresh and exhilarating as it did at the dawning of the last decade.
Set Guitars To Kill epitomises the word incendiary, while the closing tracks The Voiceless and Eat The City, Eat It Whole are the musical equivalent of a sunset fading at the end of a long summer's evening. The ferocious beauty of this album could quite easily knock you down!
Marxman - 33 Revolutions Per Minute (Talkin' Loud, 1993)
The concept of fusing elements of traditional Irish music with hip hop was not a new one in 1993, but Marxman did it better than anyone had done to that point (and since). All About Eve was an instant favourite, and teaming with Sinead O'Connor on the seven minute-plus Ship Ahoy proved to be a stroke of brilliance.
The Anglo-Irish group would go on to tour with U2 (on the Zooropa tour) and Depeche Mode (on their Songs Of Faith & Devotion tour), and bring us the criminally overlooked Time Capsule album in 1996.
Jafaris - Stride (DFL, 2019)
Around a year before Jafaris released Stride, he took a leap of faith. His switched from a full band that had developed into a real live force, to the leaner line-up of drums and decks. The result; an edge that gave his songs a new and rawer sound.
Fast forward to March of this year, and he brought us an album that holds a maturity far greater than his years. The single 'Time' is a mainstream banger, while others like Temple and God's Not Stupid offer a glimpse at the kind of broad canvas that he'll continue to work from into the future.
Cowboy X - Who Are These People? (Actual Size Records, 2006)
The title of this album could quite easily be the question that you're asking about this band right now. Cowboy X existed briefly, but in that time they brought us this absolute beauty of an album.
The track record of Irish acts with what is best described as 'alt-pop' has been mixed over the years, however the singles Gabbi and Between The Hit & The Miss are by far two of the best alt-pop tunes from the mid 2000s.
Otherkin - OK (Rubyworks, 2017)
These guys don't do power ballads! What you get from Otherkin is a piercing guitar noise that's as infectious as the most sugar-coated pop tune you could think of.
By the time Otherkin got around to recording their debut album, they knew exactly what they were about, and absolutely nailed it. Come On, Hello, and Ay Ay sum up what Otherkin had grown to at this stage of their career. And like any artist with pedigree, their development was set to continue until the disappointing news broke that they had decided to split up.
7
Gemma Hayes – Night On My Side (Source, 2002)


When you talk about debut albums that are everything that an expectant audience was waiting for and a little more, then Night On My Side by Gemma Hayes should slide nicely into that conversation. It captured all the early promise that she'd shown, along with a confidence of an artist a little further along in their career.


Aided by tracks like Back Of My Hand, Hanging Around and Tear On My Side, it received a Mercury Music prize nomination. Produced by Dave Fridmann and David Odlum, Night On My Side is one of Hayes' strongest releases; 2014's Bones + Longing and 2012's Let It Break are also worth investing some time in.
The Fat Lady Sings – Twist (EastWest, 1991)
If you were to transport yourself back to 1991, and ask anyone with a passing interest in Irish music who The Fat Lady Sings were, there would be a pretty good chance that they'd break into song, singing their track Arclight.
That song is one that has helped preserve the band's name to a large extent, but it wasn't their only great track. Like many debut albums Twist captures the band's early years, which had many noteworthy highlights; Deborah, Love Turned Upside Down and the anthemic title track.
The Stars Of Heaven - Sacred Heart Hotel (Rough Trade, 1986)
The career of The Stars Of Heaven seemed to begin and end in what seemed like the click of your fingers. The band only gave us two albums, Sacred Heart Hotel being the first. The album was introduced to a new generation of fans in 2005 when it was re-issued by Dublin-based Independent Records.
When released in 1986, the record was a million miles from the glitzy pop of Top Of The Pops, or the hair metal epidemic that was gripping the charts. You could draw comparisons between Sacred Heart Hotel and R.E.M's Life's Rich Pageant, which was also released that year. What greatness might they have achieved if they had stuck together longer? That's a question that many would like an answer to.
Margaret Healy - ...And You Are? (Medical Records, 2001)
Some music is so seamless that it gives the impression that it just slid into existence. The reality is mostly quite different however. In 2001, Margaret Healy released her stunning debut album ...And You Are? What's disappointing about this album is that you'll have to really search to find any references to it anywhere. You may find some reviews and minimal details, but that's it.
The combination of strong songs, a musician that knows their craft, and a cast of collaborators (Nitin Sawhney, Pat Barrett, and others) make this an album that sets a high standard from the opening note, and doesn't dip anywhere throughout. If you were to jump to particular tracks; Coming Home, Eye of the Beholder, This Is Your Star, and Never Never Land are four of the best.