Dan Colley from acclaimed theatre company Collapsing Horse writes for Culture about their latest project, a stage adaptation of Gabriel Garcia Marquez's short story A Very Old Man With Enormous Wings, and creating 'a new piece of theatre where children and adults can spend time together.'
Gabriel Garcia Marquez, the author of Love in the Time of Cholera and One Hundred Years of Solitude, was born near the Caribbean coast of Colombia in a particularly violent and turbulent time in the county's history. He is often described as a richly imaginative writer. He's held up as an exemplar of the "magic-realism" genre, a fact that he found amusing because he never thought he was writing imaginatively. He always thought he was writing about Caribbean reality. Sometimes the reality we observe is more magical than the fantasies we invent.
The Marquez story that we've adapted for the stage, A Very Old Man With Enormous Wings, is about a man and woman whose child has a fever, and they find a sick, injured old man outside their house. The old man happens to have a pair of enormous wings. The wise neighbour woman tells them he's an angel who's come to take their baby away. She advises them to kill him. The priest says he's an imposter. He warns them not to be tricked. The doctor examines him. He thinks more men should have wings. As pilgrims flock to see him, hoping to be healed by him, hoping for a gawp, they leave with something different than what they expected.
It is in that ambiguous space, in the grey area between black-and-white certainties, that the conditions for magic are ripe.
It's a very short story. Only four pages long (Manus Halligan, one of the actors and collaborators on the piece, tried to save himself a bit of time by first reading the Spark Notes and Wikipedia pages which turned out to each be about three times longer than the story itself) and yet it's so densely packed with rich, strange detail that it feels more bulky. He does, with each line, what it takes other writers a chapter to do. He writes that the couple's baby and the old man "both came down with chicken pox at the same time" which is all we were given (and all we needed) to imagine the relationship between the two.
It's is called "a tale for children" but it's a story that relentlessly resists the reader's efforts to extract a moral lesson from it - unlike in the stories by some of the giants of the genre such as Hans Christian Andersen, Oscar Wilde and the Brothers Grimm - marvellous writers though they are. It's much more murky, emotionally complex and ambiguous than those tales.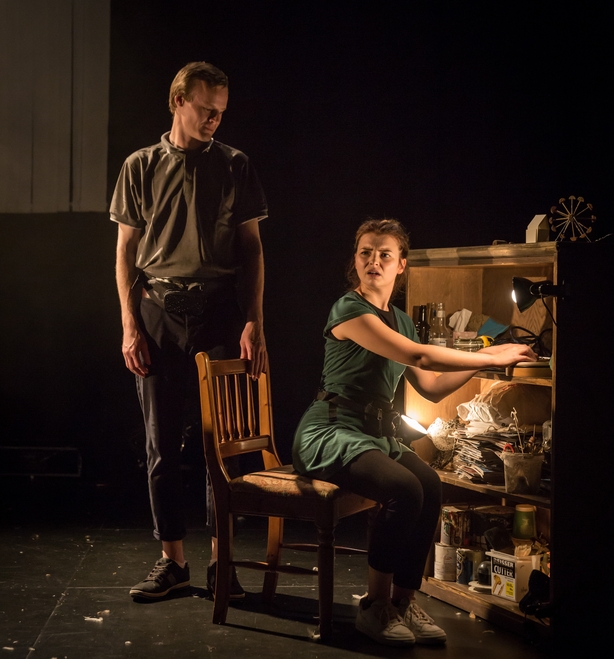 This is a story where we are asked to hold multiple contradictory ideas in our minds at the same time. What are we to think of the central characters, whose casual cruelty towards the old man might appall us, but who also demonstrate deep parental tenderness? Should we feel pity for the man or fear him, knowing that it's possible that he could take a child away? I think we're being asked by the piece to embrace the ambiguity - like the doctor who examines him and says "It seems impossible for him to be alive...and yet, the logic of his wings! Now that I see them I can't understand why other men don't have them too."
It is in that ambiguous space, in the grey area between black-and-white certainties, that the conditions for magic are ripe. Because magic does exist. And also it doesn't. These also happen to be the ideal conditions for theatre exist. In theatre, we're invited to suspend our disbelief, to play the game of theatre, while knowing that it is an artifice. It's the perfect medium in which to explore things that both are and are not at the same time. But in theatre, unlike with a short story, they share the same physical space and time while they experience it and they explore together.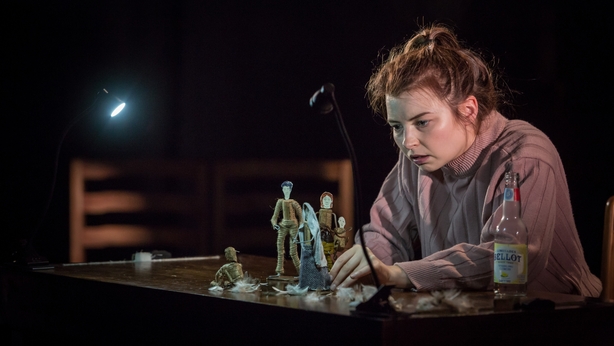 These contradictions, this blurring of the lines between fantasy and reality, is also the child's reality. The world, as children encounter it for the first time, is full of the bizarre but true, and the banal but false. And often there isn't a very good reason for what divides them. It may be "a tale for children" but it has as much in it for those who are no longer children, as it does for those who are currently. Our adaptation is suitable for everyone aged 8+ and we really do mean "+". The Dublin Fringe Festival is presenting it at various times, including at 9.15pm, at which we don't expect many people with school in the morning to be at.
Our hope is to create a piece of theatre where children and adults can spend time together in that ambiguous, strange and thrillingly dark psychic space - in that Caribbean reality.
Collapsing Horse bring A Very Old Man With Enormous Wings to the Peacock Stage at the Abbey Theatre, Dublin, from December 10 - 28 - find out more here.