Karl O'Neill writes for Culture about his new Drama On One play, Facing The Music, inspired by an incident in the life of legendary Russian composer Dmitri Shostakovich.
At the beginning of 1936, the career of Russian composer Dmitri Shostakovich was on the crest of a wave. He was 29 and had already had three symphonies premiered – the first while still a student – and his opera Lady Macbeth of Mtsensk had been performed numerous times over the previous two years to great acclaim. Another production was currently playing at the Bolshoi and doing great business. Then Joseph Stalin went to see it. And he was not amused. He stormed out, with his retinue of toadies, before the final act.
Listen: Facing the Music by Karl O'Neill, with John Kavanagh as Dmitri Shostakovich
Whether it was the storyline that offended him – a young wife having an affair and poisoning her tyrannical father-in-law – or Shostakovich's music itself, a couple of days later Pravda led with an editorial called 'Chaos Instead of Music' and castigated the composer. Widely believed to be the voice of Stalin himself, at the very least having his imprimatur, this Pravda article was close to a death sentence in Soviet Russia. The story goes that Shostakovich stayed awake that night waiting for the military authorities to come and take him away, and clutching to his chest his newly-penned 4th Symphony.
This image of an artist in fear of the State gave me the impetus to write my radio play Facing the Music in which my fictional composer Dmitri – based on, but not necessarily, Shostakovich – squats on his apartment floor at three o'clock in the morning and talks to himself, in fear and in guilt, while he waits for his door to be kicked open. The wonderful John Kavanagh plays the composer, and Aidan Mathews produces for RTÉ Radio Drama.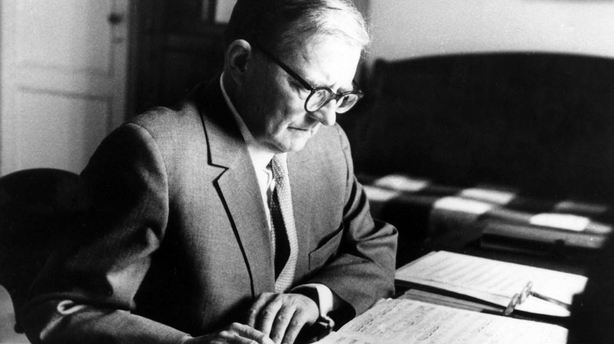 In reality, Shostakovich was lucky, he was not taken away, but he decided to shelve his new symphony, deciding its reception would be similar to his opera, and instead he embarked on writing another symphony to get him back into favour. Called 'A Soviet artist's creative response to just criticism', this 5th Symphony became one of his best-loved and most-performed works. It also put him back in Stalin's good books, at least for a while. In those inter-war years, Shostakovich lost many friends and extended family members to Stalin's purges, but he survived.
The story goes that Shostakovich stayed awake that night waiting for the military authorities to come and take him away, and clutching to his chest his newly-penned 4th Symphony.
The Great Patriotic War began - aka WWII, aka The Emergency – and Shostakovich achieved internationally heroic stature as the composer of the Leningrad Symphony, his 7th, epitomising the valiant Russians holding out against the Nazi invaders at the Siege of Leningrad, with PR photos of the composer himself in a fire warden's uniform on the roof of the Conservatory building.
The symphony was smuggled out of the country on microfilm and, in New York, Toscanini conducted the American premiere in a famous radio broadcast. Coincidentally, in the recent movie Florence Foster Jenkins, starring Meryl Streep, the part of Toscanini was played by John Kavanagh.
Despite his worldwide renown and musical status, in 1948 Shostakovich, along with Prokofiev and others, was denounced yet again from Stalin's pulpit. But again, Shostakovich survived. Stalin died in 1953, and in 1961, twenty-five years after withdrawing it from performance, Shostakovich's 4th Symphony was finally performed in Moscow.
Drama On One: Facing The Music, RTÉ Radio 1, Sunday 4th August at 8pm - listen back to more from Drama On One here.