Actor and activist Aoibheann McCann has taken over Culture's social accounts for this year's All Together Now bash - here, she checks out the sustainability initiatives on display at this year's ATN Festival.
Strolling about the beautiful Curraghmore Estate, marveling at the impressive bustle of music, stalls, and people I couldn't help but wonder about the biodiversity of such a lush, green, tree-filled place.
Where do the animals who live here retreat to while we bounce along their forest floors and how do they shield themselves from the bombastic sounds bursting through the festival air? Despite all this, as far as festivals go, if you are concerned with your carbon footprint or want festival fun without the guilt of wastefulness and pollution, All Together Now might be the festival for you.
Aside from promising to offset their environmental impact (check out their pledge here), All Together Now has created an area at the festival; lining the stunning walkway from the house itself en route to the Main Stage, there are stalls devoted to sharing and demonstrating organisations' commitment to rescuing our environment and saving humanity as we know it.
Clodagh Evelyn of Swapsies Dublin spoke to me about what she and others are up to at the festival:
Extinction Rebellion has become a global movement focussed on turning the tide (pun intended) of climate change. The movement has been embraced by large numbers but has also faced scrutiny as many demonstrations have aimed to disrupt 'business as usual' in major cities across the planet. Their stall at the festival has attracted huge numbers of revelers of all ages while bands have adorned themselves with XR badges and flags on stage. Last night, Orbital was flanked by an XR flag during their set on the Main Stage.
I spoke to Emily Robyn Archer about their stall, and their forthcoming Rebellion Week, which runs from 7th to 14th October:
Conscious Cup Campaign was set up by Irish woman Sorcha Kavanagh, in response to the fact that we use 22,000 single-use cups every hour on our tiny island. These cups are not recyclable and so head to landfill. Sadly, compostable cups mostly find their way there too; this can have devastating effects as they release methane as they break down there. Conscious Cup hopes to alert the public to this, encourage reusable cups and lobby for the facilities and system needed to ensure that biodegradable or compostable are dealt with correctly.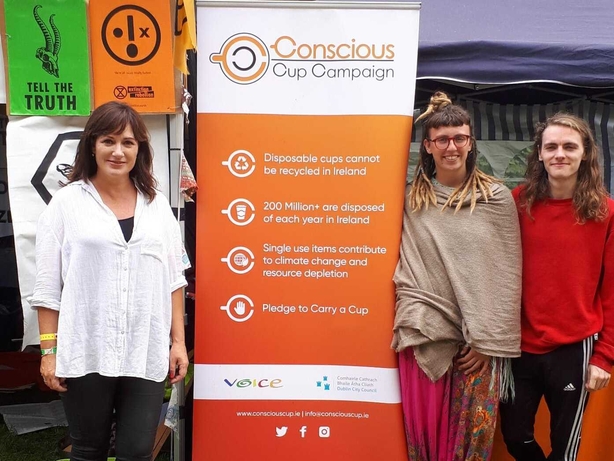 (image of Sorcha & Conscious Cup Team)
Young Friends of the Earth have been spreading the news and the joy throughout the festival, reminding the public to recycle correctly and offering them info on the environment and biodiversity. As we find ourselves in a biodiversity emergency in Ireland, YFOE has prioritised 'biodiversity' as one of their main campaigns of 2019. Their stall is populated by a large team of bubbly enthusiasts and you might even find yourself dancing the limbo if you befriend the right one.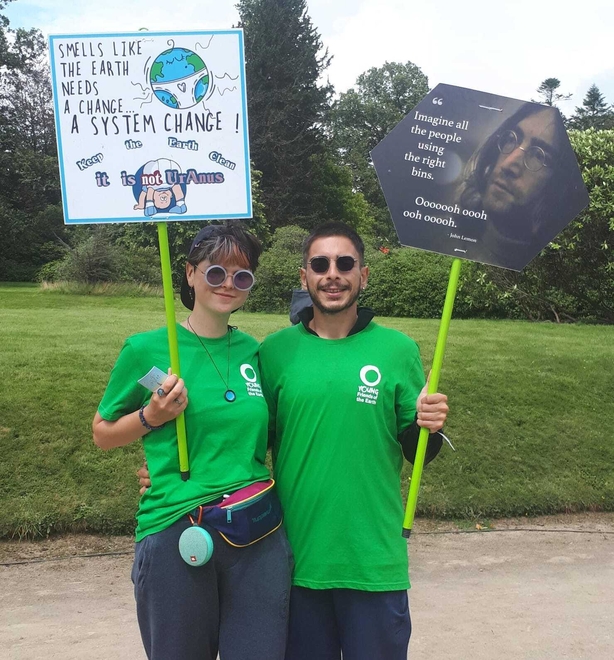 Other stalls on the 'climate action' walkway include Attention Attire, Panda Recycling, Voice Ireland, Seal Rescue Ireland, Plastic Free Waterford and Not Here Not Anywhere. After all that, if you are enthused and inspired to get in on the 'action' yourself the Climate Ambassador stall might be the place to start.
Reduce, reuse and recycle @ATNfestival. Bins will be signposted clearly, indicating the correct bin for your waste. #ATN19 urge everyone not to drop litter on the ground 🌎🌍🌏♻️🌺🌻 🌼https://t.co/DaljnMzqgp pic.twitter.com/eoS13hw3LF

— RTÉ (@rte) August 1, 2019
I love a party but the impact our desires have had on the planet means we have to put climate change on the main stage. Can the message of ATN 2019 make climate action more central to our choices and can having fun have a positive impact? I certainly hope so. In the meantime, I'm off to limbo...
Find out more about the Now by RTÉ stage at All Together Now here.