Karen Perry (AKA Karen Gillece) is the author of such gripping crime bestsellers as Your Closest Friend, Can You Keep a Secret?, Girl Unknown, Only We Know and The Boy That Never Was. Her latest page turner, Come A Little Closer, is in bookshops now.
We asked Karen for her choice cultural picks...
FILM
I turned on the documentary film Knock Down The House late one recent night, thinking I'd just dip into it for a few minutes then go to bed. Instead, I found myself gripped by this inspiring account of novice political campaigners battling to win seats in the US Congress. Alexandra Ocasio-Cortez is the big star here, but for me Amy Vilela is the stand-out. A no-nonsense mother powered by rage at her daughter's unnecessary death because she didn't have the right health insurance, her howl of pain when she fails to win her seat is unbearably raw and visceral – as if her daughter's tragic death had all been for nothing.
MUSIC
Some weeks ago John Kelly played Chicken Strut by The Meters on his Lyric FM show. I was driving the car at the time with the kids in the backseat. By the end of the track we were all laughing so hard, it was lucky I didn't crash the car. Highly recommended if you like cool funk with giggles thrown in.
I'm a sucker for some smooth jazz, particularly if it involves a piano, and lately I keep coming back to the album In Our Own Time by The Phil Ware Trio. From the opening caramel tones of Callisto right through to the final track – a dreamy version of Nobody Does It Better – this is the perfect soundtrack to a lazy Sunday afternoon.
BOOK
I can't wait to get my hands on Louise Doughty's new book, which is published in a few weeks' time. Doughty's work is always intelligent and engaging, and her latest, entitled Platform Seven, sounds like it won't disappoint. Also, having read and enjoyed Jonathan Coe's novel Middle England earlier this year, I've just finished one of his earlier works: What A Carve Up! The action takes place in the run-up to the first Gulf War and focuses on characters occupying positions of power in UK politics, banking, media and industry. The characters are all venal, unprincipled and motivated entirely by greed and self-promotion. Sound familiar? Even though the book was written in the early 90's, the book feels frighteningly contemporary. Plus ça change.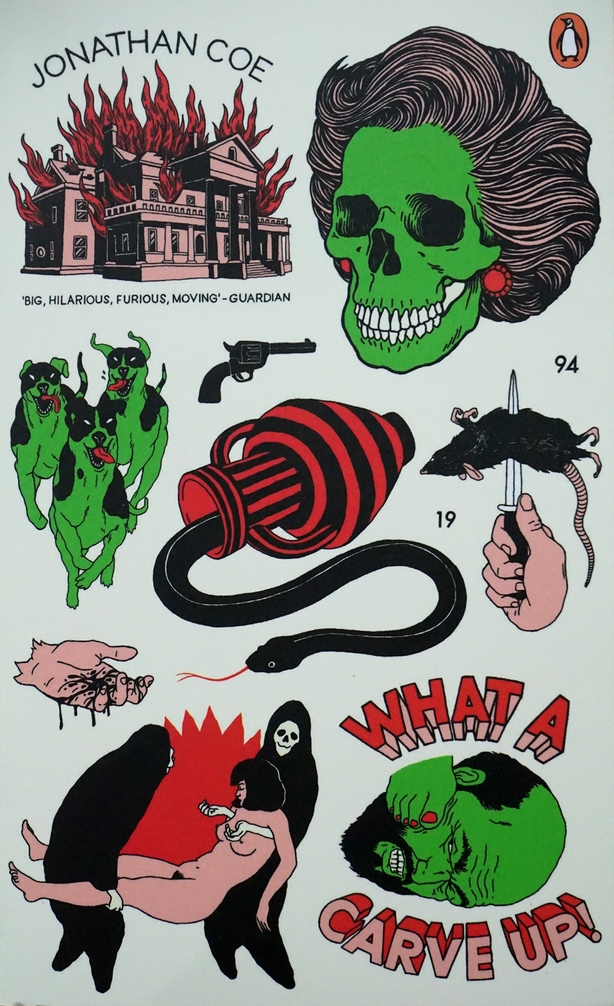 PLAY
Earlier this year, I saw A Day In May by Colin Murphy when it played The Pavilion Theatre. Based on stories of real people whose lives were intimately affected by the 2015 Marriage Equality referendum, it's a play that marries the political with the personal and the result is something rare and special. Laugh-out-loud funny at times, while also revealing of deep pain, and ultimately hope, I cannot remember a time when I was so moved by a theatrical performance.
TELEVISION
I'm looking forward to seeing The Dublin Murders, based on Tana French's Dublin Murder Squad series, which I believe will be broadcast this autumn. I loved the books and I'm curious to see how the richness of French's prose and intricate plots will translate to the screen.
In the meantime, I'm living in a remote part of France with no TV and pretty sketchy internet so I'm reliant on whatever is stored in the hard drive to fulfil my viewing needs. I've been re-watching The Sopranos and remembering all over again why it remains the king of TV shows. Still fresh, relevant and compelling, it's hard to believe that it's now twenty years old.
GIG
The Unthanks bring their Emily Bronte Song Cycle to the National Concert Hall in November and I would love to be there to see it. Their music is so haunting and atmospheric, their vocal harmonies so tender and ethereal. Lending their voices to Emily Bronte's poetry, it promises to be a very special evening.
ART
This is not a recommendation but more an expression of sadness at the recent closure of the Printmakers Gallery on Dublin's Drury Street. So many times over the years I have stopped to look at the beautiful prints on display in the window when hurrying into town, and on occasion I've been lucky enough to go inside and make a purchase. Art can so often be prohibitively expensive, which was why I loved the Printmakers Gallery so much – they stocked beautiful prints that were affordable.
PODCAST
As a crime writer, I spend a lot of time thinking about death – or murder, to be precise. Mostly, I'm plotting the why's and how's behind these killings, and what way I can weave them into a story. I don't, however, dwell too much on those that are left behind to mourn once the murderer has been identified and the loose ends all tidied up and put away. Which is why I have been listening to Death: Love, Grief and Hope. The series is produced and presented by Mark Longley, a journalist in New Zealand whose daughter was murdered by her boyfriend when she was seventeen years old. The episodes explore the nature of grief and how to survive it. It's harrowing listening at times, but at its heart is a will to help us all cope better with loss, and how we can support people who are grieving.
TECH
I've recently succumbed to the Fitbit trend. I love how it can track how much sleep I'm getting at night. Sleep has become an obsession of mine over the past year – more particularly, my lack of sleep. I'm someone who finds it difficult to stop her brain racing at night and silence those thoughts. For this reason, I love the Insight Timer app. It's a free app with guided meditations to help quiet the mind and ease you into sleep.
Karen Perry's Come A Little Closer is in bookshops now.