Tara Kennedy is an architect and co-curator of the Free Market Irish Pavilion at the 2018 Venice Biennale.
Free Market, the Irish National Pavilion at the 16th International Architecture Exhibition La Bienale di Venezia 2018, won widespread acclaim for its exploration of the unique identity of Irish rural towns when it showed in Venice in 2018. Now this ambitious exhibition will travel to four towns in Ireland - find out more here.
We asked Tara for her choice cultural picks...
---
FILM
I'm going to recommend Extra Ordinary, a first feature for the writing-directing duo of Mike Ahern and Enda Loughman and starring Maeve Higgins, Barry Ward, Will Forte, and Claudia O'Doherty. This is an off-kilter comedy about Rose, a sweet, lonely driving instructor in rural Ireland, who is gifted with supernatural abilities. Rose has a love/hate relationship with her 'talents', and tries to ignore the constant spirit related requests from locals - to exorcise possessed rubbish bins or haunted gravel.' It's premiering at Galway Film Fleadh this week. I haven't seen it yet, but am confident on the comedy credentials of those involved, and have heard only good things.
MUSIC
Lisa O'Neill's Heard a Long Gone Song features in between things like The Muppet Show Original Cast Album on the hotly contested record player request list in my house at the moment.
BOOK
I'm currently reading John Thackara's most recent publication How to Thrive in the Next Economy. He is an inspiring thinker on social, ecological and relational design, and this book 'describes how communities the world over are creating a replacement, leave-things-better economy from the ground up.' And 'creative ways to tackle timeless needs that matter: restoring the land, sharing water, making homes, journeying, growing food, designing clothes, journeying, and caring for each other.'
PLAY
I hoped to see Citysong by Dylan Coburn Gray at the Abbey recently but didn't make it, you never know maybe I might catch as it now travels to the Galway International Arts Festival.
TV
Hmm, I don't have a television (and mostly haven't had in my life so far, so I have what might be called some cultural gaps!) but recently watched Salt Fat Acid Heat on Netflix and wished it would go on for many more episodes. It's about food and lots more, and the presenter Samin Nosrat is a joy to watch. Her book of the same name is also great.
ART
I'm really interested to see the outcome of visual artist Michelle Browne's current project Bring Your Own Chair, a portrait of 12 rural towns in the South-East region led by Michelle and produced by Workhouse Union.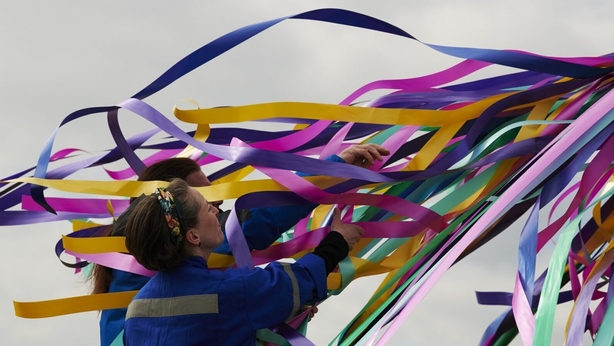 PODCAST
I've loved Mary Robinson and Maeve Higgins's Mothers of Invention podcast, listening to this unlikely duo interviewing women driving powerful solutions to climate change all over the world. It's hopeful and always fascinating.
TECH
We've recently been working with Detail Design Studio to update our Free Market website ahead of the National Tour.
THE NEXT BIG THING...
Extinction Rebellion has felt like the cusp of something big... Also, Free Market and a conversation on design and the future of Irish small towns is the next big thing on my horizon!
That's a wrap! It was an pleasure to bring #freemarket_irl to Castleblayney. We look forward to the next stage of the conversation. Next stop Macroom. pic.twitter.com/zQRAcfhODu

— Free Market (@freemarket_irl) July 7, 2019
Free Market travels to Macroom, Co. Cork from the 21st to 23rd July, Mountmellick, Co. Laois from the 5th to 8th September and Kilmallock, Co Limerick from the 19th to 22nd September - find out more here.