This week's Documentary On One docmaker Philip Gallagher writes for Culture about the story of one of Ireland's sporting imports...
Listen to Documentary On One: The Man from Tallahassee above...
In a basketball hall on a wet November night last year in Bray, Co.Wicklow, I first watched Ed Randolph play. Amongst a group of twenty-somethings, he stood out on the court for a number of reasons. Standing 6 ft 5 inches , black and nearly 60 years of age, he looked every part the commander in chief; finger pointing and barking orders at his younger and smaller colleagues, encouraging them to stay focused and see the game through, with his team Bray Bullets leading by a point and the clock winding down in the final quarter.
He's one of the few Americans who stayed on in Ireland and built a life here, long after the 'golden era' of Irish basketball had begun to peter out in the 1990s. The golden era was when basketball was one of the most popular sports in the country. A wave of professional Americans, including Ed Randolph, were brought to Ireland, bringing an exotic glamour to a game that before then was largely made up of local Irish amateurs.
Originally from Tallahassee, Florida, Ed played basketball for his school from a young age. The 1960s was a time of segregated education in the United States and he remembers being bussed into different towns led by a state trooper when black and white schools faced off. " We started to get good. We entered the state championships and we travelled around the state of Florida. There was still a bit of racial tension. We played in small high schools sometimes that were all white and he ( coach) would sit us down and tell us 'These places might be a bit hostile. The fans, they're gonna call you everything but a child of God, so kill them with kindness and let your playing do the talking."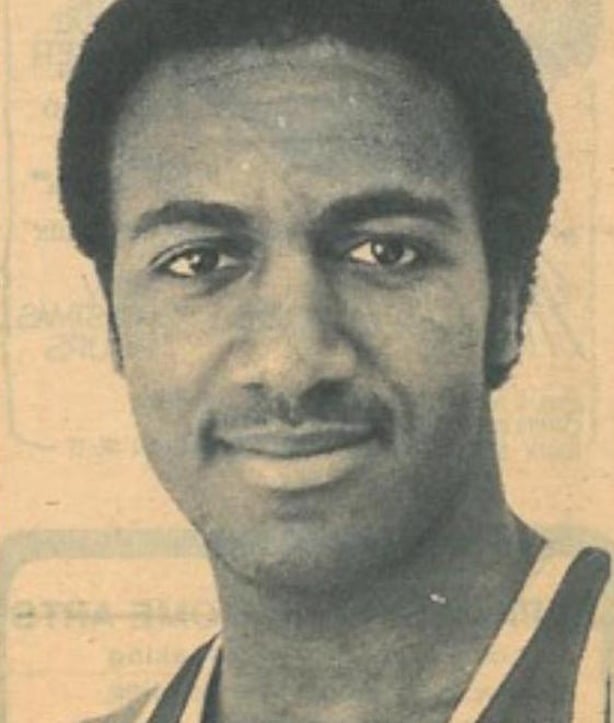 After high school, Ed moved to Rhode Island on a sports scholarship where he went on to become a leading points scorer for Roger Williams University. It was here that he caught the eye of Irish scout Fergus Woods who was on a recruitment drive to beef up the squad of Sporting Belfast, who played in the Irish super league. Like other scouts, Fergus was benefitting from a new rule in the late 1970s which allowed each Irish basketball league team to recruit two professional players from overseas. It was a move that would transform the sport, according to Fergus:
"I'm not gonna fool myself thinking we could have drawn the crowds without the American players. They were a great attraction. They had athleticism and moves we hadn't seen. They were taller, a lot of them like Ed were black players which we didn't experience at that time."
For US college players who didn't make it as far as the NBA, a professional career in Europe was an attractive alternative, with lucrative money offers commonplace to entice US talent to places like Spain or Italy, home to competitive leagues. But from the late 1970s onwards, Ireland became a new destination with the rule change.
In 1982 Ed Randolph arrived in Belfast. Timmy McCarthy, a former Irish captain and a leading player in Irish basketball in the 1980s, remembers that first wave of giant Americans who came in pairs to each Irish team. "They were like rock stars. It was like Elvis had arrived in town. They were just revered." By the mid 1980s there were 40 American professionals spread across three Irish divisions. "The league just exploded. Dundalk had a team, Ennistymon had a team, Trim had a team. Cork alone had 6 national league teams. Dublin had teams. Ballina, Limerick, Waterford, Belfast had a number of teams, it was spread throughout the 32 counties."
Ed moved to Ennistymon, Co.Clare, home to the Claremont Admirals, in 1984. It was here he met his now wife Anne, who was working in the local bank & opened Ed's first account. Unlike other Americans who saw Ireland as a short term move, Ed started to lay down roots. After playing for a number of clubs across Ireland, he settled in Bray and began supplementing his playing time on the court with a burgeoning career as a schools coach. By this stage, he had two sons, Darren and Neil who used to watch their dad from the sidelines. " Both of the boys I used to bring with me wherever I went, if I was coaching. Some of the girls from AIB women's team, they were great, they used to do a bit of babysitting and I'd try and keep the guys on the sideline."
It was on the sidelines where sons Darren and Neil saw their father enjoy success in the twilight of his career. In the 2000s Ed won a league and two cup finals with Killester, the second of which he won aged 48. By this stage basketball's popularity in Ireland had waned significantly, for a variety of reasons, starting with the rise of soccer, as Timmy McCarthy explains:
"In 89' the game changed radically. You went from the heights of 6,000 people at games, within a year to a couple of hundred. Euro 88' and Italia 90' brought soccer to a new level. Now fans had an international experience ."
The Superleague also changed its rules, reducing the number of overseas players from two to one per team. The rationale was to give local Irish players more opportunities and reduce costs. But ironically big sponsors who had helped fund the import of foreign players started to move away from the sport once the US players evaporated.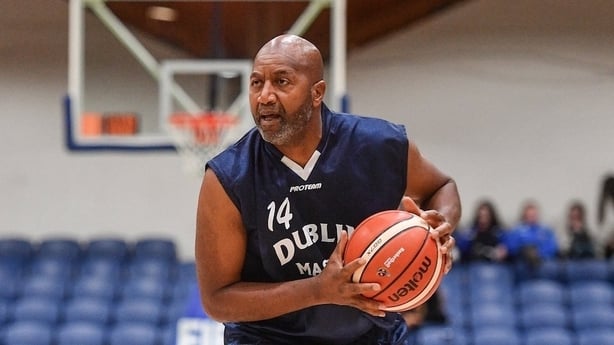 When Ed's playing days were coming to a close his sons sporting careers were only beginning. Neil has since gone on to play for Templelogue in the Superleague, following in his father's footsteps. Darren has traded basketball for life as a goalkeeper, currently the Irish no.1, following in the footsteps of Packie Bonner and Shay Given. This year he was awarded player of the season for Middlesborough. These days the tables have turned with Ed now playing proud father on the sidelines.
The Documentary On One –The Man From Tallahassee, RTÉ Radio1 , Saturday @2:00pm, Sunday @7:00pm