Some of the streaming service's most intriguing shows aren't in English. Here's our pick of the best international telly you can catch on Netflix right now...
DARK
Set in a small German town which might just be the site of a tunnel leading to different times, Dark bounces between the present day and the 1980s to tell a complicated but impressively coherent story. Teenager Jonas is struggling to cope with his father's suicide when young people start to disappear in the woods near his rural home town. But what links these two events? And will the lost children ever be found? Brilliantly cast (especially the younger versions of the 21st-century adult characters) and plotted, Dark has been compared to Stranger Things, but it's much stranger and, well, darker than that. Recommended.
CALL MY AGENT
Set in a fictional French talent agency whose clients include some of France's best-known actors (all playing themselves), this hilarious comedy-drama has rightly become an international sensation. The lives of the agents are even more complicated than the roles their clients play on screen; it's no wonder the Oscar-winning likes of Juliette Binoche and Jean Dujardin have been guest stars. Watch out for swaggering lesbian heartbreaker Andrea, played by the divine Camille Cottin, one of the best television characters in any language.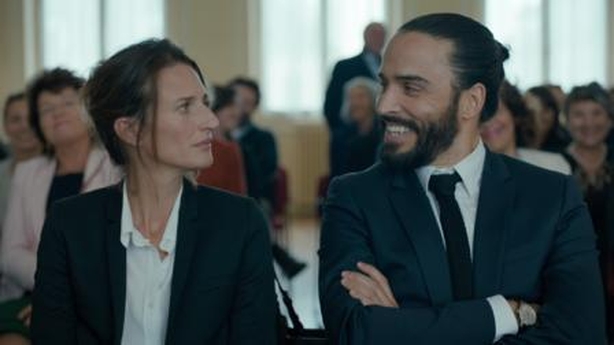 VELVET
This lavish and ridiculously compelling Spanish drama is set in Madrid in the late 1950s, and tells the story of Alberto, the heir to the Gallerias Velvet department store, who is madly in love with seamstress Ana. Alas, they can't be together because he needs to marry money in order to save the store – and the jobs of the many seamstresses and shop workers who not just work but also live there. The large cast of characters are hugely appealing, the action never stops (the first season alone features everything from secret babies to blackmail), it all looks gorgeous and it's got a sense of humour, too. Lie back and enjoy...
THE HOOK-UP PLAN
Parisian civil servant Elsa can't get over her ex – so her friend Charlotte decides to step in, hiring an escort called Jules to take her out and prove there are other fish in the sea. It's meant to be a one-night stand – but things don't work out as planned when Elsa falls for Jules's expert charms. Meanwhile, her meddling friends' lives aren't quite so perfect either. Witty, sexy and very, very French.
ROMANCE IS A BONUS BOOK
There are a lot of splendid shows from Korea on Netflix, and if you haven't tried a K-drama before, this delightful publishing-set romantic comedy is a good place to start. The hugely likeable Lee Na-Young plays Dan-i, a woman in her thirties whose life falls apart when she gets divorced. Desperate for work, Dan-i lies about her CV to get a job in a publishing house where her high-flying childhood friend Eun-Ho happens to be editor-in-chief. Their relationship has always been platonic, but will romance blossom amid the books? You'll have fun finding out.
HIGH SEAS
Fed up of gloomy Agatha Christie adaptations? Try some vintage Spanish crime instead, with this deliciously melodramatic mystery series set on a luxury ocean liner traveling from Spain to South America shortly after the World War II. Two sisters are shocked when a young woman who stowed away on the ship is murdered – and that's only the beginning of a series of shocking events that will (literally) rock the boat. High Seas is a feast for the eyes – the sets and costumes are top notch – with a plot that will keep you hooked.