Actor and writer Fergal McElherron writes for Culture about his new play, Cleft, a co-production between glór and Rough Magic which travels to the Galway Arts Festival and Kilkenny Arts Festival this summer.
You can never predict or plan where the idea for a piece of work might come from. More often than not it arrives from an unexpected place, or appears when you're not even looking.
I was performing in a production of Romeo & Juliet at Shakespeare's Globe with Penny Layden when the spark for Cleft flared up. Initially I wanted to write something absurd and comical for Penny and Simone Kirby. I knew the dynamic between the two would be amazing and the sky was the limit as to what they could do together. I started thinking about a relationship for them, and sisters seemed to have a lot of scope.
Rehearsal Day 1 for #Cleft with @RoughMagicIRL & @glorennis. @Simone1Kirby & @Laydenegg I left them to it as I go home to fix the embarrassing amount of typos I had left in the script. What a team though. Very pleased. pic.twitter.com/uoGWpFZaav

— Fergal McElherron (@FergMcElherron) May 13, 2019
The more I thought about it, the more absurd the world around these sisters became. While my intention was to write something quite comedic, the story began to take a much darker turn. More serious, dramatic themes bubbled up. My writing tends to focus on the grey areas in the human condition. We are not absolutes. Having settled on Fea (Simone) and Caireen (Penny) being sisters, I began writing something about family and unconditional love.
As the world formed, the themes started to broaden. I added a child into the plot. I felt the most unconditional love is that love you feel for your child. At least, that is, the one most expected to be completely unconditional. With this came the theme of parenting and maternal instinct - and the pressure or expectation to have it.
Listen to RTÉ Drama On One: Chopped Liver by Fergal McElherron
We need your consent to load this rte-player contentWe use rte-player to manage extra content that can set cookies on your device and collect data about your activity. Please review their details and accept them to load the content.Manage Preferences
With the play being a two-hander, I started to look at isolation in its many forms; geographical, emotional and familial. So Caireen and Fea became orphaned sisters living on the top of an island connected to the mainland by a causeway. The idea of the island only being a pure island on occasion appealed to me. There is that sense of isolation, but there is also a connection that appears when the tide is low. The causeway traffics life, threat, pain and wonder to and from the island. It also carried the child's father to the sisters' door from elsewhere. Caireen and Fea are people that have existed at arms length from society and this gap has left room for assumptions, myth and speculation, both from them and from the community they live on the margins of.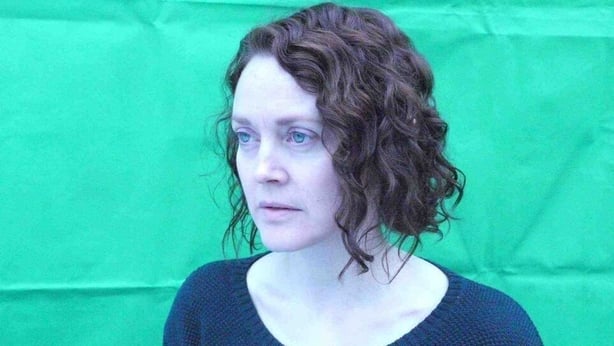 I began to think of storytelling and how important it is to cultures and societies. The world of the play took on a folkloric aspect. I began to examine how we invent to create a more palatable narrative, or to elevate ourselves. All the characters reported in the play have a story around them, a piece of shorthand that defines them. The arrival of the child has driven a wedge between the sisters as their attitudes to the boy are diametrically opposite. Their love is not in doubt but Fea's has a condition attached which she can no longer ignore. What began as a simple funny piece for two actors has become so much more.
Cleft is at Galway Arts Festival (22–27 July) and the Kilkenny Arts Festival (8-18 August) - more details here.