Actor-turned-writer Fergal McElherron introduces his new Drama On One play, Chopped Liver.
As an actor for over 25 years I've managed to remain standing despite the peaks and troughs. But I often felt I was waiting for someone to give me permission to tell stories or express myself creatively. I had to wait for the 'gig'. So in an effort to retain some artistic and creative sanity between the gigs I started to write. That itch would get a good scratch and the scribblings would be hidden away in a drawer when an acting job came along, only to be exhumed when it was me, myself and I again.
I could call myself a writer now. But I didn't really. I whispered it the odd time.
Eventually I found myself missing the pen and scribbling during gigs too. I found myself actually liking some of what I had written. It was no longer a stop-gap. I got a nice pen and a fancy notebook. I was under the impression that everything written with a nice pen in a cool notebook would automatically be inspired and bordering on genius. This is not true. In 2007, Belfast theatre company Kabosh, with whom I had worked as an actor in Mojo Mickeybo, asked me to write an hour of theatre. I wrote To Have And To Hold; three short pieces that were thematically linked and played simultaneously on three floors of the OMAC in Belfast. Three audiences went from one tale to the next and the order in which the stories were viewed would change the interpretation. I was extremely lucky to have this debut with such a reputable company.
This got the ball rolling. I could call myself a writer now. But I didn't really. I whispered it the odd time.
Having performed in radio plays it was a logical leap to write one. In The Blink Of An Eye was produced by Kevin Reynolds in 2010, followed by Prodigal in 2012. The whisper was given voice.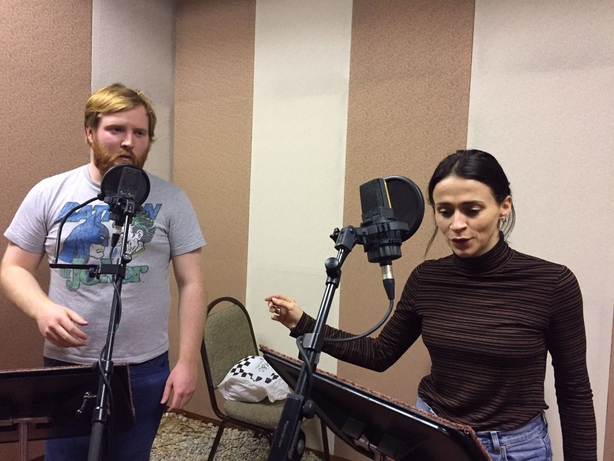 Fergal McElherron's Chopped Liver stars Charlene McKenna and John D. Ruddy
When I got the notion to write another radio play, I needed a story. I knew it was going to be a comedy and my leanings tend towards the darker side. Naturally I thought about death.
Death is very tough on the deceased but by that stage they're blissfully unaware. It is much more of an upheaval for the living. So the inconvenience of death was my starting point. When someone suffers the loss of a loved one its hard, it's tragic.If you lose someone that you don't love, never loved, strongly disliked, someone that in life was already an inconvenience then it becomes interesting and potentially darkly comic and absurd.
I thought about the costs involved. Death is dear. Expiration is expensive. Cessation costs! What do you do with a body you can't afford to bury or burn?
The course was set. So with the dulcet tones of a flat-lining heart monitor ringing out, Chopped Liver began.
Drama on One presents: Chopped Liver, RTÉ Radio 1, Sunday 16th October 2016. You can listen to Chopped Liver in full here.