Sometimes good ideas don't manage to come to fruition. One which luckily did was conceived by a gentleman called Dave Reid. It was fully realized when he teamed up with Jim Carroll, and within 12 months we had the first event that we would know as the Choice Music Prize.
On Tuesday night, 2fm broadcast an RTE Choice Music Prize special. The one hour feature included interviews with previous winners Ships, Julie Feeney, Delorentos, Super Extra Bonus Party, and the only two-time winner Jape. Others featured include Dave Reid and Tony Clayton Lea of Choice, broadcaster and journalist Nadine O'Regan, and current nominees Kojaque, Just Mustard, and Kormac, who's remixing duties can be heard on the track Causing Trouble by Saint Sister and Jafaris - listen to it above.
In the years since its inception Villagers, Jape, Soak, Two Door Cinema Club, Delorentos, Julie Feeney, and Rusangano Family have been some of the names that have been recipients of Irish Album Of The Year. While initially Choice highlighted the album format, the category of Irish Song Of The Year was added in 2011.
Aside from celebrating music that is being made in Ireland each calendar year, the awards serve as a snapshot of how Irish music is developing. When you look back at previous years, each shortlist serves as a pretty accurate reference point as to where Irish music was at that period.
No excuse to miss the RTÉ Choice Music Prize this Thursday 7 March!
Why?
You can buy a ticket for the live event in Vicar St https://t.co/8BXByH8Nx9
You can listen live on @rte2fm from 7-11pm
You can watch the TV show on @rte2 on 17 March at 11.15pm pic.twitter.com/JaI2Wq5uuw

— RTÉ (@rte) March 1, 2019
There was a time when some would have tried to categorize 'Irish Music' as a genre, which was of course nonsense. If it made little sense then, it would make absolutely none in 2019. Over the past number of years, the shortlists for both Album and Song Of The Year have featured everything from urban and hip hop to trad and folk, mainstream rock to electro, singer-songwriters to what you might call post and alt-rock. As Ireland develops and moves forward, so does the music.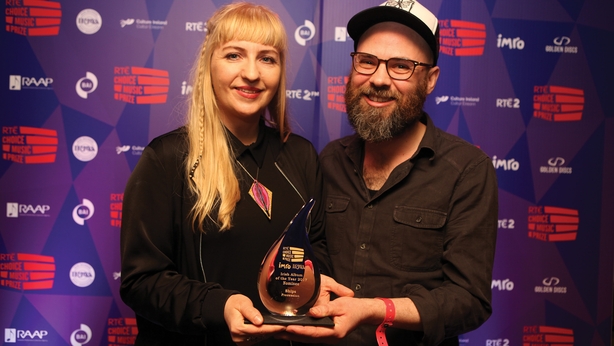 On Thursday, March 7, the 14th installment of the awards will take place at Dublin's Vicar Street, and will be broadcast in entirety on 2fm from 7pm that night. The evening will unveil the Irish Album Of The Year 2018 and Irish Song Of The Year 2018; the latter through a public vote, and the former via a panel of judges who will debate the merits of a shortlist of 10 albums, and come to an agreement on one.
RTÉ CHOICE MUSIC PRIZE IRISH ALBUM OF THE YEAR 2018 SHORTLIST
The Academic – Tales From The Backseat
Delorentos – True Surrender
Just Mustard – Wednesday
Kojaque – Deli Daydreams
O Emperor – Jason
Lisa O'Neill – Heard A Long Gone Song
Saint Sister – Shape Of Silence
Rejjie Snow – Dear Annie
Villagers – The Art Of Pretending To Swim
Wyvern Lingo – Wyvern Lingo
RTÉ CHOICE MUSIC PRIZE IRISH SONG OF THE YEAR 2018 SHORTLIST
Fontaines DC – Too Real
Niall Horan – On The Loose
Hozier (feat: Mavis Staples) – Nina Cried Power
Gavin James – Always
Laoise – Again
Mango X Mathman (feat: Day_S) – Lord Hear Us
Picture This – One Drink
Pillow Queens – Gay Girls
Saint Sister (feat: Jafaris) – Causing Trouble (Kormac Remix)
Wild Youth – Can't Move On