We all know the big ones: The National Gallery of Ireland, The Irish Museum of Modern Art, The Royal Hibernian Academy and The Hugh Lane Gallery in Dublin; the Crawford Gallery of Art in Cork, Limerick City Galley of Art, and the MAC in Belfast, but what about the exhibition spaces you might not have on your immediate radar?
Ireland is full of remarkable, free, galleries, showing all kinds of art all year round. Here, from small to large, from the regions to the capital, is our essential guide to Irish art galleries you might not have realised you definitely should visit.
HIGHLANES MUNICIPAL ART GALLERY, DROGHEDA
The Highlanes Gallery was once a Franciscan Church, part of the friary known locally as the High Lane Church. Gifted by the order to the people of Drogheda in 2000, the site includes early 19th century buildings and earlier Franciscan burial crypts. Opened in 2006 after a €4 million refurbishment (raised from funding and donations), including purchase of the adjoining property, Highlanes is home to the Drogheda Municipal Art Collection started in 1946 by the artist Bea Orpen and her husband Terry Trench, and plays host to a regular programme of exhibitions of contemporary and other art. It doesn't shy away from controversial or challenging subjects. In 2017, as part of the Hair: Bristle and Hegemony group show, it featured Bharti Parmar's remarkable Shag - a hand-knotted, human hair rug.
Slightly hidden, because from the outside it still looks mostly like a church, the gallery is accessed via a walkway.
The current layout was designed by architect Turlough McKevitt and the restoration has retained the original altar, which can make for thought provoking juxtapositions and challenges on the installation front when it comes to displaying art.
Driven by the strong curatorial approach of director Aoife Ruane, it also has a nice café. The latest show, running from February to April 2019, by Irish painter Mary A Kelly, is called Chair, and consists of striking realist paintings of just that.
VISUAL, CARLOW
VISUAL is home to one of the most remarkable gallery spaces in the country. The Main Gallery is 29 metres tall, making it the largest white cube gallery space in Ireland. In 2019, it celebrates its tenth birthday, and has lined up a programme of exhibitions the highlight of which will be a comprehensive take on the work of the late Stephen McKenna (1939-2017), featuring more than eighty paintings dating from 1958 to 2015 (9 February to 19 May).
Designed by Terry Pawson Architects, the building is in the grounds of Carlow College and is also home to a 335-seat theatre.
The main gallery truly came into its own in 2010, with Unbroken Line, the gobsmacking retrospective of the work of sculptor Michael Warren, which made one of the best uses to date of the bright, white, cavernous space.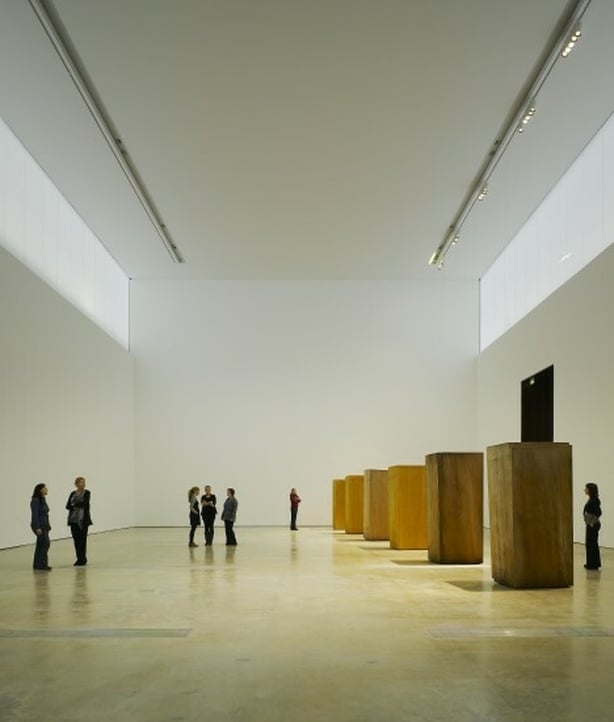 In 2017, The Playground Project featuring work by Rhona Byrne, Tom Watt and Eva Rothschild turned the ground floor galleries into an enormous indoor playground in which everyone was very much allowed to touch (and climb on) the art.
With a total of 3130 square metres across five display spaces, the technical spec of the building is remarkable: polished concrete floors with infinite loading, and a reinforced aluminium stud system behind the walls which allows for hanging of weighty works.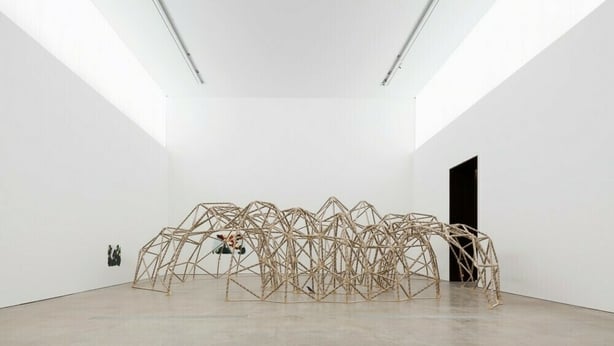 For artists who work across mediums, it's one of the only places that can show big, airy sculptural works and dark-room films with seamless success. Currently in the process of recruiting a new director, it's in the interim hands of curator Eamonn Maxwell and will play host to the touring exhibition of the Irish Pavilion from the 2018 Venice Architectural Biennale from September 2019, appropriately titled Meetings With Remarkable Buildings, which will showcase the work of 16 Irish architecture practices, curated by Irish architects Yvonne Farrell and Shelley McNamara.
It's also another gallery with a great café: Lennons@visual.
SIRUS ARTS CENTRE, THE OLD YACHT CLUB, COBH, COUNTY CORK
The Sirius Arts Centre is housed in a building originally designed, in 1854, as home to the Royal Cork Yacht Club (the oldest yacht club in the world). The English architect Anthony Salvin was an expert in fortified architecture and the Old Yacht Club in Cobh is the only example of his work in Ireland.
The yacht club occupied the building for more than a hundred years, but it has been home to the Sirius since 1995. In 2018, restoration work done to reveal murals painted by the artist Brian O'Doherty in 1996 and then covered up and forgotten for more than twenty years, was unveiled.
A year-long series of events and exhibitions associated with the One Here Now: Brian O'Doherty / Patrick Ireland Project will come to an end in April 2019 when the murals will be covered again, behind panels allowing for their safe preservation. The gallery will go back to hosting other regular contemporary art exhibitions in the main exhibition space, with its valuable legacy hidden in the walls.
Situated in the Cork town famous as the last docking port of the Titanic, it is probably the Irish art gallery with the best view of the sea...
RUA RED: SOUTH DUBLIN ARTS CENTRE, TALLAGHT
Rua Red, with its doorstep on the Tallaght Luas Red Line stop, opened in 2009 as a vibrant community art space. Under the curatorial leadership of Executive Director Maolíosa Boyle, it has developed a reputation for showing robust, politically-charged work, and for its really strong approach to community engagement.
Its stated mission is to "exhibit the work of established Irish and International artists who are committed to producing work within a socio-political framework." The current exhibition, Finnegan's Woke, is by Kennard Phillips (artists Cat Phillipps and Peter Kennard) and its focus is the nature of and relationships between power, hypocrisy and greed, world politics and civic engagement.
Drop in for a free tour of 'Finnegans Woke' at 2pm today with a member of the Rua Red Education team! Explore the exhibition and learn insights to how the artists created this space ---> https://t.co/5woyyJXwPP pic.twitter.com/Y8Bv6xWDCE

— RUA RED Team (@RuaRed) February 21, 2019
It also runs a superb annual, open submission Winter Show which shows art from the whole island of Ireland.
For 2020, Boyle has commissioned visual artists Amanda Coogan, Rachel Fallon, Jesse Jones and Alice Maher, writer and Director Grace Dyas and dancer/choreographer Oona Doherty to make new work exploring and responding to the figure of Mary Magdalene.
Rua Red has two exhibition spaces, including its large, high-ceiling main gallery, and it is also home to performance spaces, meeting rooms, a dance studio and music rooms. And yes, a nice cafe too.
LISMORE CASTLE ARTS, LISMORE, CO. WATERFORD
Without a doubt, the best gallery in a castle in Ireland, Lismore Castle Arts opens from March to October each year and generally shows one major exhibition during that time. It's situated in a part of the castle accessed separately via the gardens, which are also open to visitors for eight months a year.
The castle, which looks like a proper fairy-tale location overlooking the Blackwater Valley, is a family home owned by the Duke and Duchess of Devonshire, and not open to the public.
A not-for-profit gallery in operation since 2005, Lismore Castle Arts has shown the work of Irish artists Gerard Byrne, Dorothy Cross and Eva Rothschild, as well as major international names including Matthew Barney, Hans Josephsohn, Danh Vo and Ai Weiwei.
It also runs a programme of exhibitions in the smaller St Carthage Hall, a former Victorian church hall a short stroll away, in Lismore town.
FIVE MORE TO KEEP AN EYE OUT FOR...
Atypical Gallery 109-113 Royal Belfast Ave, Belfast. The only permanent gallery on the island of Ireland dedicated to the work of disabled and deaf artists, now showing the remarkable wool and paint compositions of Mary Cody.
Uillinn: West Cork Arts Centre Skibbereen, Co Cork. It was the building that nearly didn't get built, after the architects Donaghy and Dimond Architects who won an international competition to design it, were dismissed after the financial crisis hit. In the end Uillinn was built under the supervision of quantity surveyors. It sits with its big, rusty, Corten steel facade on a former bakery site next to the river. Currently showing an exhibition of contemporary sculpture by Caoimhe Kilfeather and Karl Burke aimed at children aged 4 to 12.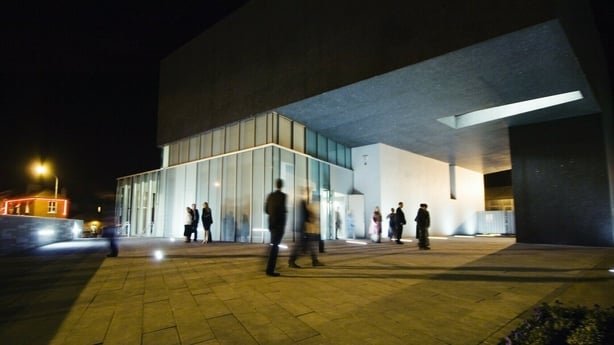 Solstace Arts Centre, Navan, Co Meath. This award-winning multidisciplinary arts centre was designed by Shelley McNamara of Grafton Architects and opened to the public in 2006. It mounted the seminal retrospective of Irish artist Micheal Farrell's work in 2013 and has shown the work of Bernadette Kiely, Niamh McCann and Margaret Corcoran. The current exhibition is a group show of art about surveillance and spying.
Model and Niland, Sligo. Home to The Niland Collection, which features paintings by Jack B Yeats and many more, the Model is currently exhibiting the biggest display of these collected works to date, to mark the 60th anniversary of the collection, founded by librarian Nora Niland in 1959
Luan Gallery, Athlone, Co Westmeath. Opened in 2012, the Luan Gallery has a stunning setting on the banks of the River Shannon. It is housed in a former public library, originally built in 1897 as a temperance hall, with a new wing designed by architect Keith Williams. It was named Best Cultural Building of 2013 by the RIAI.