The morning after I visit the artist Siobhán McDonald in her studio, a headline appears in my Twitter feed: Repeated Radio Signals Are Coming From A Galaxy 1.5 Billion Light Years Away.
It's a story about how scientists have found "repeated blasts of radio signals coming from deep in space". "The flashes only last for a millisecond," writes the author, "but they are flung out with the same amount of energy the sun takes twelve months to produce."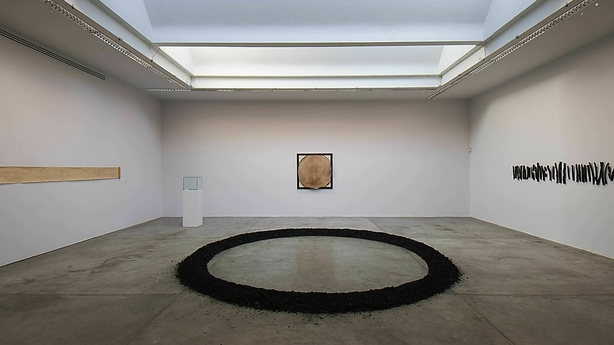 It's the 9th of January 2019, and while I am reading this in Cork, McDonald is in Dublin working on new pieces for her Limerick City Gallery Show. The materials she's using are charcoal and gold. Some of the charcoal is more than 2000 years old, burnt around 200 BC, somewhere on the Irish border. Only a border didn't exist then, or did it? The present-day border county of Monaghan is where McDonald is from, and this idea of signals, coming from the land, from space, from the environment, from the past, is key to her work. Like any message we might extract from such places, the origins of her fascination with signalling begin much further back in her own timeline as an artist.
"One of my earliest memories as a kid is of Monaghan and digging for rocks as a small child. I never knew if I wanted to be a painter, a geologist, or an archaeologist," she says. It seems she has combined all three. Connections, links, signs even, are intrinsic to McDonald's way of working. One piece of research leads to another investigation.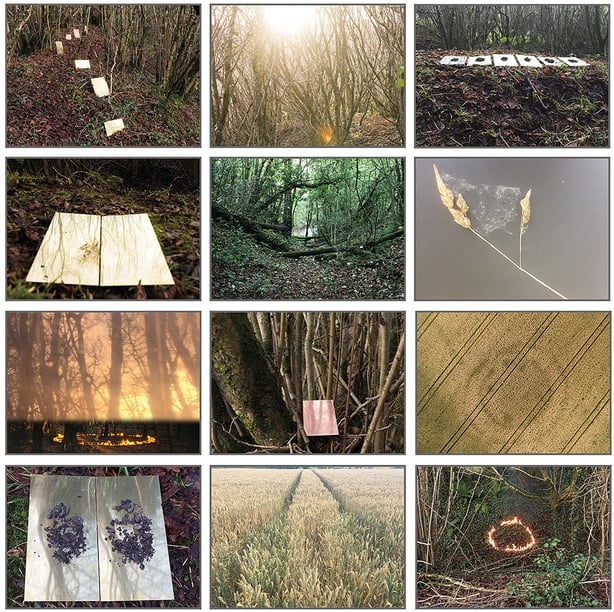 In 2016, she was asked by Creative Ireland and Monaghan County Council to make art about the Black Pig's Dyke, a structure she describes as "an archaeological monument in, and on, the land". It's a linear earthwork (in archaeology-speak), which stretches for miles, dates from the Iron Age, and is likely connected to other "dykes" found in eight other counties, although no one knows how, or why.
McDonald describes them as "trenches in the land". The one in Monaghan is 10 kilometres long. She has been researching it for almost two years now, and the art she has made will have its debut in Limerick as part of a bigger solo show. It's the latest in a series of exhibitions which began with Crystalline at the Centre Culturel Irlandais Paris and A Change in the Signal at Highlanes Gallery in Drogheda in 2017, and continued with Disappearing Worlds at the Taylor Galleries in Dublin and When Plants Remember at the National Trust Fox Talbot Museum in the UK in 2018. This 2019 Limerick show is called Crystalline: Hidden Monuments. The art is an interconnected body of work that grows each time she displays it.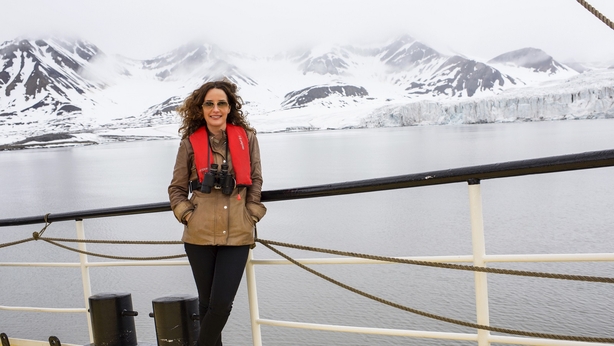 In her studio, McDonald talks about painting, about the time she spent in 2015 following in the footsteps of the final, doomed 1845 Franklin expedition to the Arctic Circle, about a new European Space Agency mission to photograph the sun, about the crop circles that appeared in County Meath during the summer drought of 2018, about making pin-hole images using tanks of atmosphere stored in University College Dublin (UCD), about decaying specimens in academic collections, about living specimens in botanic collections, about dreaming and feeling and imagining and trying to solve a problem.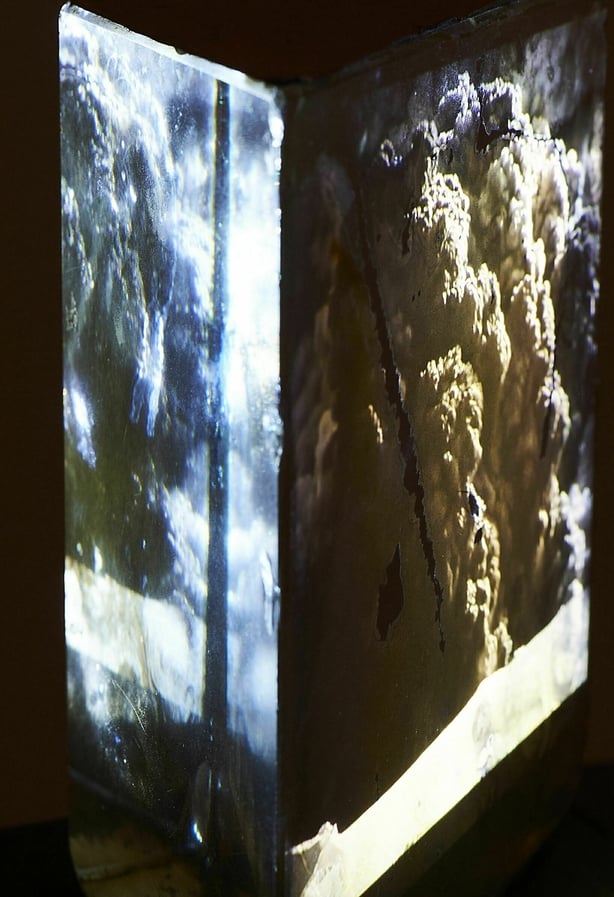 In Cork, the day after our chat, headlines and scrolling news alerts accumulate digitally in my hand. The oceans are warming faster than we thought, a new study says. Human activities have been the greatest contributor to global warming in the past fifty years. We only have thirty left to fix it. Carbon emissions must be reduced to zero by 2050.
A week or so later, I hear these words on the radio: "For the first time in history, humanity is out of synch with the planet, and nature." Later, I discover a producer I know called Zoe Comyns has made a radio piece about the Anthropocene for the BBC World Service. I hadn't heard of the Anthropocene before speaking to McDonald; now the word is everywhere.
"One of my earliest memories as a kid is of Monaghan and digging for rocks as a small child. I never knew if I wanted to be a painter, a geologist, or an archaeologist."
"We are in a new era," she explained. "In the last two years, geologists have said we are in the Anthropocene, a man-made climate. It's unprecedented. In 50 years, we have caused this. It's a new word. It's not a natural thing. It's us. It's our mark on the land. The question here [and she means in this show, in this new work] is about the mark we are leaving on the land."
An early Ordnance Survey map refers to the Black Pig's Dyke as "Ruins of Ancient Entrenchment". The language seems suitably foreboding. Often the message that might be coming from this prehistoric structure reads like some kind of warning.
Watch: Siobhan McDonald's research for the project is documented here:
The Black Pig's Dyke is over twenty metres wide and several metres deep. It was once lined bottom and sides with split oak trees. Higher on the northern bank than it is on the south, it would have taken 5000 men 5 years working every day to complete. McDonald showed a map to a solar physicist and asked, "What were these people doing? What was their mindset, 2000 years ago?" The answer she got was this: "Everything was aligned with the sun. Summer and winter solstice, sunrise and sunset, were key to their way of thinking." She began to make connections. "The dyke has an east-west trajectory, so perhaps it was aligned with the sun. The sun told them when to plant: it's to do with survival, and it's to do with death."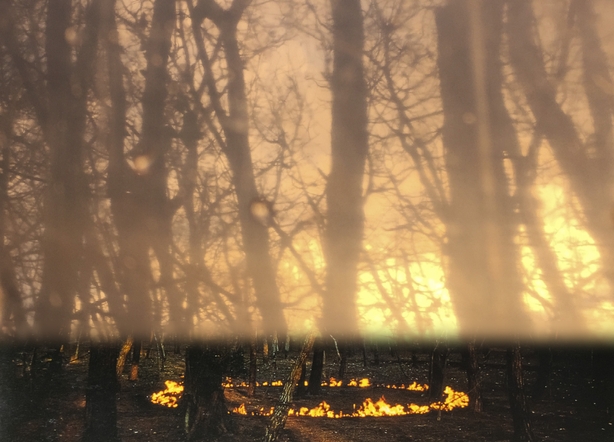 There's a feeling of history repeating itself. "In the second century BC, Ireland was on its knees and had the same unprecedented shockwaves we've had [worldwide] – food shortages and people dying. It was climate crisis," she says. Around this time, palisade fences across Ireland were burnt. "They lit the palisade fence above the dyke, it remained smouldering and the clay turned red, which indicates a fire underground. When a fire happens underground, there's no oxygen and that's how charcoal is made."
"At the time Irish people thought the sun was god, so they were calling for help." That's her theory about the burning of the Black Pig's Dyke, although there are others. She envisages a line of fire, lit as a signal, a beacon, a prayer, in a time of great need.
McDonald has worked with charcoal before. She has made art from the material that will be used to coat the surface of the 2020 Solar Orbiter Mission rocket. It's a compound made from charred animal bone and charcoal, produced in Ireland, and it's the most heat resistant material in the world. "They are going to photograph the sunspots, the changes on the surface of the sun, which will tell us what the climate will be like in 150 years," says McDonald.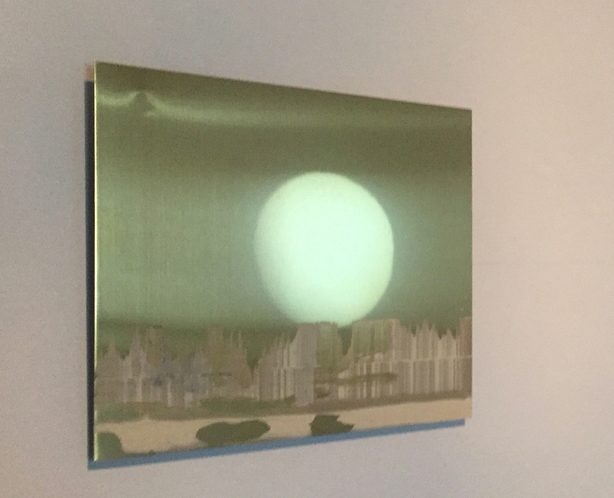 She has made paintings based on plate glass photographs, trapped in the ice after the final Franklin expedition, which have emerged preserved, as the glaciers melt. "Ghostly shadows of people who had died", their bones have been found too, revealed by melting snow.
She has been an artist in residence at the College of Science in Trinity College Dublin and the School of Biological and Environmental Science at UCD. She operates like a scientist, a curious researcher, a theoriser, an explorer. Her art is driven by a process of making interconnected investigations into how the world works. She sees archaeological, botanical, historical, and other records and archives as portals into the past, which might teach us something about the now, and perhaps the future.
"The dyke has an east-west trajectory, so perhaps it was aligned with the sun. The sun told them when to plant: it's to do with survival, and it's to do with death."
She describes the advent of the Anthropocene as "like a hand grenade that's been thrown into nature… Scientists are trying to find materials to solve the problem." She talks about volcanic ash with the ability to sequester carbon and wonders what it might mean if we shifted our thinking, "to see volcanos not as a threat but as a solution." "All the plants in Mt Etna, that live on ash, with no soil, they're all turning carbon into air – they're like lungs. There's no way it cannot all be connected."
McDonald loves connections. Her mind zooms in and out, from the detail to the bigger picture, the molecular to the millennial. "I get to think about deep time," she says.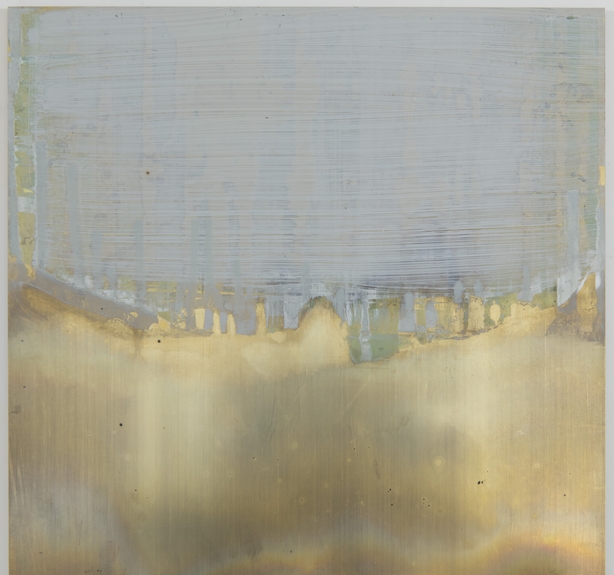 The idea of ritual plays a major part in her process. This new body of work includes film footage of ritual fires, performative pieces and temporary land art McDonald has made on and around the area of the Black Pig's Dyke. The show will include new paintings, on 24-carat gold plated copper plates, which she also sometimes burns, using a blow torch. They look abstract, distressed, a word she uses when talking about other images she has made. It's a word that speaks to the fragility and the anxiety inherent in the work. Despite it all, she is optimistic. Her art is not deeply negative, although it is urgent, pensive, and full of thought-provoking beauty.
She uses gold and copper because they are conductors: "I like their ability to reflect and to conduit, they are signalling to us." She uses calfskin, "because it's a material used to record Irish history, our earliest weather records were recorded on calfskin." She uses charcoal because it seems to join the dots. She asked herself, "the first-ever marks made in the world, and the future – what's the connection? Charcoal is the answer."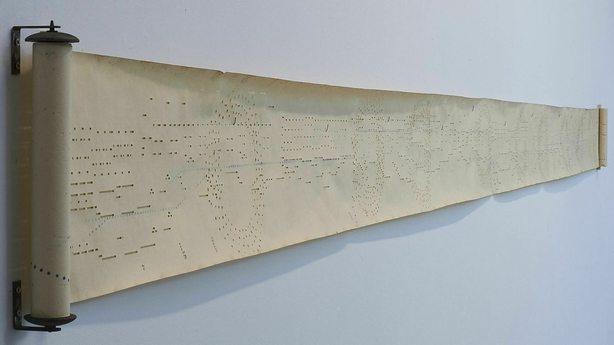 Some of her new work incorporates seismograms, delicate lines that scratch a record of the vibration of the earth onto paper via wires placed in the ground. "It's like the song of the earth," she says. From the composer David Stalling she has commissioned a new sound piece, which will be based in part on recordings made on site, at the Black Pig's Dyke. "I want it to be a futuristic sound piece, like Morse code – literal in parts, and related to the geography." That final piece of the project will be launched in March 2019 in Monaghan.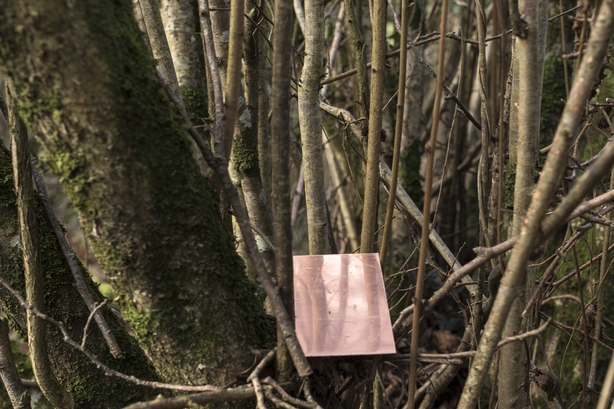 She comes back to that word: Anthropocene. "Now there's a new layer in the rock," she says. Maybe the earth is speaking to us. Maybe the past is sending us a message. Maybe the answers are all around us. Maybe it's time to listen.
Crystalline: Hidden Monuments by Siobhan McDonald is at Limerick City Gallery of Art until March 17th, 2019 - more details here.