This is a little peach of a book, and I loved it from the get-go…
Maurice Hannigan (84) is sitting on a bar stool, waiting to order a bottle of stout, so he can begin to tell us the story of his life. "I'm here to remember ", he says, "all that I have been and all that I will never be again".
The story is set on June 7th 2014, two years after the death of his beloved wife Sadie, and we quickly realise, that like a lot of men of his generation, what he is telling us (by way of a monologue to his son Kevin) he has never articulated before, and like many more, that he is full of regret.
Maurice does it by way of five toasts to the five people who meant most to him through the years. Each one gets a separate chapter, and through their stories we learn more about early childhood on a small farm on the Meath/Dublin border, going to work in the Big House next door at just ten years of age, the torrid time he had there and how that affected decisions he made over the course of his lifetime… it's all there!
The toasts come first, to his older brother Tony, who he idolised, and who died of TB when Maurice was just 16. "You and me, against the world what? You and me" His death meant Maurice would now inherit the farm and that set him on another path.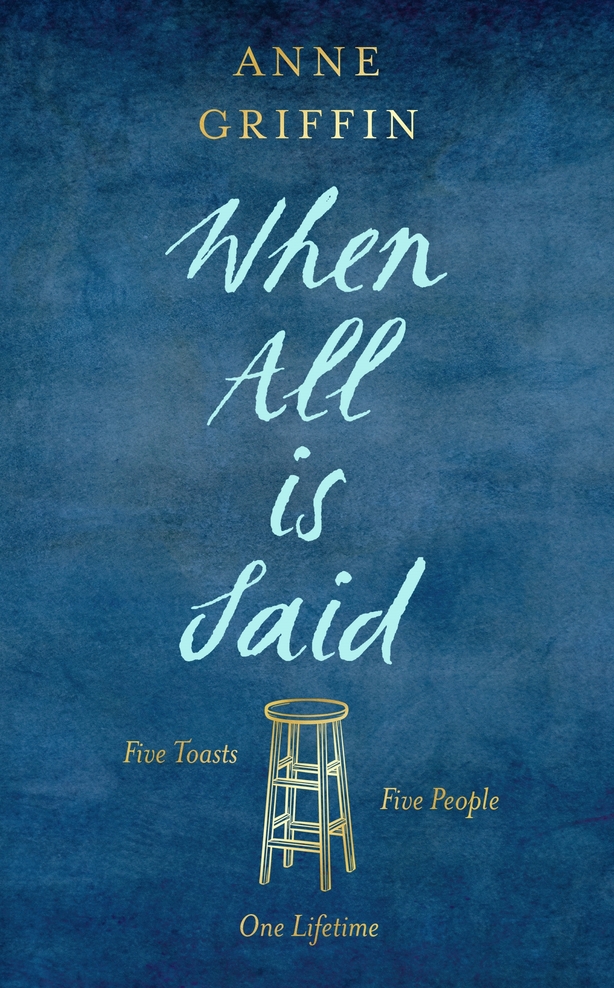 The second toast is to Molly, the adored daughter who was stillborn in 1966, and it's a glass of Bushmills malt this time. Molly, "She was magnificent, that little thing, our magnificent Molly" For just fifteen minutes, Maurice and his wife Sadie got to hold their daughter, but she stayed with them for the rest of their lives and her absence goes some way to explaining Maurice's relationship with Emily years later.
Next to be saluted is sister-in-law Noreen, and as Maurice orders another bottle of stout, he remembers the advice of his father: "if you ever have money son, don't indulge this jezebel, she'll empty your pockets and make a drunken fool of you" (the drink that is!).
This pint is for Auntie Noreen, without whom, Maurice reckons, he would never have been accepted by Sadie's Dad. Sadie loved her dearly and struggled with her at the same time (she suffered from 'melancholy' and lived in a home), but when she was brought to live in Co. Meath, Noreen unwittingly helped to solve another puzzle - "Sparkle, sparkle" is all we'll say here!
Of his son Kevin, an award-winning journalist living in the US, Maurice says: "Maybe I'd have been happier if you'd been a gobshite, chip off the old block. Then maybe I could've talked to you. Feck it son, you really pulled the short straw with me. A cranky-arsed father who can't read for shite"
Listen: Anne Griffin talks When All is Said on The Ryan Tubridy Show: 
We need your consent to load this rte-player contentWe use rte-player to manage extra content that can set cookies on your device and collect data about your activity. Please review their details and accept them to load the content.Manage Preferences
It's such an Irish story - of course he was proud of his son and his achievements, but just could never say so. The toast here is a very special glass of whisky that he received from Kevin – he sent rare whiskeys for birthdays and Christmas. There are lovely moments in this chapter; when Kevin is trying to tell his father he wants to study journalism, and when his father admits that he leaves the immersion on the whole time Kevin is home from the US and turns it off as soon as he's down the driveway on his way back West!
That's the thing here, by the way, the quality of the writing and the way it pulls you in. Everyone is saying they are amazed that this is a first novel, but Anne Griffin is no novice. Her work has been featured in the Irish Times and the Stinging Fly, and she won the John McGahern Award for Literature.
Her descriptive powers come to the fore in Chapter 6, the final toast, to Sadie - we're on the Midleton at this stage.
"I've left the best 'til last, in every way," Maurice tells Kevin, and the description of him first hearing Sadie's voice in the Bank and getting up the courage to ask her out, has us all rooting for him… But there's regret too, for all the times he stole the smile from her face, for all the things he never did or half did, and for all the broken promises. Truth to tell, her loss is killing him, but he wonders would she want him back?
There's more of course - how the big house becomes a hotel, and Maurice's on-going association with it and members of the Dollard family - but they're something of a subplot, and not the subjects of the toasts.
I think the next chapter should be Sadie's... and we all want more!