Kate Stanley Brennan is one of the most acclaimed actresses of her generation, with theatre credits that include everything from THISISPOPBABY's RIOT to a production of Jacobean tragedy The White Devil at Shakespeare's Globe, by way of numerous roles at The Abbey and The Gate and a pair of Irish Times Theatre Award nominations. She also makes music as Miss Kate, and stars in her own play Walk For Me, which plays at Dublin's Project Arts Centre from January 16-29 forthcoming.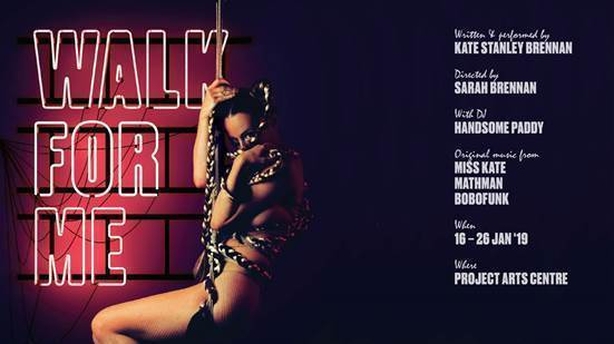 FILM
Look out for Carmel Winter's Float Like a Butterfly - it's story centres around a young traveller girl who wants to fight, and is set around the time when Muhammed Ali came to Ireland. I had the privilege of being a small part of it, but it really is something special. It has recently won awards at Toronto and several other festivals around the world, so I'm excited for people to see it.
MUSIC
I've been listening to Abra a lot the past year and she was definitely an influence when making my EP. She produces all her own stuff and the focus is on the beats and the heavy basslines but also uses 80's pop synths in a very cool way. Also: Lux Alma has recently released her debut single The Tomb - she's awesome.
BOOK
I'm not a huge fiction person, I read a lot of autobiographies - Just Kids is one of my favourites - it's about a specific time in Patti Smith's life when she just moved to New York with not a bean. She writes so beautifully and creates such a vivid sense of the time. That scene. I wish I had lived in the Chelsea Hotel with Janis Joplin!
ART
James Earley is a well known Irish artist, and you can't turn a corner in Dublin's centre without seeing one of his incredible murals - the one at Bloom's Hotel being particularly spectacular (it took him a whole year in sun, rain and snow!) but he just keeps developing as an artist. I went to his exhibition Things Fall Apart in May and he has now followed in his grandfather's footsteps and gotten into stained glass - really beautiful. I can't wait to see what he does next.
TV
Breaking Bad is my favourite programme of all time - it just has everything i want in a show. Brilliant writing, interesting characters, incredible acting, darkness, humour, and it leaves you on the edge of your seat at the end of each episode.
PLAY
Come on Home by Philly McMahon was a triumph last year - he is just at the top of his game now. I was blown away. I also absolutely adored Thommas Kane Byrne's Well That's What I Heard and Say Nothin' To No One. They are part of a trilogy, the third of which is in the making - I cannot wait to see it. He's a young fresh voice that will be around for the long haul. Nobody wears a two-piece like him either.
Number 9: Say Nothin' to No One @TUpstairs A hilarious rollercoaster ride by the ferociously talented Thomas Kane Byrne. His partnership with Ericka Roe is set to become one of Ireland's great pairings. pic.twitter.com/L9uv21I65H

— Twelve Bens (@BenDove15736709) December 17, 2018
GIG
I went to Lauren Hill in November and she was brilliant, especially when she called out Drake at the end! The last gig I was at was Mango X MathMan's No Surrender party at X-Mas. It was whopper as always - between MathMan's crazy beats and Mango's energy and vocal dexterity, they had the room hoppin!
PODCASTS
I don't really listen to podcasts but I recently got put onto The Blindboy Podcast and I love it... I'm late to the party, I know, but better late than never.
New Wednesday podcast for your morning commute. It's a self care one, about anger. Also, there's some history in there https://t.co/3rW5JWIkEz

— Rubber Bandits (@Rubberbandits) January 9, 2019
THE NEXT BIG THING...
I know I sound biased, but I don't care... My brother Johnny Brennan (Bobofunk), who is working with me on this show, designing motion graphics and visuals as well as creating some sweet runway tracks for me whilst also DJing every second night is rising up. He is ridiculously talented, and his door will be banged down after we open, I know it - it already is!
Walk For Me, written and performed by Kate Stanley Brennan, is at Project Arts Centre Dublin from January 16-29th - more details here.