There are many, many things in the world at the moment that might lead you to believe that the world is going to hell in a metaphorical handcart. I'm not going to list them, you know what they are. Then there's the story of something I started a few weeks ago.
I run a little book club on Facebook, about 23,000 souls who spend their week mostly talking about new titles, old things they've rediscovered and whether you're a pervert for folding down the corner of a page you need to bookmark!
(You aren't, obviously).
I decided that in the middle of the impossible situation many people are finding themselves in at the moment in the homelessness crisis chose the Peter McVerry Trust I had to do something. I asked my book club to help.
We have 22,000 members in the @ROSBookClub. I'm asking them, and you, to help in some small way in the homelessness crisis.

This is our first ever Xmas Appeal. Please donate the price of a cheap paperback book, just €5, to help the @PMVTrust. Thanks xhttps://t.co/RdRsHUAe2g

— Rick O'Shea (@rickoshea) November 12, 2018
I started our inaugural Xmas Appeal on a Tuesday hoping to raise 5 grand for them before the appeal finished on Dec 31st - we broke that in the first 36 hours.
I then raised the bar to ten grand. Then twenty. Then twenty-five. The money has flooded in, fivers and tenners from people who said they wished they could have given more. Right now we're just short of having raised €30,000. All by simply asking people to think about people worse off than them this Xmas.
Last week I was on Today With Sean O'Rourke on RTÉ Radio 1 to talk about Books Of The Year and at the very end Sean was kind enough to give me 30 seconds to mention the appeal. That meant another influx of money in the days that followed. Then this arrived: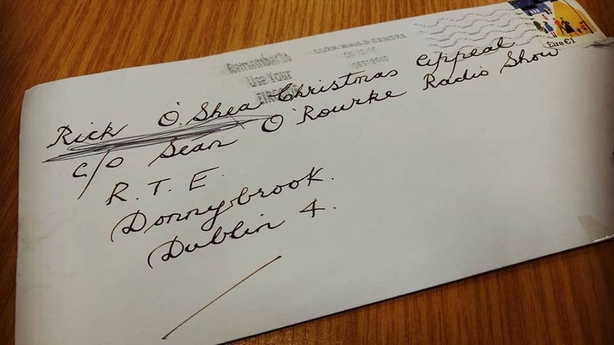 The penmanship is exquisite, they are obviously of a generation that still values that lost art and that preferred to make their cheque donation of €20 in, literally, the old-fashioned way. It goes into the pile.
If you'd like to make a small donation (or a great big one!) I'm leaving the appeal open until midnight on New Year's Eve, if you gave already thank you so much. It will make an enormous difference to a charity that does so much incredible work at this time of year.
Make a contribution to The Rick O'Shea Book Club Xmas Appeal here.