Theatremaker Marc Mac Lochlainn writes for Culture about his adaptation of Oliver Jeffers' classic children's book How To Catch A Star, which comes to The Ark, Dublin, this month.
In 2007 I became a father and Oliver Jeffers published How to Catch a Star. I vividly remember buying the book, and it soon became a bedtime staple. While reading it aloud to my son I would imagine ways to adapt the story for the stage. I should mention that I am the artistic director of Branar, a theatre company dedicated to creating theatre for children.
Ten years later in 2017 at the Galway International Arts Festival, our stage adaption opened. Now, our production How To Catch A Star, following a sell-out national tour, is coming for a month-long run in The Ark in Dublin this December.
We need your consent to load this YouTube contentWe use YouTube to manage extra content that can set cookies on your device and collect data about your activity. Please review their details and accept them to load the content.Manage Preferences
I have always been interested in children's books as sources of inspiration, and especially illustrated children's books. I am in awe of the ability of some writers and illustrators to express deep emotional and complex stories within the confines of 24 pages. There is a close association between Branar's style of theatre and these books, as we like to create our stories through images and a limited amount of words, and we place great emphasis on simplicity, beauty and magic. Images more than words engage me, because an image has the power to tell the whole story. Through images you can express the deepest emotions without even one word. I love the way in which an image can grab your attention and arrest your imagination so that you have no choice but to stay with it for a while and the longer you stay, the more levels are unveiled to you.
Our biggest challenge in adapting How To Catch A Star was to create a 40 minute piece of theatre from the 24 page book.
The work of Oliver Jeffers has been a rich source of inspiration for me. How To Catch A Star is the second of his books that we have adapted. In 2014 along with our partners Teatre Refleksion, we produced The Way Back Home which premiered in The Ark as part of Dublin Theatre Festival and has toured the world since.
How To Catch A Star has always been a special story for me. I love the boy character, his dedication to his task and the desire that he has to catch a star. He embodies that drive that children have when they are absolutely driven to complete a task and when they are so taken with the task that they can't even see the obstacles that are in their way. (Such as gravity!)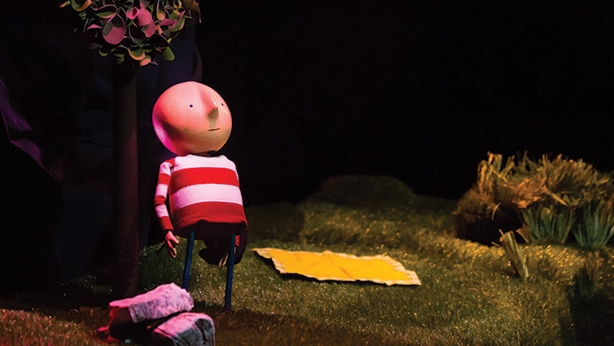 The boy in the story has patience, even though he only spends the day waiting for the star - in the life of a child that is an eternity! The story resonates with children and adults alike as it has such a universal theme, I think everyone in some way has a "star" that they want to catch or achieve in their lives.
As with all our work we hold very dear our responsibility as artists who create work for children to ensure that what we create is the best possible piece of art that it can be. We have to ensure that each experience is excellent because it could be a child's first encounter live theatre so it should be amazing. In order to achieve this we spend a long time in the rehearsal room refining our story, perfecting the puppetry and interrogating our decisions to ensure clarity in the narrative and also to make sure the depth of the story is not lost in the simplicity.
I am in awe of the ability of some writers and illustrators to express deep emotional and complex stories within the confines of 24 pages.
We love to bring samples of our works in progress to local schools and ask the children to have a look at what we are doing. Their feedback really helps us to uncover any potential problems that might exist with our story, and also to encourage us to keep going and confirm where we are on the right track. We bring this information, gained from the children, back with us into the rehearsal room to create our work.
Our biggest challenge in adapting How To Catch A Star was to create a 40 minute piece of theatre from the 24 page book. In doing so we have to take some poetic license and we have to make some decisions in order to make a 2-dimensional character stand up and walk off the page. We have to create the world of the story in which they operate. They can't just go from page to page, they have to actually move physically through a whole 3-D environment. This is where our amazing creative team comes in. They have the vision and the skills to create 3-D versions of the story while remaining loyal to the aesthetic of the book.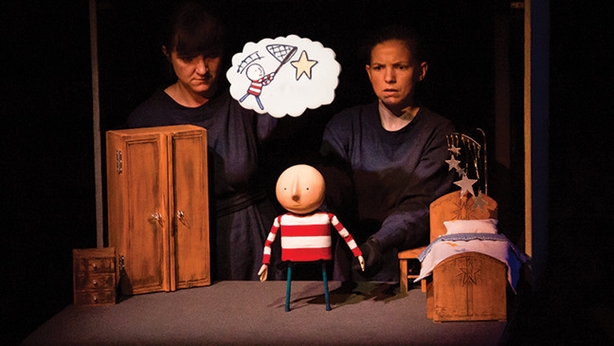 We stick to the basic storyline of the book, but we do continue from where the story in the book ends, which allows us to really explore with the audience the love that the boy has for the star and how he cares for the star. So we allowed the boy to bring the star home. We explore the idea of how these two characters from different universes could become friends and how their friendship could survive.
To find out what happens, you will have to come to the show!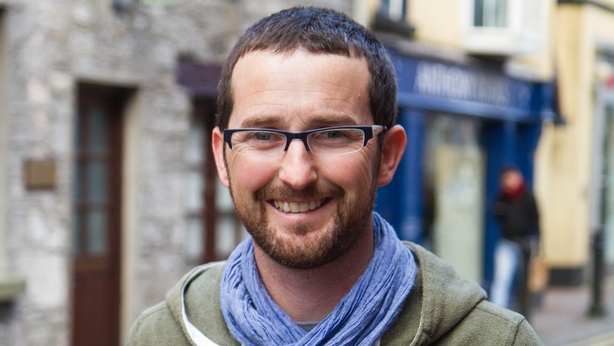 Picture books give me so much pleasure as a reader and when I have the absolute privilege of being able to create a theatrical presentation for children based on a book and to work with the genius of Oliver Jeffers' images it's an incredible bonus. To be allowed to take the story of this lovely character and give him a new medium to live in and a new audience is amazing.When people come to see the show a lot of them have already read the book, but I hope that those that haven't read it will go and find the story and that they will go on to have hours of entertainment reading Oliver's work.
How To Catch A Star is at The Ark, Dublin, from 5 Dec - 30 Dec - more details here.