Seán Mac Erlaine is a Dublin-based woodwind instrumentalist, composer and music producer, recognised as one of Ireland's most forward-thinking creative musicians.
He is currently performing with contemporary folk quartet This Is How We Fly, who kick off a nationwide tour this Friday at FUAIM, University College Cork - more details here.
We asked Sean for his choice cultural picks...
Film
Paddy Breathnach's film Rosie (written by Roddy Doyle) floored me. It's difficult watching for us as Irish people, as tenants, as landlords and people brushing up against this housing crisis everyday. The detail of the writing and the performances all serve the story which could be a fly-on-the-wall documentary. And this realness of ordinary peoples' situation just trying to do the best they can in the face of a cruel system is devastating.
Music
Lots of great music has been coming out this year. For the drone-inclined, Clarice Jensen's For This From That Will Be Filled is a sumptuous record of slow cello drones just slowly unfolding. A much more energised release is Mark Fell's Intra which is music for tuned percussion, a jangling soft frenzy of sound which I love.
Book
I'm reading Jung Chang's Empress Dowager Cixi: The Concubine Who Launched Modern China. Fascinating reading about the China's 18th century population explosion and the mechanics of the Opium War and I'm struck about just how little I know about that part of the world.
I'm also reading/not reading David Foster Wallace's Infinite Jest. It's a quite a thing unto itself and by and large each paragraph has more thought, poetry and linguistic virtuosity packed into it than mostly anything else I've read. I'm half way through its 1000 pages, and I'm just on holidays with the Chinese stuff.
Play
Theatremaker Dick Walsh's recent show Oneday in Project Arts Centre was a super piece whose premise sounded extremely dull. Picking a day in 2012 and retelling stories found in newspaper articles. Yet, it was so well put together, performed and staged that much of it has stayed with me. He's someone whose work I'll continue to check out.
TV
TV? Nope, I run a mile from the box. Seeing as you are RTÉ, I'll be polite and not get into a rant but I mean, television strikes me as humanity eating itself. Having said all that – sorry – I do have a soft spot for Graham Norton.
Gig
I'm not great at pre-planning gig attendance (see below) so usually the only gigs I really know that I'm going to attend are my own. But I plan on being at each and every one of those if that counts…
The best recent gig I missed looks like David Byrne in the Point. We scrounged around outside on the night hoping to pick up a last minute ticket but no dice. So I watched YouTube footage of the current show instead. He has been such an interesting presence for such a long time and continues to push forward in such a thought-provoking way. I'll be more prepared the next time he visits!
Art
You can add my name to hordes of fans who were recently spellbound by the latest Macnas offering Out of the Wild Sky in their native Galway and Dublin (watch it here). It was so powerful to witness this conjuring of imagination transforming what is a very dull generic shopping street. It's telling that they were running Facebook ads looking for financial contributions from individuals in the weeks leading up to these two huge productions. If Macnas can't get the support for this work from the system, what is the system for?
I'm also a huge fan of Donegal artist Ann Quinn who just had a show at Taylor Galleries. I have a soft spot for anything to do with the Irish landscape, and her luminous work draws on that in an immediately identifiable way. Absolutely beautiful.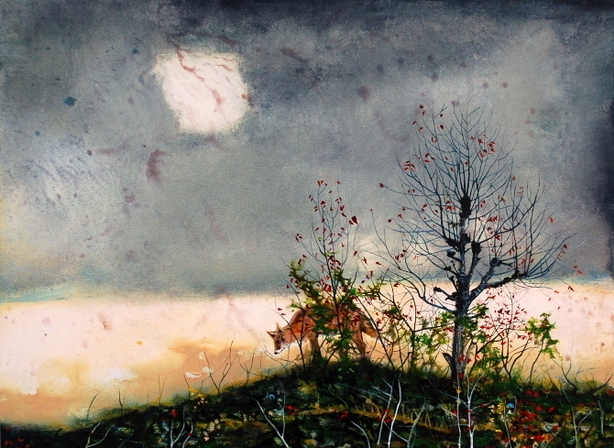 Radio/Podcast
I don't follow any podcasts. Occasionally I'll listen to something – anything really – in German to try to keep up the illusion that I can speak and understand the language. Otherwise only a rare dip into podcasts. Having said that I did listen to Blindboy's interview with David McWilliams and I thought it was a cracker, so I'll check out more from this Limerick man.
I do stick on the radio quite a bit though in the kitchen and my favourite thing that comes on is Callan's Kicks. He manages to make some sort of slanted sense of the week's shenanigans both international and gombeen.
Tech
While I'm interested in tech things and I use computers and digital processing in my music, at the end of the day I'm mainly interested in apps and websites that work and are clear to use. So, mundane things like when is the next bus coming or is there a cheaper way to fly to the next show are the things that I return to.
The Next Big Thing...
I think the age of predictions has passed. I'm certainly not the person to be asked this anyhow. Things often turn out contrary to what everyone says. That can be a good thing (sometimes)!