This year's Macnas Halloween Parade will traverse through the streets of Galway from 6.15pm on Sunday October 28th, 2018 - and you can watch a livestream of the event here at RTÉ Culture.
Below, Macnas Artistic Director Noeline Kavanagh previews their latest outdoor extravaganza...
---
Between the white fire of the stars and the whispering woods, you can hear the breath of small kingdoms rising and falling… Dreams floating light as moths among the branches of the trees, where sweetness and tangibility flickers amongst the dark hug of time.
Macnas are bringing Out of the Wild Sky to the streets of Galway and Dublin, packed full of love and magic, as we sculpt a new cosmos into being, where the language of birds and the stars take flight. Bells ring out, stitches of lightning burst forth, as a new horizon lights up the deep and lifts up the sky.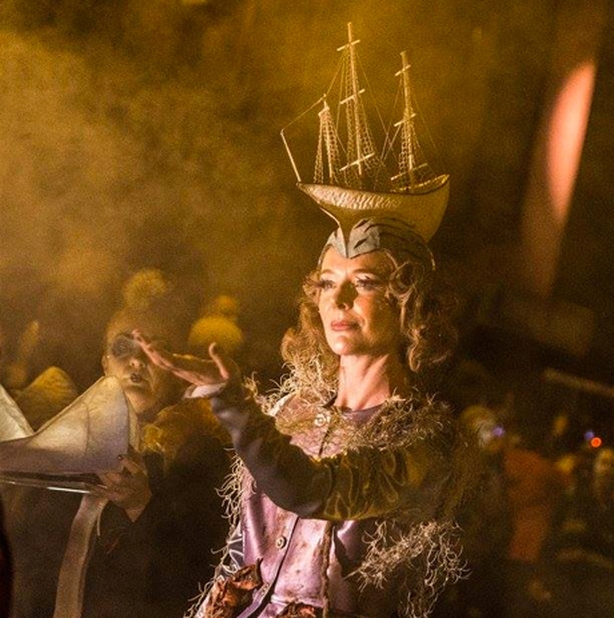 Out of the Wild Sky is about transformation. It is set in a wild woods full of magic, mischief and the marvellous. The inspiration for this work comes from the landscape, poets, musicians, painters, people, imagination and a belief in making room for the extraordinary in the ordinary of our everyday lives.
It's like playing in the finals at Croke Park. It is pure epic.
How it comes together is the big secret, like The Everlasting Gobstopper in Charlie and the Chocolate Factory. It's all about the amazing magic that the creative ensemble bring to the work from ideas through to concept and build. We run year round workshops with the Macnas Young Ensemble, the Macnas Drummers, the Macnas Brass Ensemble and the Adult Participation Programme, which keeps our performers flexing their creative muscles. The build for the Parade happens over a much shorter timeline. Making giants is always a race against the clock...
Central to the whole process is invention and collaboration. Our Lead Designers Orla Clogher and Dave Young joined by new creative collaborators Alma Kelliher as Sound Designer, Dan Colley as Dramaturg and Associate Director, Saileóg O'Halloran as Costume Designer, Richard Babington as Pyrotechnics Designer and Aedín Cosgrove as Lighting Advisor, all working alongside the extraordinary collective of Macnas artists.
We have a really unique relationship with our audiences. There is a real magic at Samhain, and it is a great waltz at this time of year. Just before winter descends and we hibernate, we all take to the streets in celebration. Moving through the crowds, now in excess of 54,000 people who come out to see the work, is both a privilege and always nerve wracking. It's like playing in the finals at Croke Park. It is pure epic.
Out of the Wild Sky traverses through the streets of Galway from 5.30pm on Sunday October 28th, 2018 - watch a livestream here on RTÉ Culture. It will also be performed at the Bram Stoker Festival in Dublin on Monday, October 29 - more details here.