Rosie Gogan-Keogh writes for Culture about the inspiration behind the theatrical pop-up concept restaurant The Sunless Garden, at her Dublin art gallery Hen's Teeth.
A couple have their first date at a well-past-its-prime Italian restaurant. They fall for each other plates of lasagne al forno and glasses of Chianti, walk home together in the rain, kiss for the first time and begin a love filled, tumultuous relationship. It's an ultimately doomed relationship and the final chapter in their romance takes place right where it all began, over unfinished plates and half drunk glasses.
It's a classic tale. These two souls might have been destined to make it work if their paths had crossed at another time or place. We may have heard it before, and probably experienced it more than once ourselves, but at The Sunless Garden, where pop-up restaurant meets theatrical experience, diners will live through the journey of this tragic love affair through a 12-course dinner, a specially published zine, music, lighting and performance.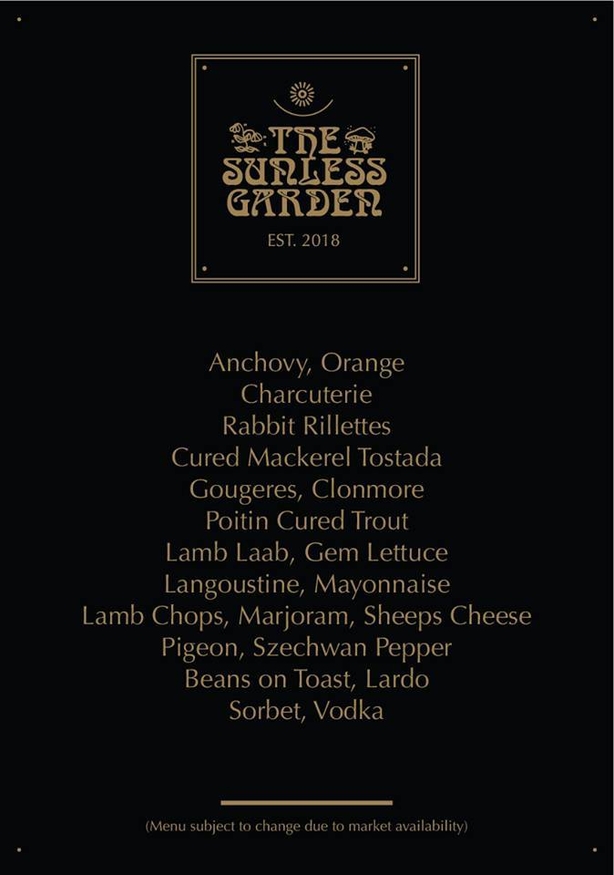 The concept for this experience has been marinating for a long time. The first idea Greg (Spring, Rosie's business partner) and I ever had to work together was around food. We love to cook and host, and thought of doing pop-up dinners in an old house of ours but through our work together at our creative agency This Greedy Pig and Hen's Teeth we never found the right opportunity to throw the type of food event we wanted, until now.
When the brilliant photographers Ellius Grace and George Vonorov, the brains behind Junior Magazine, a magazine celebrating and giving a platform to young photographers in Ireland, came to us and asked us to collaborate on a project - we knew it was the opportunity to do something brave.
For one night only on Sunday, 21 October, we will transform our Fade Street gallery into a faded imaginary Italian restaurant with limited seating for 20. Since we've moved into our Fade Street home, we've set ourselves the challenge of constantly reinventing it by throwing exhibitions like Braulio Amado to BP Fallon, to more immersive experience like Trevor Finnegan's Irish Shopfronts to the Hennessy Sound Lounge.
Ellius and George have created beautiful, limited edition zine - there will be only 20 copies made, one for each of the diners, that maps our fictional couple's journey.
This Sunday from 5pm, we're turning our store in to a faded Italian restaurant for 1 night only. 12 courses, 2 drinks & a limited edition zine by Junior Magazine. A celebration of theatre, food and art.https://t.co/TkUAyhfObo#popup #foodie #irishfood #zine #limitededition pic.twitter.com/0vGNriTtm2

— Hens Teeth (@Hensteethstore) October 15, 2018
Rich Lewis, a chef and founder of the Night Hare, a new pop-up popping up out of Salt & Stove in Dublin 8, has created the menu - 12 carefully constructed courses, each one delicious, but also weaving in another piece of the love story.
The final piece of the puzzle is the wonderful Hugh Cooney, performance artist and all-round consummate host, who will compére the evening and bring that final piece of drama and magic to it.
It's a little bonkers, yes, and a ridiculous amount of work. But it will be undoubtedly delicious and a dining experience that won't be forgotten in a hurry.
The Sunless Garden takes place on Sunday, October 21st at Hen's Teeth - find out more here.