Every week, critic Cristin Leach talks us through a different artwork for Through The Canvas on RTÉ lyric fm - this week, she's taking a closer look at William McKeown's Hope Painting (Going Through the Looking Glass).
For me, looking at art, as with writing, is the art of paying attention. Making art is also the art of paying attention. I am fascinated by the ways in which it's possible to lose yourself in an artwork and at the same time, somehow find yourself in it.
The Northern Irish artist William McKeown (1962 – 2011) made the kind of paintings I want to inhale. I first saw his work in a solo exhibition called in an open room at the Douglas Hyde Gallery in 2001. It gave me the most profound sensation of coming home to myself. Here were patches of sky and tiny delicate wildflowers. This was a world I knew from childhood and it almost floored me to find an artist who captured so absolutely that sense of insignificance and utter connectedness to the world that can come from paying attention, like a child; that is, looking and feeling.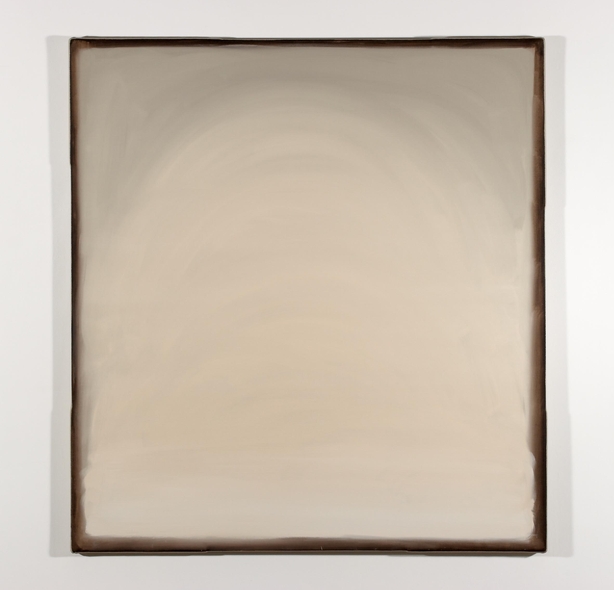 McKeown made watercolours on paper, pencil drawings and frequently near monochrome paintings that can be read as patches of sky or air, and also offer a meditation on something more abstract: a state of mind. What may seem obtuse or obscure in his work is grounded in particular memories of a time or a place. In 2010 he made a series of black paintings called Tomorrow, now also part of the IMMA collection, which offer a sombre flipside to the luminosity and glowing openness of his Hope and Forever paintings. They are dark images with just a small glow at the edges, brighter colours pulsing only in the layers underneath. Hope Painting (Going Through the Looking Glass) was purchased by IMMA in 2006 and it remains one of the most profoundly important works in the collection.
This week's #ThroughTheCanvas was the penultimate episode. I took this photo as we recorded our last. Reminded me of a William McKeown sky... Tune in next week for Episode 12 @lyricfmNiall @LyricFeature Tuesday 11.30am #artontheradio @Deermud pic.twitter.com/FEmBrnqVM8

— Cristín Leach MAJ (@cristinleach) August 21, 2018
Occasionally art can help you to feel as if you have almost disappeared in its presence while also giving you the most profound sense of being immediately present. Great artists pay attention, to the moment, to the context, to truths and memories, to presumptions and feelings. They bring all of this and all of themselves to the work - and they ask us, if we pay attention, to do so too.
Through the Canvas is a Grey Heron production for RTÉ Lyric fm funded by the Broadcasting Authority of Ireland with the television licence fee. The series is presented by Diarmuid McIntyre and Cristín Leach.
The full series of Through the Canvas is now available for listening at your leisure here. A perfect audio afternoon in your own art gallery!