They dominated the pop charts in the '90s with hits like C'est la Vie and Blame It On The Weatherman and single-handedly breathed new life into Ireland's double-denim and choker necklace cottage industries.
And this September, B*Witched make their triumphant return at Electric Picnic's Throwback Stage. Band members Edele and Keavy Lynch, Lindsay Armaou and Sinéad O'Carroll joined Kathryn Thomas on The Ray D'Arcy Show to talk about being put into boxes, friendship and comebacks.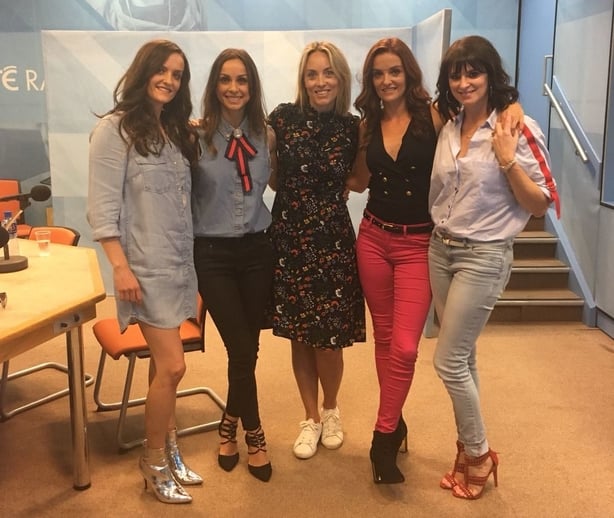 Edele admits that the whole "double-denim" thing did get a bit tired after a while but they feel ready to embrace it once more as a group.
"I was so over it. For a number of years, I didn't put jeans near me. I didn't even own a pair for about 10 years after the band. It was ridiculous."
Lindsay can pinpoint her tipping point as well.
"It did get to a point where I had denim underwear and I did think, okay, now it's a little bit too far."
Sinéad remembers just how crazy things got at the height of their success.
"It got to the point where you'd sit on a plane and go, somebody'd say to you, 'Where are you going?' and you're going 'I don't know...'"
After B*Witched parted ways, Edele and Keavy remained in the music business. Edele told Kathryn that it was hard to make a new name for yourself.
"It was hard to break away from who we were…They put you in a box and you can't get out of it."
It wasn't easy after the band broke up. Keavy, in particular, found the transition difficult.
"I found it really, really hard. I got really lost for a few years. It took me a journey to come back… I've dealt with all my demons, I'm a really strong person."
Keavy explained that after some time, they made their peace with the fact that the public wanted the nostalgia.
"I think what we learned was that people wanted us to be B*Witched…It took us a while to say yes [to a reunion] but we eventually did."
And what convinced them to say yes? Simple, the timing is finally right, as Lindsay explained.
"If we're going to do this, it's now or never."
Keavy answered a question they get asked the most.
"Were you actually friends? We were. And we are again."
B*Witched will be playing the Throwback Stage at Electric Picnic this September. Listen back to the whole interview on The Ray D'Arcy Show.