Every week, Simply Folk host Ruth Smith selects a record from the folk music archives.
This week, she's chosen the eponymous debut album by The Dubliners.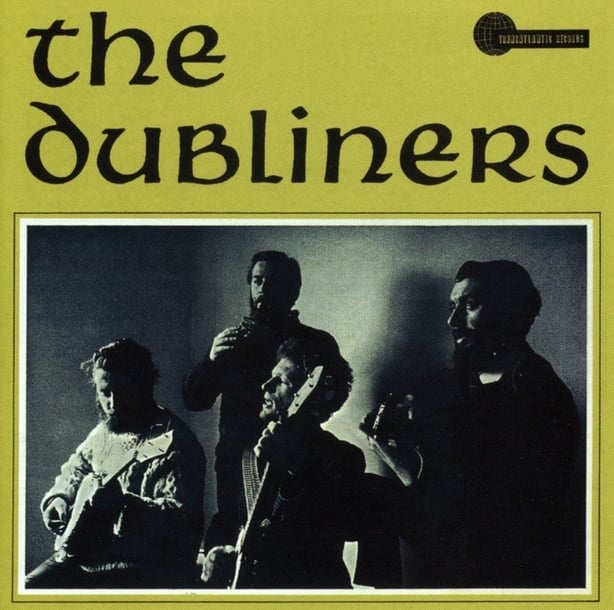 The Dubliners (Released 1964 by Translatlantic Records)
Musicians: Ciarán Bourke (vocals & whistle), Ronnie Drew (vocals & guitar), Luke Kelly (vocals & 5 string banjo) and Barney McKenna (Tenor Banjo)
Produced by Nathan Joseph; head of Transatlantic Records.
There's no denying the worldwide and lasting impact the Dubliners had on Irish folk music. Following on the tails of the success of The Clancy Brothers & Tommy Makem from the late 1950's in the US, The Dubliners grew from the mushrooming of ballads groups in Ireland in the early 60's, and were by far the most successful and enduring of them all.
The seeds of the Dubliners were planted in the porter-soaked music scene of O'Donoghues Pub, Merrion Square in Dublin's city centre, where The Ronnie Drew Ballad Group convened in 1962 to share their music and songs.
The four original members - Drew, Ciarán Bourke, Luke Kelly and Barney McKenna - started their musical collaboration under the banner of Ronnie Drew's Ballad Group.
Kelly, a voracious reader with a curious and politicized intellect, suggested they change the group's name to The Dubliners after James Joyce's book of the same name. They couldn't have picked a more appropriate one for this group of proud Dublin men of song.
Indeed, Luke Kelly's gravestone in Glasnevin Cemetery simply reads 'Luke Kelly – Dubliner 1940-1984', such was the association with the capital city and these iconic singers & musicians.
Shane McGowan has said that The Dubliners were the original celtic-punk band; with their bawdy drinking songs, their fearless and cutting social ballads and notorious hard drinking and hard touring shenanigans, they set the tone for so many bands to follow!
LISTEN: The Dubliners by The Dubliners, via Spotify:
Their eponymous debut live album plays like a raw impromptu singing circle with instrumentals thrown in, cheers from the crowd and gems of performances from the three lead vocalists in the original line-up (Bourke, Kelly & Drew).
Barney was yet to be recorded singing with them, and John Sheahan joined the fold a little after this album was released. This debut was the first of more than 50 original records and multiple reissues they would produce throughout their career, and it captures something of their fresh youthfulness and control – a band at their beginning.
Special mention to the bilingual rendition of Preab San Ól.
Ciarán Bourke's beautiful flourish trí Gaeilge coupled with Luke Kelly's precise and unmistakable Dublin diction – a stepping stone to the declamatory Dublin singing styles of the likes of Damien Dempsey.
Listen to Kelly's rendition of the version of Rocky Road to Dublin that he learned form Ned Stapleton during his time in the UK. His phrasing and breath control on this is something to behold!
With Luke's Scottish grandmother living in the family home til he was 13 and his time spent in England from his late teens and early 20's, he amassed a collection of British folk songs that he brought to the mix of songs for The Dubliners.
Tramps and Hawkers is a traditional Scottish folk song dating back to 1850's, The tune of this song has been used for many songs, including The Durham Lockout, The Homes of Donegal, Huck's Tune by Bob Dylan and Shane McGowan's Song With No Name.
Love is Pleasing is a song that was in the Dubliners repertoire from the early days, known by different names - Love is Pleasing, I Wish I Wish, Til Apples Grow on an Ivy Tree. Indeed, it appears under both names on the bonus track edition of this album.
A song about love, loss and leaving home, sung with great tenderness by Ronnie Drew.
Listen to Simply Folk on RTÉ Radio 1 on Sundays at 10pm. Ruth Smith is the co-presenter (with John Creedon) of this year's inaugural RTÉ Radio 1 Irish Folk Awards, which take place on October 25th, 2018 in Vicar Street, Dublin - find out more here.