Every week, critic Cristin Leach talks us through a different artwork for Through The Canvas on RTÉ lyric fm - this week, she's taking a closer look at Oliver Comerford's Out Here III (2003).
What happens when an artwork triggers such specific memories that, regardless of whether the location depicted is the actual place you are thinking of, the visual associations are so strong they begin a cascade of very personal connections?
Oliver Comerford (b 1967) paints scenes like stills from a film in which something significant has either happened or is about to occur. He is a contemporary landscape painter who is always also painting something else, some memory or association. His canvases are ripe settings for dark drama - hyper-real, supersaturated images. He paints flat and low horizons, pine forests, log cabins, roadsides; the glow of tail lights, house lights and street lights; habitation far off. He paints woodlands, edge-lands and outposts, working close to photorealism but not quite.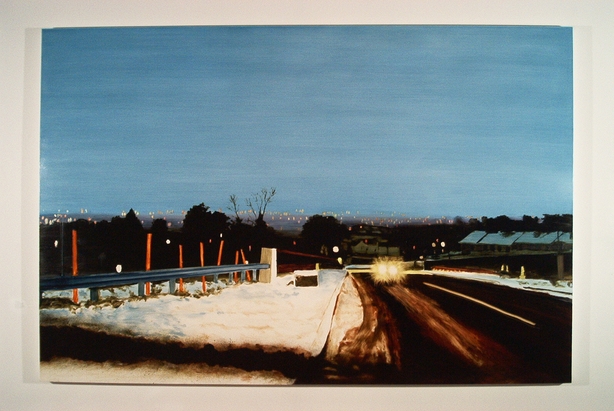 Out Here III is a 2003 painting in the Irish Museum of Modern Art Collection. It is cinematic, and like many of Comerford's works imbued with a potential crime scene quality, an unsettling beauty. When producer Diarmuid McIntyre and I first looked at this painting, he recognised it as a particular place. I recognised it as a particular feeling. As we talked we realised one leads to the other and back and forth. Place and memory combined produce a unique kind of psychological space and psychological space is often what Comerford is painting.
The use of a car window as a framing device is one of his tricks. It gives the feeling a drive-by scene. We are passing through, somehow separate, but observing nonetheless, as if in a dream. What might it be like to walk into that place? Diarmuid had been reminded of somewhere he knew as a child, high up above Dublin city, so we set out on a road-trip at night, to take a look.
Through the Canvas is a Grey Heron production for RTÉ Lyric fm funded by the Broadcasting Authority of Ireland with the television licence fee. The series is presented by Diarmuid McIntyre and Cristín Leach.
Listen to Through The Canvas on lyric fm, on Tuesdays at 11.30am (as part of Niall Carroll's Classical Daytime) - and find out more about the show here.