A boat-builder by trade, Toby Hatchett has previously combined his carpentry skills with a love of music to create custom sound systems for some of the country's biggest music festivals, such as Body&Soul, Electric Picnic and Another Love Story.
Now Toby has custom crafted a sound system for the Hennessy Sound Lounge, which will see the art and lifestyle store Hen's Teeth (located on Dublin's Fade Street) transformed into a lounge inspired by Japanese listening rooms of the 1970s. Below, Toby shares his sound system secrets with RTÉ Culture...
---
What makes a good sound system?
I design and build the two main types of sound systems. Home or domestic Hifi and commercial sound systems, quite often referred to as P.A. To me a good domestic sound system or Hifi should be concerned with the faithful reproduction of the source material (music) in all its detail.
You can achieve this using good hardware and electronics that don't interfere with and change the electrical energy of the music which avoids coloring the sound too much. Good Hifi will represent the space in the recording, sometimes literally and often you can 'hear' the room where the recording was made or sense where in that room a musician was standing.
When you hear the breath of a vocalist or the delicate scrape of a guitar string it can be an emotional experience. Usually power and volume are not the primary concern with a Hifi but instead you're looking for detail and nuance.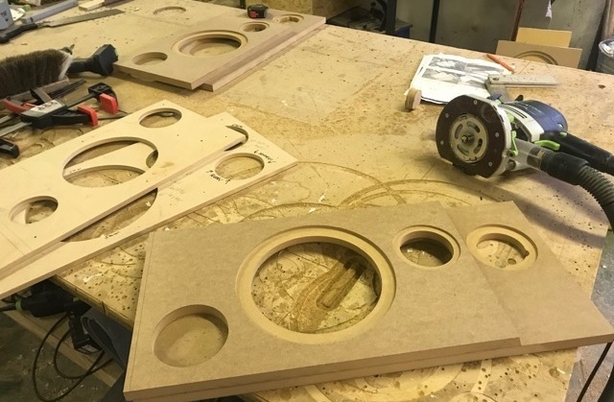 So what music format is best to play at home - vinyl or CD, analogue or digital?
This debate will rage on forever!
In my opinion you can only expect to unlock the magic from a vinyl record if you have a high quality well setup turntable with a decent cartridge, then you can really see what all the fuss is about. This is something that I've only recently realised and it's been a bit of a revelation.
Otherwise CD will always win even with a fairly simple player. Even Spotify on the 'extreme' quality playback setting will sound way better than an LP on a poorly setup low quality turntable.
There is nothing like the experience of being pounded and massaged by the bass from a well setup large sound system.
Most people don't realize that the 'warmth' associated with vinyl sound is actually low level distortion from the physical process of playing the record. Digital formats almost completely eliminate this and that is one of the main reasons they sound so different. Similar rules apply to commercial sound but it's a different listening experience.
Power and volume are critical but you want clean undistorted volume otherwise you'll experience listener fatigue, this will have you leaving the dance floor early or feeling uncomfortable at a gig.
Are there are many different types of commercial P.A.?
Personally, I greatly prefer a point source system like you would find in most small to medium size indoor venues. This will usually consist of larger Speakers similar in configuration to a large Hifi.
The line array systems that you see in large vertical hangs at big out door gigs and festivals are made up of many small speakers or 'drivers' which are computer controlled to couple up together. These are superb at delivering controlled dispersion of sound over large areas but tend to lack in sound definition and detail in the frequency mid range, this can show up particularly in vocal reproduction.
Club sound systems are a thing unto themselves and will often be designed and setup to consciously colour and enhance the sound to increase bass and kick drum frequencies to give you a visceral immersive, and physical experience. There is nothing like the experience of being pounded and massaged by the bass from a well setup large sound system.
We need your consent to load this Vimeo contentWe use Vimeo to manage extra content that can set cookies on your device and collect data about your activity. Please review their details and accept them to load the content.Manage Preferences
Over seven nights from July 19th to 28th at the Hennessy Sound Lounge, music lovers and the culturally curious will have the chance to meet with seven of Ireland's most avid vinyl collectors, delve a little deeper into their collections, listen to some of their favourite tracks and hear about their lives in the music industry.
The line-up includes DJ and photographer BP Fallon, singer-songwriter David Kitt, 2018 Choice Music Prize winners Ships and artist, filmmaker and avid music collector Vivienne Dick. There will only be 12 tickets per session - find out more (and get tickets) here.