Paddy Kehoe's third book of poetry, Places to Sleep, deals in large part with time spent in the city of Barcelona. ''Barcelona is a chimera of a place in any poetic retrospective worth its salt, it's a city of the imagination,'' he writes in this reflection on his years in Spain. 
Much as Paul Cézanne returned time and again to painting his beloved mountain, Mont Saint-Victoire in Provence, so I have turned time and again to Barcelona for the past ten years. I have scraped and honed away at the images of the city that make the poems, I have tried to reach back and see the place as it once was. 
For all I know, I may on occasion have made too impetuous a hand gesture and lost a bit of the original impulse at the easel. In general, I think I have got it right. So while I believe I have got the painting pretty well as I want it, I do wonder why I have needed to create so many poems about a city which, in real terms, I do not know as well as might appear from the work.
Some of these poems dispose themselves from the standpoint of an urbane traveller who is seemingly well-versed in the place. In fact I lived there for a period of two years only, arriving in the month of April, three years after the death of General Franco, who had passed away in 1975. I had just turned 22 when I landed on those vaguely thrilling streets.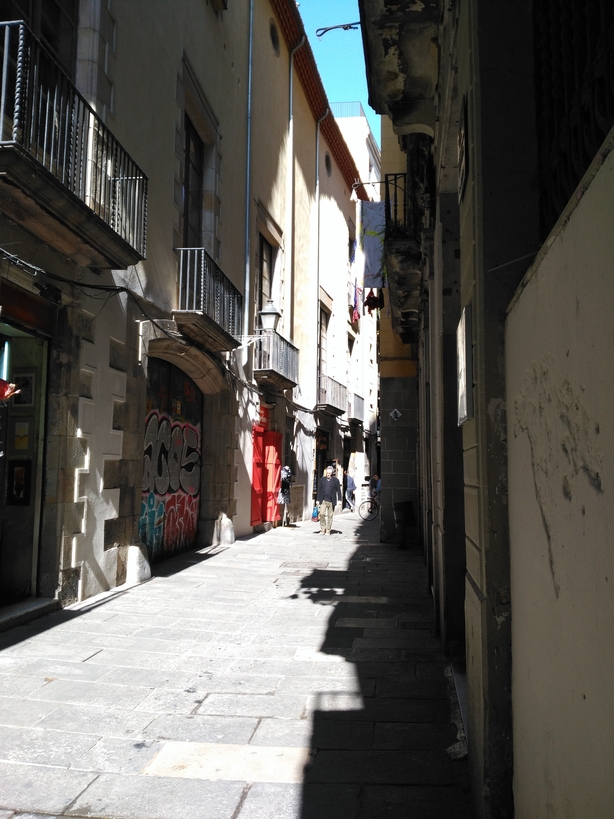 The Barcelona of today is a cosmopolitan, multi-lingual melting pot, overrun by tourism. By contrast, when your writer lived there, the English language did not trip so merrily off the tongues of either Catalans or Spanish. Thus my function there, as indeed the function of quite a few Irish people - to teach people how to speak English.
As for the poetic reflections, the impetus might be a street name, or the name of a square, or something seen on a map or in a photograph.  Then the young protagonist is there once again - he is there anyway, for there is no past, present and future in the cage-hold of the imagination. 
Yet once upon a time, that fellow may have walked through such-and-such a street, bought himself a packet of Rex cigarettes - the brand no longer exists - drank a bottle of Estrella Dorada beer, or ate a slice of tortilla at one of those zinc counter bars. It fascinates me how such a life was once routine, and yet its finer detail can now barely be recalled by the one who lived there at a variety of addresses. Discount the sweltering summers when I departed the city.
There comes a point when the remembered details of the physical stay - the relatively ordinary stuff that occurred during the days and nights - begin to run together and blur. There is no point then in reaching back any more. The poet, nevertheless, does have the product of his imagination as applied to the past which can build on the accretion of actual memories.
Barcelona is a chimera of a place in any poetic retrospective worth its salt, it's a city of the imagination. This third volume of poems is a chronicle of sorts, but it is not meant to be a particularly straightforward or accurate one.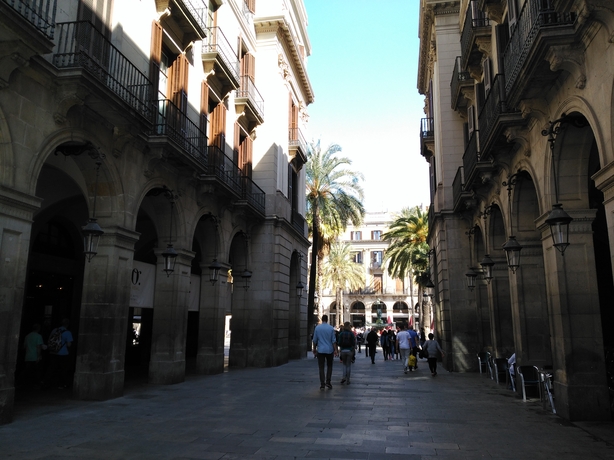 Since my stay in the city ended, I have been back on a number of occasions. My familiarity with Barcelona seems to supersede the tourist vision, it's like as if the blotting paper took the rubber stamp inked with the dates `1978-1980.' The impressions of the contemporary city make a different stain.
Essential to the writing process is the reaching back, which can be the motive of the poem, like the thrill of travelling and never arriving. Certain poems in my books concern arrival and early orientation in Barcelona, trying to make that experience as tactile as possible. Other poems strive to see more clearly what happened after that first arrival when I set about finding work as an English teacher.
This was a vast city which seemed to quake with life in those first months of my stay. Summer built with a quicker intensity than one encountered back home. In April, the month I arrived, it didn't seem like spring at all, it was more like an Irish summer. In autumn and winter, the city could became diffident, even mournful.  It was the Mediterranean, but I wore an overcoat in November as protection from the Tramuntana, the wind from the Pyrenees.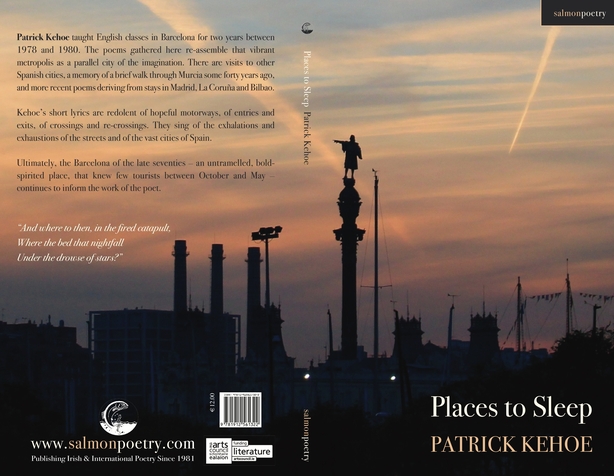 Everything can be grist to the mill. Even as I wrote those words, 'first arrival' above - which in themselves seem like a tautology - I was struck by the possibilities of the conceit. There are many arrivals and there is the first arrival, many departures and, in a sense, no departures at all. A city can stay with you through thick and thin, irrespective of differing reactions on return visits.
Moreover, even though street-names in the metropolitain area certainly are by now all in Catalan only, I have always felt it natural to use both Spanish – Castellano (Castilian) – and Catalan place names in my poems. That is as it was when I lived there, after all. It was a period of transition as the Catalan language regained its former prominence while many still named streets by their Spanish names, as indeed many do still. It's not all Catalan by any means.
Whatever effect the accretion of memories has had, it has at least yielded much of the material for three books of poems, the first two of which are Its Words You Want (Salmon Poetry, 2011) and The Cask of Moonlight (Dedalus Press, 2014). Read my account here  - entitled The Not-So-Difficult Second Book - marking the publication of The Cask of Moonlight.
Now this third volume, Places to Sleep, has just arrived from Salmon Poetry and I feel I am still not done with the city and its endless afterglow.
Romanza de Calle Muntaner
Calle Muntaner, looking down
From its upward gradient,
The blue pocket of sea
Between the tall buildings
The pang of glass and steel,
Alloy of regret and the ordinary street
I cannot admit.
(From Places to Sleep, Salmon Poetry, 2018)