Todd Fisher grew up in a house that he affectionately refers to as the "Downton Abbey of Beverley Hills". There was 4 staff for every occupant and 8 fridges, each set to a different temperature.
On a typical night, Todd might see Elizabeth Taylor and Richard Burton arguing in a stairwell. Or Jimmy Stewart begging his mother to sing a song. Todd Fisher joined Ryan Tubridy to tell him about an unusual life and two extraordinary women, his mother, famed film actress and performer Debbie Reynolds and his sister, the actor and writer Carrie Fisher.
Todd has written a book, My Girls: A Lifetime with Carrie and Debbie which he calls "a long love letter" and a "thank you note" to "the two most pivotal, extraordinary women" he's ever known. He described Debbie Reynolds as " a great mother". In contrast to her peers, Debbie would bring him and Carrie along with her to film shoots.
"We grew up on those backlots with her."
Debbie's first husband, Eddie, was a "crooner", as Todd put it. And quite a successful one at that.
"Eddie actually had more hits than The Beatles and Elvis Presley combined at one point."
Eddie and Debbie's marriage crumbled when Eddie began to show an interest in his best friend's widow, Elizabeth Taylor. Carrie, of course, was on hand to sum up the situation succinctly.
"As Carrie famously liked to say, my father rushed to her [Taylor's] side to console her, gradually moving his way around to her front."
There were more husbands to come for Debbie, each seemingly worse than the one that came before. Todd explained that both Harry Karl and Richard Hamlett ruined his mother financially. He can look back on it with some humour.
"It ended up costing her everything and we had to sell the big house. And we had to go from eight refrigerators down to two."
Todd praised his mother's ability to come back from obstacles like this and thinks that Carrie took after her in this regard. Todd thinks that Carrie struggled to find a career in show business without constantly being compared to her mother.
"It was very difficult for Carrie to get out from underneath the shadow. How do you compete with Debbie Reynolds in singing and acting? It's impossible, you shouldn't even try. But nonetheless, she tried and was in this sort of one-sided competition."
The relationship between Debbie and Carrie was fractious at times, Todd explained. He realised from a young age that he would have to act as a kind of "mediator" between the two.
"My role in the family evolved into sort of being this designated driver of the family, so to speak. As my sister got off the rails in life sometimes with drugs and other things, somebody had to help - my mother just could not carry this load alone."
Todd recalls how nervous Carrie was about her appearance in Star Wars, which at the time seemed doomed to fail.
"She said she thought this could be the end of her acting career."
Obviously, Carrie's fears were proved unfounded. Ryan asked Todd about that day in December two years ago when Todd got the call to say Carrie had taken ill on a flight home from London. Todd remembers being sure that she was going to pull through.
"We'd had other close calls and she always pulled through - you just thought at any moment she was just going to open her eyes and wake up, and we were all just going to get on with our lives."
Todd remembers racing back from the hospital to tell his mother that Carrie had passed away, worried she would find out from the press.
"From across the room, she knew. Just by looking at me…She didn't even cry. She sort of knew. My mother had this sixth sense about her. She had dreams. You know, she'd had a dream about Carrie not making it back from this trip and none of us took it that seriously. "
It was a loss he felt deeply, Todd says.
"When I took my first steps as a baby, Carrie was the one holding my hand… It was a very difficult loss. We were prepared to lose my mother because she had had a stroke about a year before and we thought that that day was coming - I didn't realise I was going to get left by both of these girls."
Debbie told Todd that she wanted to make some changes to her estate and where she would be buried in the event of her death, saying that she wanted to be buried with Carrie now, not her parents. She thought Carrie's fans might like somewhere to visit. Todd told Ryan that had it just been her, Debbie wouldn't have instigated that.
"My mother was very humble and really didn't realise how important she was to a lot of people."
Mere hours later, Debbie passed away.
"She was adamant about telling me that she, you know, needed to be with Carrie and how much she missed her and I, of course, was just thinking, 'Yeah of course. Someday we'll all be with Carrie… I didn't have any idea that she was talking about like, 30 minutes from now. It was the most amazing exit that I could possibly imagine; the idea that she just called it and said, 'I'm going to be with Carrie'."
Ryan asked how Todd has been coping since losing his sister and mother in such a short space of time. He says that his mother's outlook on life has fuelled his determination to tell the story of their family.
"My mother would be furious if we didn't get on with our lives and do good things and pick up the torch, as it were."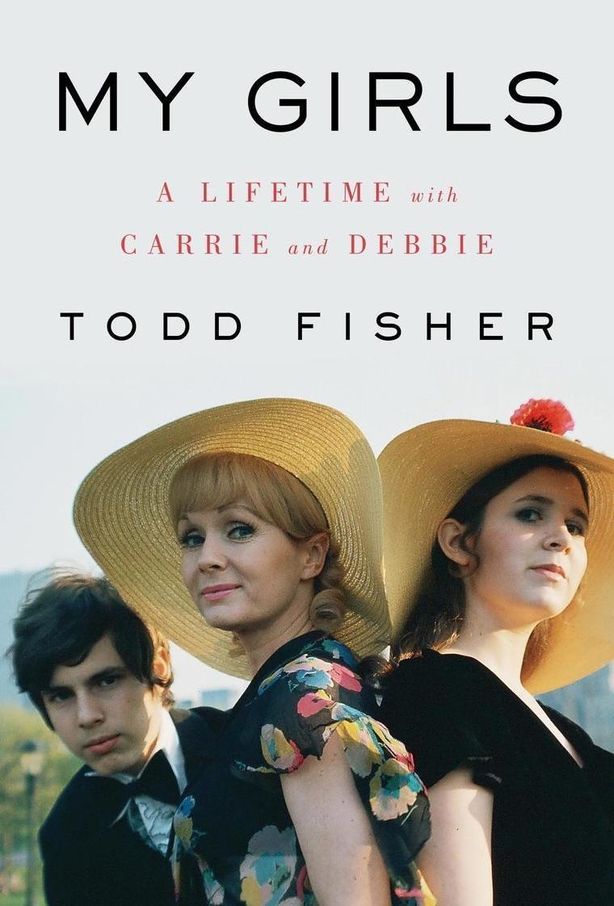 Todd hopes that his book will correct some "misinformation" that has been in the press about Carrie and Debbie, as well as give fans of theirs an opportunity to hear anecdotes about them from the man that knew them best.
"I wanted to make sure we got the truth out there, I can end some of the speculation and all of the fairytales that come. Because they're coming. There's already a book written about Carrie by people that never even knew her."
It all comes down to one thing for Todd.
"They were my girls."
Listen back to The Ryan Tubridy Show here.
Photo by Frank Trapper/Corbis via Getty Images)