Following an intense competition over 11 days, the 11th Dublin International Piano Competition announced Sae Yoon Chon from South Korea as the winner of the overall competition.
DIPC Patron President Michael D.Higgins presented Chon with his prize onstage at the National Concert Hall, where the four finalists performed concertos with the RTÉ National Symphony Orchestra, conducted by Andrew Mogrelia and streamed live on RTÉ Culture.
As well as receiving a €15,000 prize fund, a prestigious list of engagements is secured for Chon including début concerts in London and New York, as well as appearances at international festivals and concerti with leading orchestras.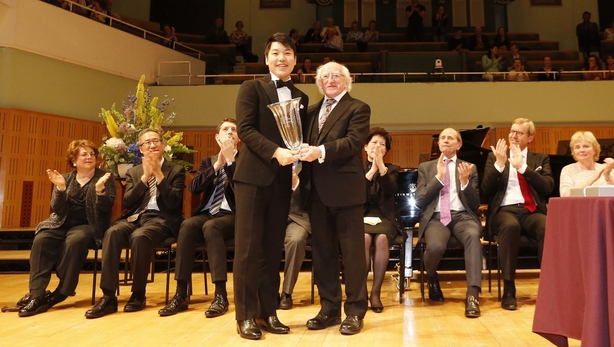 The President also presented 20 year old Eoín Fleming from Templeogue, Dublin, one of the youngest competitors with The Charles J. Brennan Prize for highest placed Irish competitor.
Established in 1988, the competition takes place every three years and now ranks among the most important piano competitions in the world. A total of 55 talented pianists participated from 22 different countries: Brazil, Canada, China, Georgia, Croatia, Germany, Hong Kong, Hungary, Ireland, Israel, Japan, Kazakhstan, Malaysia, Poland, Portugal, Russia, Singapore, South Korea, Ukraine, United Kingdom, United States and Vietnam.
Congratulations to this talented and capable young man Saeyoon Chon from Korea, first Asian winner of the @DublinPianoComp 2018. We look forward to his many return visits to our country. It was a terrific night at @NCH_Music pic.twitter.com/kk1ntY1OnU

— Finghin Collins (@FinghinCollins) May 30, 2018
For aspiring young musicians setting out on a career as a concert pianist, money is vital for study, travel to the best teachers and access to the best pianos. The Dublin International Piano Competition offers winners the a string of prestigious concert engagements in the leading concert venues of the world, among them the Wigmore Hall, London, Carnegie Hall, New York, the Steinway Prizewinner Concerts in Gewandhaus in Leipzig and the National Concert Hall, Dublin. These concerts, attended by artists' managers, agents and press, have enabled previous winners to launch successful careers.
The DIPC also offer management and support in steering each winner towards finding an agent, and networking effectively to build a career as a concert pianist.
Artistic Director John O'Conor stressed that the entire jury were impressed with the standard displayed by all the competitors. "This year was the highest entry in the history of the competition, and it was heartening to see so many young entrants. What's also heartening is the tremendous voluntary input, which has strengthened over the years, by what is now the big family of the Dublin International Piano Competition."
Our 2018 winner is Saeyoon Chon from South Korea. Congratulations to Saeyoon and the other 3 wonderful competitors for making this a finals night to remember. For more details see here: https://t.co/cmVColhU4T. pic.twitter.com/yDc9zMM46v

— Dublin Piano Comp (@DublinPianoComp) May 29, 2018