We're delighted to present an extract from The Night Of The Party, the new book from Morning Ireland presenter and acclaimed novelist Rachael English. What's more, we have copies to give away - stick around after the extract...
---
January 1982: During the worst snow storm Ireland has seen in decades, the parish priest of a quiet west of Ireland village dies in mysterious circumstances. Father Leo Galvin was attending a party at the home of the Crossan family. His death attracts huge media attention and forces the people of Kilmitten to ask how well they know their neighbours.
On the night of the party, twelve-year-old Tom Crossan is hiding out in the garden shed, smoking and drinking beer with his closest friends, Conor, Tess and Nina. All four are changed by the discovery of Father Galvin's body – and by the furore that follows.
Thirty-five years later, the crime remains unsolved. The friends are living very different lives but remain connected by their home and its secrets. Conor is convinced that Tom, now a prominent politician, can help to identify the killer. His quest draws the four back together, forcing them to question their lives and confront their differences. But will Kilmitten's mystery finally be solved?
---
'Did you ever notice,' said Tess, 'that we're always either too old or too young?'
'Oh, yeah,' agreed Nina. 'Those are my dad's favourite words. One minute I'm too young for stuff, like getting my ears pierced or wearing lip gloss. Then, five minutes later, he's all, "Stop fighting with your brother. You're too old for that now." Honestly, it's such a drag.'
To Tom's relief, the girls seemed to have forgotten that he wouldn't be thirteen until March. At one point, he worried Conor was about to say something. He sent his fiercest look in his friend's direction.
The last thing he wanted was Nina dismissing him as a kid.
He was telling them about the gossip he'd picked up at the party when the beer ran out.
'It's a shame we don't have another bottle,' said Nina.
'There's no chance you could get one more, is there?' asked Tess. Tom didn't want them to go. Not yet. He glanced from one to the other, at Tess's 'Go on, I dare you' face and Nina's look of expectation.
Luckily, his parents stored most of the party drink, and all the food, in the back kitchen, which wasn't really a kitchen at all, just a ramshackle room at the rear of the house. Even better, the room had a door that led directly onto the garden. That was how he'd got out. By now, the party-goers would be drunk. If he was careful, nobody would spot him.
'I'd better go up and get another one, so.'
'Yay,' said Tess, rubbing her palms together. 'Now we're talking. Do you want me to come with you?'
'Nope, it's better if I go on my own. I'll see you in a tick.'
Tom moved slowly up  the  path.  Sometimes he squelched; sometimes he slithered; mostly he sank. What he needed was a pair of those snowshoes they wore in the films, the ones that looked like tennis racquets for your feet. Around him the snow continued to fall. The air was clean as peppermint. He thought of his parents. They would assume he'd slunk off to bed, but in the morning, they might notice the footsteps between the shed and the house. He'd have to come up with a story. As he edged closer, he heard a dull thump. They were playing music, old-timer records from the sixties and seventies. That was good. It meant there was less chance of somebody hearing him. He'd sneak in, take a bottle, no, two bottles, and sneak out again.
As he reached the corner of the building, a lightheaded feeling came over him, an enjoyable sort of lightheaded, like speeding over a humpback bridge. The door was inches away now. The light was on, but that made sense: people had to go in and fetch more drink or sandwiches. He peeped in and, through the snowflakes, saw what looked like a familiar figure leaving the room. Well, it was only a blur, really. All the same, he decided to stay out of sight for another few seconds. Only then did it occur to him that his parents might have locked the door. He counted to twenty before pressing down on the handle and giving a gentle push. He was in luck.
Almost immediately Tom saw the leg. It was sticking out as though whoever it belonged to was having a sleep on the floor. He gave another tiny push. There was a second leg. Of course there was a second leg. Jesus, thought Tom, am I drunk? Am I seeing things that aren't there? The owner of the legs was slumped against a cupboard. Finally, he saw the head. He couldn't see the face, but that didn't matter. He knew the black curly hair. He'd know it anywhere. It was Father Galvin. The priest's head lolled, as if he wasn't just asleep. As if he was hurt or worse. Oh, hell. There was definitely something wrong. What had happened to Father Galvin? Tom didn't want to see any more. Quickly, he pulled the door shut and, falling over himself like the maddest drunk ever, scrambled to the side of the house and leaned against the wall. Salty liquid climbed up his throat. He swallowed.
Father Galvin. There was an odd sound in Tom's head, like being underwater in the swimming pool. He breathed in. And again. And again. The gulps of cold air hit his lungs and made his chest hurt. The person he'd seen leaving the room, surely they'd gone for help. That must be it. They'd gone to fetch somebody else. Shit. When they came back, they'd spot him. He didn't want his folks to see him. Out here. Half jarred. In search of more beer. With Conor and the two girls in the shed and Father Galvin on the floor.
He took another breath and told himself to calm down. As long as neither his mam nor his dad went upstairs to check on him, he'd be okay. He'd have to get back into the house later but he'd wait until the fuss – there was bound to be fuss – had died down. In the meantime, he'd return to the others. He wouldn't tell them what he'd seen. There'd be too many questions; questions he couldn't answer. They'd all want to know what Father Galvin looked like, and the girls might get upset. No, he'd say the door was locked and leave it at that.
First, he needed to stop shaking.
The Night Of The Party (published by Hachette) is in bookshops now.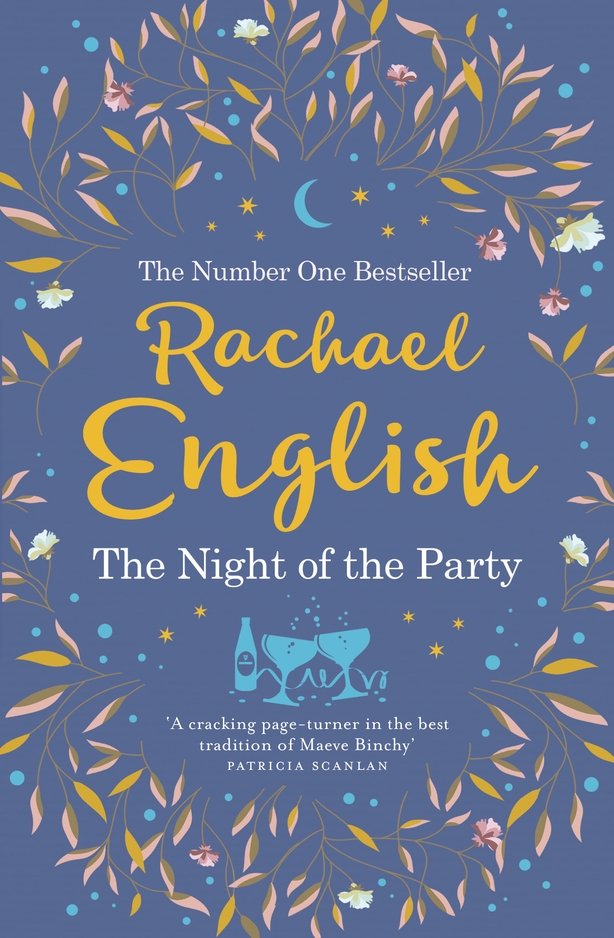 To be in with a chance to win a copy of The Night of the Party by Rachael English, follow RTÉ Culture on Twitter or Facebook and tell us this:
Which RTÉ Radio 1 programme does Rachael English present?
Send us your answer, along with the hashtag #RTEParty before 6pm next Tuesday evening, May 15th 2018. The usual terms and conditions apply.