We're celebrating the 20th anniversary of Irish literary journal and publishing house The Stinging Fly with a selection of extracts from classic stories, introduced by the editors of the new anthology, Stinging Fly Stories.
Below, Sarah Gilmartin introduces an extract from Adventure Stories for Boys by Kevin Curran, first published in The Stinging Fly, Issue 37 Volume Two, Winter 2017-18. 
The highly ironic title of Kevin Curran's vibrant story about a teenage boy dealing with huge loss is the first sign of an author who has given much thought to his subject matter. Published in a special feature on housing and homelessness in the most recent issue of the magazine, the story follows Rory "on the bounce" from school as he visits his Da in intensive care and tries his best to make up positive news about the family's misfortunes. Curran nails the voice of a disenfranchised teenager in a series of seminal moments – a potential new girlfriend, a first pint in a pub – that mix soft humour with touching sentiment to terrific effect.
---
I pulled the yellow curtain behind me and never even noticed the lack of a swish. 
'Alright, Da,' I whispered, soft, cause I was kinda afraid to disturb things. For one, I was on the bounce and didn't want to alert anyone to my presence, and two, the place felt like a library.
'Yer looking good, Da, yeah,' I said, easing my schoolbag to the ground and lifting the plastic grey chair around to face the side of the bed. I scraped myself in, knees up against the mattress and took a breath. Got myself together, like. 
I found my da's hand—the one not bruised and hooked up to tubes—down by his side and rested my wrist on the cold metal rail. I lifted his fingers, just held them while I rested my thumb on his palm. I was always surprised by the warmth and feel of my da's hand. There was a roughness there like the hard texture of a stray dog's paw. 
I had no memory of ever holding my da's hand before. I was what, fifteen. I'd no memory of holding anyone's hand. Other than Holly's when I had to bring her to school. But that didn't count. She had to or I'd bate her. 
I quit inspecting his fingers and looked at his face.
'Sorry I'm late,' I said, 'it's not my… I had to go to class.' 
It seemed with every visit I was discovering something new. Today it was his stubble. Normally he was freshly shaved. I remembered his line from a few weeks before the accident, mumbled while he was checking his foamy face above the bathroom sink, the razor about to draw down on his cheek, his eyes all bloodshot and dark, staring hard at his reflection, 'If you're feeling rough as fuck, son, never let them bastards know.' 
A distant trumpet of daytime television played over the ward. A slight breeze from somewhere swayed the curtains, but couldn't budge the heat. 
'Ma says she's been getting calls and shit.' I paused. I was trying to stay all upbeat like they said I should. Keep things positive. But it wasn't easy. 'She's telling me I haveta go in or the courts will be on and, like, then there'll be more trouble.' 
A trolley and its rinky contents stopped outside our yellow enclosure. A voice—the nurse's muffled instructions—filled the gap in a big thick country accent. 
The hair on me da's face was growing high on the cheekbones. Like something out of Dawn of the Planet of the Apes. He wouldn't have been impressed. 
'So, yeah, Da, I went to a class.' 
I gave his fingers a gentle squeeze and withdrew my hand and leaned down for my bag. I took out my only book and some cold toast I'd fleeced from Breakfast Club leftovers nearly two hours before. I settled the book on my lap and said, 'Where were we, Da?' 
But I couldn't concentrate. I was drained. Absolutely bollixed. So instead, I said, 'I met a girl off the train yesterday, Da.' 
And so, to fill the silence, I went on and told him about how the earphones were in and I was lost dealing with the awful bang of hunger when I heard Taylor call after me. I just strolled on, head down, trying to adjust my walk to stop the instep on my converse from wearing through to the socks. 
'Hey Rory, Rory!' she shouted and suddenly she was there with her big giddy face beaming beside me, her cheeks pinched pink like one of Holly's old dolls we'd left abandoned in her bedroom. 
'Hiya,' she mouthed. 
I took out the earphones. She smelled fresh and clean, like Hubba Bubba. 
'Hi,' I said, returning my eyes to the path, trying hard not to pull a redner.
She stood too close, but. My school shirt smelled like shit after Ma hand-washed it in the sink and dried it on the radiator in the bathroom in one of her manic fits.
'Ye need to turn yer music down,' Taylor gushed. 'I was calling ye for ages. I saw ye get off the train and followed ye over the wall. I had no ticket either so ye saved me. Were you on the mitch too?'
She was almost skipping with the excitement of it all. We were surrounded by suits and hands pocketing weekly tickets and cars reversing out of spaces. The train sounded so loud and sluggish pulling away from the platform. 
'Yeah.' 
She giggled and nudged me. 
'Where'd ye go?' 
'Eh, I, the usual place.' 
'Usual place? Oh yeah, you do this a lot, don't you.' 
'Suppose.' 
She stopped walking. The crowd had thinned out. 
'I used to think you were, like, a nerd.' 
I shrugged it off, but still felt the sting. 
'You going home?' she said, a glint in her eyes, the final word a little too rushed. The earphones clicked softly in the palm of my hand and I looked to the blue sky for an answer. She was exhausting. 
'Suppose.' 
'I'll walk with you then.' 
And she waited for me to lead the way. 
'I nearly missed the train,' she went on, her face lit by the horror of such a possibility. 'My ma would've been ringing the school if I wasn't back by five.' 
I just nodded, watching our shadows ripple like ghosts before us over the path. 
'She's mad like that. Stupid bitch. Though me da wouldn't give a shit if he found out. He's grand. What's yours like?' 
I looked up to read her face. There was nothing only her wide eyes and stupid smile. 'Me ma's strict but me da is…' 
I trailed off and Taylor giggled nervously and blurted, 'They're all the same. Do you know Shauna Boylan's da? She lives a few doors up from you. Like, directly behind my house. I can see into her back garden from my bedroom and everything, like. Her da does be out there naked. The state of him. Freak.' 
And so it went for the next five minutes of walking, me nodding along to Taylor's shite talk until we reached the estate. It was still bright and sunny and there were kids out on their bikes pulling wheelies and circling lazily in the middle of the road. Taylor stopped at the corner beside the 'Drive Slowly Children Playing' sign and stretched up on her tippy-toes and peered down the row of houses. 
'Looks like you're in the clear. Your da's van isn't there.' 
She was nibbling at her bottom lip eager for something. I gave her nothing. So she said, 'See ye around then, and maybe the next time ye go on the mitch ye can give us a shout, yeah? What's your Snapchat?'
I went, 'Eh, I'm…' 
'Mine's Taylorbyrne56. Add me.' 
And she giggled and hunched over her phone and started typing while she walked away. 
I watched her go and then craned to look where she'd just looked. See what she had seen. I lingered on the empty driveway a while. Thinking about the fading patch of oil near the porch from his work van. When I was sure she was gone I put my earphones in and felt myself disappear. I turned away from the road, the driveway, the kids' laughter, and started back towards town, to the empty hours ahead. 
Taken from Stinging Fly Stories edited by Sarah Gilmartin and Declan Meade, published by The Stinging Fly Press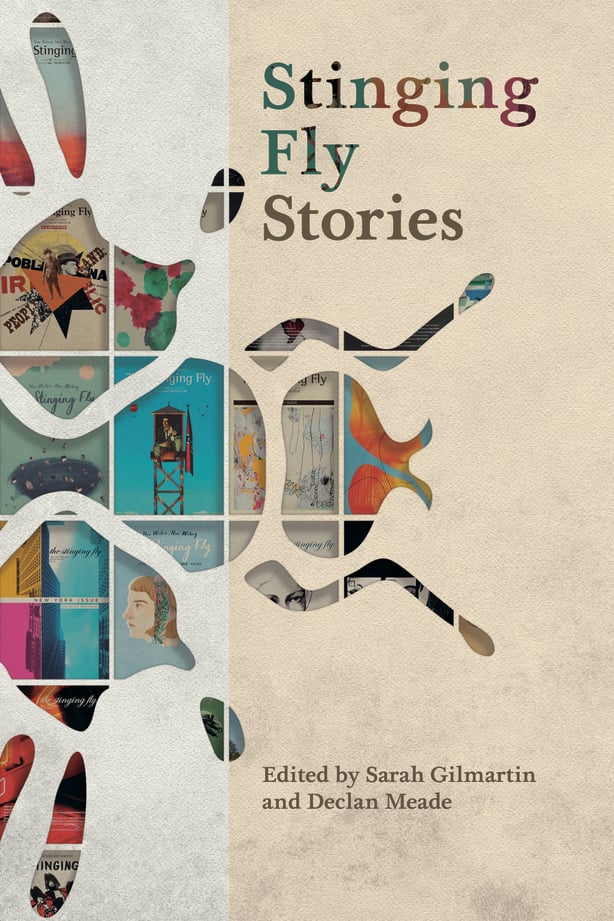 About The Author: Kevin Curran is the author of two novels, Beatsploitation and Citizens. He has also published short fiction in Young Irelanders (New Island) and has written for The Guardian and The Observer. He is the recipient of a bursary from Fingal County Council's Artists' Support Scheme.