We're celebrating the 20th anniversary of Irish literary journal and publishing house The Stinging Fly with a selection of extracts from classic stories, introduced by the editors of the new anthology, Stinging Fly Stories.
Below, Declan Meade introduces an extract from The Day I Brought Water by Sinéad Morrissey, first published in The Stinging Fly Issue 15, Volume One, Summer 2003
---
I had interviewed Sinéad Morrissey about her poetry in 2002 so I was delighted to get this story from her for a special fiction issue we brought out in 2003. Sinéad already had a formidable reputation as a poet back then and her work has gone from strength to strength since, picking up numerous honours and awards. She hasn't published much other fiction though. This story is full of heat and menace. There's a real sense of the child narrator being in terrible danger that she cannot possibly understand.
---
It's nearly night-time and it's summer so the sky is red and animal clouds are in it and moving quickly. Summer means fires on the estate, houses and mattresses and cardboard boxes. I'll find them on my way home through the back path, the whole sky full of smoke and boys running and when I go inside for my tea I'll talk about the new fire. Summer means Mum sunbathing out where the bins are, and earywigs all over our house, in keyholes and towels and beds, and the whole street skipping with one big rope singing 'On the Hillside Stands a Lady' until bedtime. Parents coming out in twos and fours then to bring us in and the last one tying up the big orange rope and going away somewhere else because he's lonely.
Nearly bedtime now but I want to watch the news, all by myself, so I'm taking my TV that rolls ducks and boats and the Tower of London across the front of it to Row Row Row Your Boat Gently Down the Stream out to the playground in the middle of the back path. I am setting it on a wall and winding it up and sitting down on one of the round stone seats by the round stone table in the living-room part of the playground. The big girls with tall black shoes are nearby and some of them come over to me.
'Can I brush your hair?'
They are sitting round me in a circle and when they've finished I get up onto her lap and I brush hers. I remember her. She was the baby-sitter once and we watched a film with pirates and ships and cannons and she laughed when Dad asked her if she wanted something to drink, laughed about it with her friend who came later, just before we went to bed. I'm telling her again how she looks like the woman I saw singing on TV.
'Who, Suzy Quatro?'
The girls are laughing. They are leaving together now, back down to the big road at the front. The sky is dark red now and the clouds are black. Boys are here in the part that's lower down than everywhere else. They're jumping on top of a blanket they've set on fire. They come up to the wall and knock over my TV. I'm running behind the wall to pick it up. I'm running home.
All sun. My brother leads us through bushes opposite our house and inside there's a space. Somebody's made chairs from planks and tyres and boxes and everyone is here already, the whole street, but we've missed it. It's stopping. So we come back out again. The bushes have the white squish berries all over them that kill you if you eat them. The whole street goes off together and leaves me and my brother and Richard. And now the three of us are far away from the back path and we've been walking for a long time. All sun. We see a dog with one eye.
Four men are lying on the grass under a bridge. We go over to where they are because they told us to. We're standing now, watching them. Mostly they do nothing but sometimes they spit. They're looking at their shoes. They only have vests on top and their faces are dirty.
'Will you do something for us?'
He's talking to my brother. They don't have shoes. They have big black boots, scraped away and white around the toes.
'What?'
He's not smiling. He's not promising things.
'Will you bring us something?'
Before they promised sweets and I went with them. I saw chocolate bars and chews and rock so I followed.
'What?'
He's not smiling. He's not giving us anything.
'Will you bring us water?'
The last time was nearly night-time and the sky was red. Red for ages and ages. Now it's after lunch. All sun. They lie and spit and stare up at us, into the sun.
'Water?'
Only one of them is talking. Every time he speaks the other three laugh and roll about, pulling at the grass.
'Yeah, water. Four big pint glasses of water. From your house. Is your house close? Can you get there and back in ten minutes?'
They're all sun-tanned. Their hair looks wet. They push their fingers through it and it stays where they leave it.
'No. It's further than that. About twenty minutes there and back.'
The one speaking has curly hair. It's light. The colour of skin in pictures.
'Twenty? Well, lads, is it worth waitin' for?'
They laugh, far back in their mouths, as though they don't want to laugh at all.
'Jesus, Mick. Lay off it.'
He's looking up at my brother and his voice is a different voice now.
'We're thirsty. It's that simple. And we want four big pint glasses of water from your house, that's twenty minutes from here, there and back. So you and your two wee friends are going to go back to your house, get the glasses, fill them up with water, and bring them back to us, and you won't be any later than twenty minutes, and you won't spill any along the way. Okay?'
He's looking like someone else now. The tall one. The one with the I-Know voice.
'Do we get something?'
Sweets. Clove Rock and lemon bonbons and Curly Wurly bars, on the top shelf of a wardrobe inside a bricked-up house.
'No you don't. You get to do us a favour, okay? Christ. Kids today. Runnin' f**kin' businesses.'
He spits. The others roll away. They lie with their feet towards us and they look up at the bridge. He's staring at my brother. And we've whirled around and we're running into the sun.
Taken from Stinging Fly Stories edited by Sarah Gilmartin and Declan Meade, published by The Stinging Fly Press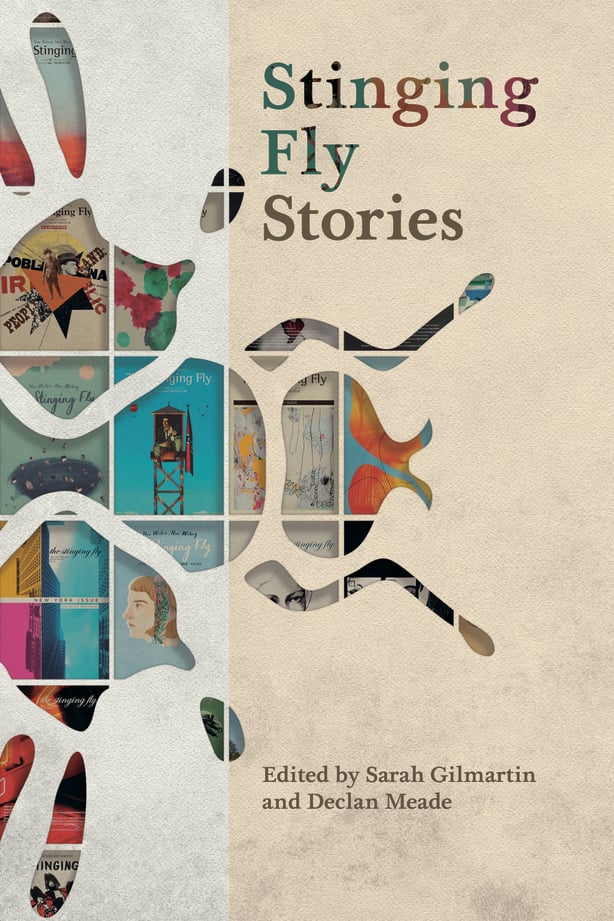 About The Author: Sinéad Morrissey has published six collections of poetry: There Was Fire in Vancouver (1996); Between Here and There (2002); The State of the Prisons (2005); Through the Square Window (2009); Parallax (2013) and On Balance (2017). Her awards include the Irish Times Poetry Now Award (2009, 2013) and the T S Eliot Prize (2013). In 2016 she received the E M Forster Award from the American Academy of Arts and Letters. On Balance received the Forward Prize in 2017. She has served as Belfast Poet Laureate (2013-2014) and is currently Director of the Newcastle Centre for the Literary Arts at Newcastle University.