I moved five times in three years. I was lucky enough to have options, at least, as it was just before the current housing crisis kicked in. And I did eventually find a long-lasting home at the end of those wilderness years (in which I still live). 
Still, I don't recommend it. Besides finding a bed with my name on it, the other good thing that came out of my experience was I was forced to look at my 'stuff' again. And again. And again. The result was that my relationship with the physical world of 'things' was forever altered.
Just when I had sworn a blood oath to embrace digital media – for many of the pieces I was moving around the chessboard of my life were seemingly countless boxes of DVDs – I stumbled upon an analog mother-load of printed mater. Inside one of the more durable and (thankfully) waterproof plastic tubs were diaries and scrapbooks. The Easons-purchased scrapbooks contained not only a wealth of USA Today box-office articles (that particular newspaper was essentially a Cinephile's pre-internet internet), but years of cinema ads from the Evening Herald and late, lamented Evening Press, many of them punctuated with ticket stubs.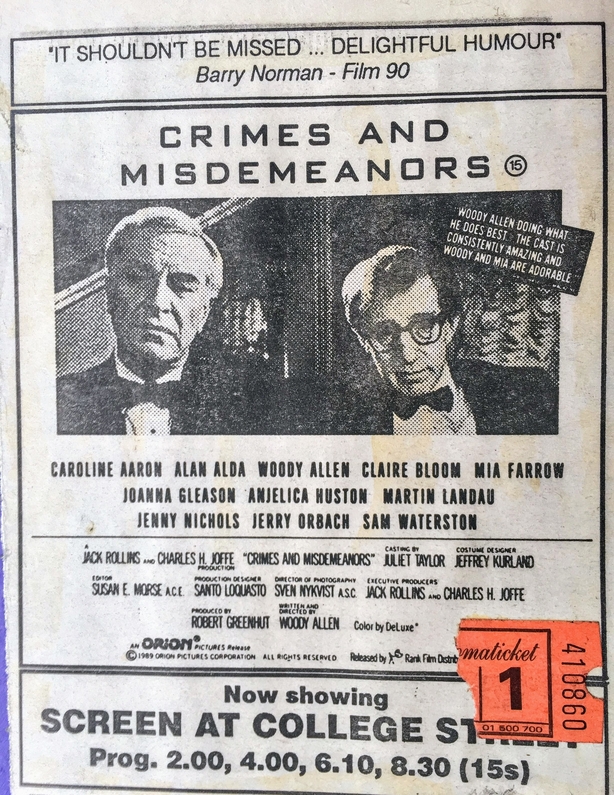 The books mostly covered the late eighties to the mid-nineties, ceasing only when I emigrated to Argentina following the 'mysterious' fire that destroyed the record shop where I was working (for that story, you'll have to wait for my autobiography). Free of school in '88, cinema was at the centre of our lives - along with comic books. Basically, until women, quite literately, embraced us. And fair dues to them. At that juncture, we were decades away from geeks inheriting the earth. I sure as hell didn't make it easy for myself (which I was pointedly reminded of in the diaries found in the same box).The turning of the pop culture worm in our favour was simply inconceivable back then.  
Today, NOT being a comic book fan would almost be an impediment to getting a date.
As I flipped through the scrapbooks, I had constant flashbacks. I may not remember what I had for breakfast last Monday, but I did suddenly remember... I bought chips in Burger King on February 23rd 1990. I smuggled them into the Adelphi cinema (long gone) on Abbey Street to watch Born On The Fourth Of July. It was a Friday night. And the last film in a Dublin Film Festival triple-feature binge.Flash forward to March 8th 1991, at the Adelphi again and a screening of The Godfather Part III, accompanied by a half pint of milk, a packet of Tayto, followed by a procession to the lobby (now a car park) of heads bowed in disappointment. In May 3rd of that same year, it was The Doors at the Savoy 1 (only recently chopped up). I swaggered down O'Connell Street afterwards, eager to embrace the sixties. My musical pallet utterly exploded that summer.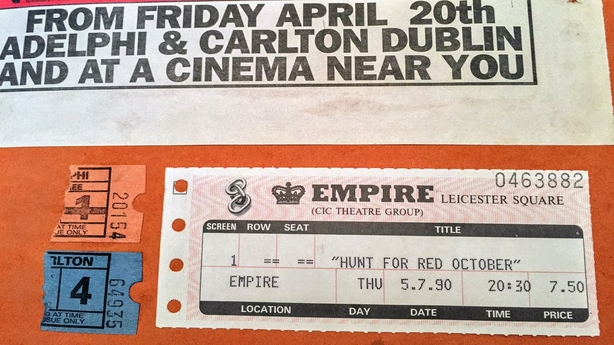 On July 5th 1990, I flew to London by myself to see The Hunt For Red October at the Empire in Leicester Square. It was my third time seeing it, but they were showing it in 70mm. It's only when I looked at the ticket stub did I realise I was only 19 at the time, and that it was the first time I traveled abroad alone.
On July 13th 1993, I took an actual woman to see Once Upon A Time In America at the Screen Cinema (also gone). Not exactly the ultimate date movie. Though she brought me some pistachio nuts. I know, because I stuck one of the shells in the book next to the ticket.That date was a watershed of sorts.There are a lot more double stubs present in the months following.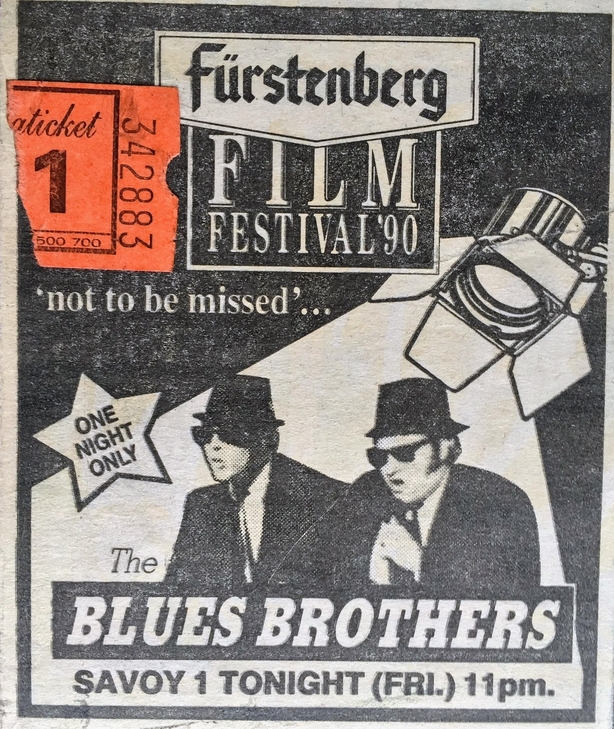 My scrapbooking seriously started to taper off in mid '94. The last film we saw together was John Landis' Innocent Blood at the Carlton. Then she was gone, left the country. The last film I saw at the Carlton was Steven Seagal's directorial debut, On Deadly Ground. Then I was gone. Not long after that, the Carlton was gone, too. 
I kind of wish I'd kept up the scrapbooking. Life gets in the way - at least it does if you're doing it right. It's all mostly e-tickets now today. Gone are the cloakroom stubs and long-lasting inks of dot matrix printers. Those printed tickets I have saved in our digital age all tend to fade over the years. Much like the memories.