Media reports have suggested that plans are afoot to divide the 800-seater Screen One in Dublin's legendary Savoy Cinema into a series of smaller screens. Cinemaniac Paul Markey celebrates one of the country's great picture houses.
Rumours are gathering that the final chapter in a generations-long Irish film-going experience is about to be written.
The capital's great movie houses have been steadily shutting their doors in recent decades, as multiplex mania took a hold of Ireland's cinema-going public. First, the Ambassador came to a stuttering halt - closing, re-opening, then closing again, at least as a picture house. The venerable Carlton went down in a blaze of rock n roll, shutting its doors to the final credits of Rock Around The Clock back in '94. The great Adelphi on Abbey Street wasn't long for this world soon after, the home of The Beatles' only Irish gig a victim of the Celtic Tiger. The Screen (nee Metropole) went the way of the property developer only last year.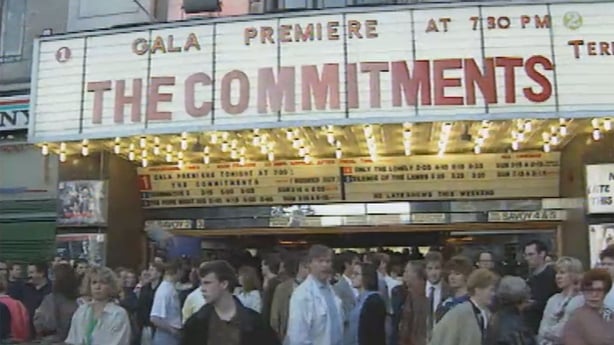 Now the fate of the Savoy One, Dublin's last great behemoth cinema screen, is in the air. Capitalism is a numbers game, and 800 seats for one film just doesn't cut it anymore in this business.  I could go on about how cinema's crown as populist entertainment was lost with the passing of the twentieth century. Or perhaps how the rise of the internet and the digital age smashed the audience into a million pieces, casting them down into their own personal niche and diluting the primal, communal experience of storytelling.  
But no. Let's be Zen about this. God knows, these days one needs to be.  
Instead, I choose to remember the time my folks allowed me to skip school on a Friday, to queue at the Savoy from 9am with my friend, Gary. They looked at me quizically, impressed I'd even ask such a question. Bunk off? For a film?  Even the doorman thought we were nuts turning up that early. Didn't we have school to go to? Yeah, but this was Ghostbusters!  When the doors finally opened, he waved us passed the box office, letting us in for free. We saved £1.50. Each.  
A few years later, I celebrated the completion of my Inter Cert by not getting drunk with my peers. Instead, I fled Mount Temple for the Savoy One. It was just me and Woody Allen's Hannah and Her Sisters. Unfortunately, I came too early, walking in in the dark on the last line of the film, "I'm pregnant."  The audience cracked up. I thought they were laughing at me! I went scarlet in the dark and fled to the lobby. I was a very self-conscious fifteen-year old (inside, I still AM a very self-conscious fifteen year-old.)  Actually, I think that may have been Savoy Two (which is now Savoy Two, Three and possibly Four.) Screen Two itself being originally part of the balcony of the Savoy back when it was one, single, giant cinema of two and a half thousand seats.  Can you imagine? Even the biggest screen in the largest cinema in the world, the Cineopolis in Madrid, only seats 996.
Probably the most influential, and long lasting, experience I had as a burgeoning teenage Cinephile, happened in the Savoy One during one of the great Dublin Film Festivals of yore. Originally, Barry Lyndon had been booked to play.  Alas, Stanley Kubrick was such a hands-on film maker, he refused to approve the only available print for exhibition. Not up to scratch: too many scratches (Fair dues. It only took him three years to make it. Mostly in Ireland, as it happens.)  So, 2001: A Space Odyssey was dropped in at the last minute instead. The late, great, Irish Times film critic, Michael Dwyer, confessed to a nearly full house that yes, this print had French subtitles, but if you've never seen this picture in a cinema, you will not care, he assured us.  And he was right: it was an ocular, auditory and intellectual revelation. I always say of that afternoon, I entered the Savoy a boy and left it a man. My Star Wars days were behind me. I was only half right, of course. I'm already looking forward to The Last Jedi, due this Christmas. Can you guess where I plan to go and see it on opening day?
Today, I remain that Kubrickian man, a true believer in the healing power of cinema. There's nothing quite like it. Some years after my own space odyssey in the Savoy, I had the privilege of encountering Stanley Kubrick in person. But that is another story.
I'm also a projectionist. One of the last in Dublin. As my trade slowly slips into myth, to be inevitably replaced by a machine, I will continue to savour the thrills of projecting an opening night to a full house. Digital or celluloid? Truth be told, it doesn't really matter. Both have their own particular charms. And my skills may die with me, but cinema will live forever. Because there will always be more stories to tell.
What really, truly matters is the magic of the movie palace, and the Savoy One is still a magical place, one to be cherished.