Acclaimed writer and actor Mark O'Halloran (Adam & Paul, Garage, Viva) writes for Culture about his role in Pan Pan Theatre's production The Importance of Nothing, which kicks off a nationwide tour on 7th April at the Roscommon Arts Centre.
The Importance of Nothing was my first show with Pan Pan. I had known of the company for a long time and I was a huge fan but had never been offered work by Gavin up to this point. Indeed, the only reason I got the part, I reckon, was because I had had knee surgery that left me hobbling and a bit miserable and Gavin, having met me randomly on the street, felt rather sorry for me and offered me the job on the spot.
All that he told me about the piece was that it was going to be improvised, set in a prison and be a mediation on the works of Oscar Wilde. I had, of course, done a good few Oscar Wilde plays in my time but they tended to be the more traditional 'chocolate box' renderings. This show was most definitely never going to be that.
We need your consent to load this Vimeo contentWe use Vimeo to manage extra content that can set cookies on your device and collect data about your activity. Please review their details and accept them to load the content.Manage Preferences
There has always been a very palpable sense of anarchy on display in Pan Pan's work and I guessed that rehearsals with the company might be a little eccentric. I wasn't disappointed.
The rehearsal period was split into two blocks. For the first block we improvised loosely and at length. We experimented with using ear pieces and microphones; we staged and restaged parts of Wilde's cannon; we recorded everything; we did Pilates; we talked incessantly; argued fiercely and laughed a hell of a lot. At the end of this process we had amassed hours and hours of recorded improvisations and then staged a 'work-in-progress' showing for friends and producers. That was what you might call an 'interesting' day. People liked what we were doing, apparently. They said they did anyway. Who was I to argue? I just wasn't really sure if it was a play or not.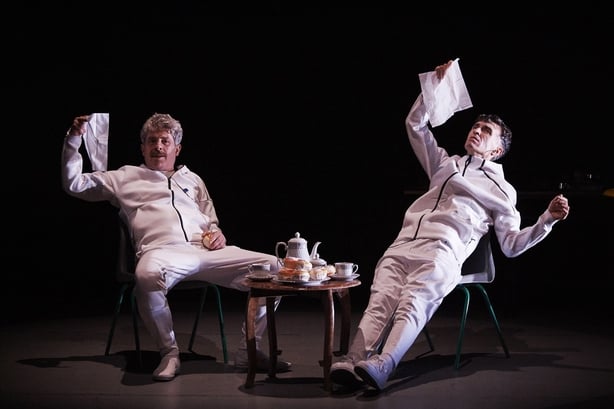 After that, we took a break and Gavin set about trawling through the materials gathered and editing it into a manageable shape. When we reconvened some months later we added our voices to this continuing process and also began incorporating music and design ideas into the whole. 
The character I play is an Ennis man named Robbie who is in prison for some unspecified (though probably violent) crime. He joins the prison's 'Oscar Wilde Homophobia Workshop' in order to avoid the desperate boredom of the prison regime. He is by turns an appalling bully, an aggressive pedant and a painfully vulnerable human being. Robbie is also homosexual and along with his best friend, Lar, is increasingly interested in the acting and writing that the workshops allows him. It is almost as if the chaotic workshop environment affords him the space to unpick some of his troubled background. Not that his story is ever going to end happily - but his journey sure is entertaining. 
Above all else, Robbie is tremendous fun to play. Indeed, the whole play is a hoot. It has been a great joy bringing it to life with such talented cast and I am fiercely proud of it. Gavin invented a brilliant process for us all to play within, and it is now my great pleasure to bring the resulting show to a wider audience.
Pan Pan's The Importance of Nothing starts a nationwide tour on 7th April at the Roscommon Arts Centre and continues on tour as follows: 9th-11th April The Everyman, Cork, 13th - 14th the Belltable, Limerick, 17th April Dunamaise, Portlaoise, Co. Laois, 21st April The Ramor Theatre, Virginia, Co. Cavan, 25th April the Pavilion Theatre, Dun Laoghaire, Co. Dublin and 27th-28th April the Mermaid Arts Centre, Bray, Co. Wicklow. Find out more here.