Last Thursday, Trinity College launched a major new exhibition in celebration of one of its most famous alumni Oscar Wilde, with a memorable appearance from Wildean admirer Rupert Everett.
The exhibition From Decadence to Despair opened with an interview between acclaimed actor-turned-filmmaker Everett and writer Carlo Gébler, the Professor in Creative Writing at the college's Oscar Wilde Centre for Creative Writing,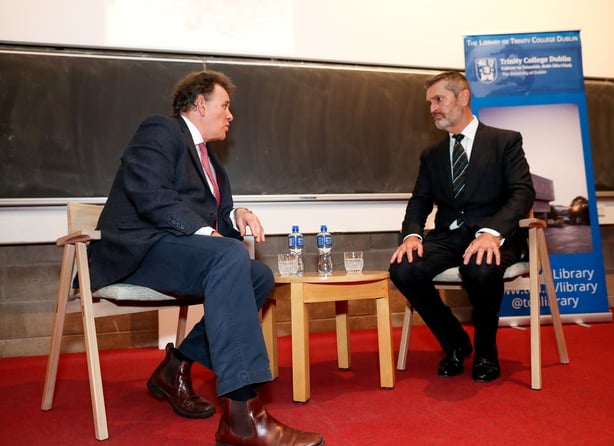 Introduced as two suave, dashing men (met by a bellowing "Hear, hear!" by Senator David Norris and the rest of the audience), the interview offered a fascinating insight into the lives of both Wilde and Everett. What arose from the hour-long conversation was a tangible passion for Oscar Wilde's writing; there has been a ongoing connection to Wilde's oeuvre throughout Everett's career, having played various characters in productions of the playwright's most esteemed works and Oscar himself in David Hare's acclaimed play The Judas Kiss.
Next year marks the release of Rupert Everett's big-screen directorial debut, The Happy Prince. The film, also penned by and starring Everett, explores what the actor considers to be the most interesting part of Wilde's life. "I said to myself, what I'd really like to do is create my own film about Wilde at the point where all the other films end. It's really when things become the most interesting, which is going to prison and what happens to a prisoner when they come out of prison. It's the notion of being imprisoned by your freedom."
"The road to gay liberation started with Wilde. He really is the beginning of what we are living now."
The two discussed Wilde's stint in prison, and the born again-Christianity Wilde found upon his release, as well as the connections that Everett has felt between Wilde's life and his own. An out and proud gay man, Everett proclaimed that a Wilde renaissance is exactly what the world needs right now.
Rupert Everett views @tcdlibrary's new #OscarWildeTCD exhibition 'From Decadence to Despair' in The Long Room pic.twitter.com/IlVlvtPk33

— TrinityCollegeDublin (@tcddublin) October 12, 2017
"With the new LGBTQ+ world we have, Wilde has been right in there since the beginning of it. The road to gay liberation started with Wilde. He really is the beginning of what we are living now. I think there's a great opportunity for Wilde to be a great inspiration."
The evening came to a close with a vivid rendition of Everett's favourite Wilde quote, from the one of the author's most celebrate works, The Picture Of Dorian Grey. Having proclaimed his love for the author in "narrative mode", quoted Lord Edward's description to Dorian of a day during the previous summer:
"A wet Sunday, an uncouth Christian in a mackintosh, a ring of sickly white faces under a broken roof of dripping umbrellas, and a wonderful phrase flung into the air by shrill hysterical lips"
The delighted audience left enlightened by a side of Wilde that isn't often discussed, and an more intimate understanding of a singular actor's process. With Trinity's exhibition now open to the public, and Everett's film set to be released next year, it looks like the Wilde Renaissance is already upon us.
Find out more about Oscar Wilde: From Decadence to Despair at Trinity College here.
Aoife O'Connor