Read the latest blog from celebrated illustrator and Children's Laureate PJ Lynch...
Last year, I had a chance encounter with a teacher from Cork named Grainne. She asked if I'd be interested in bringing a new build school in Midleton to life with art. Yes! I said. A simple answer, to a simple question. But, as is often the way with simple ideas, they lead to something much, much bigger. I didn't know it at the time, but I had just committed to the most challenging and ambitious project of my laureateship - the Gaelscoil Mhainistir na Corann Big Picture!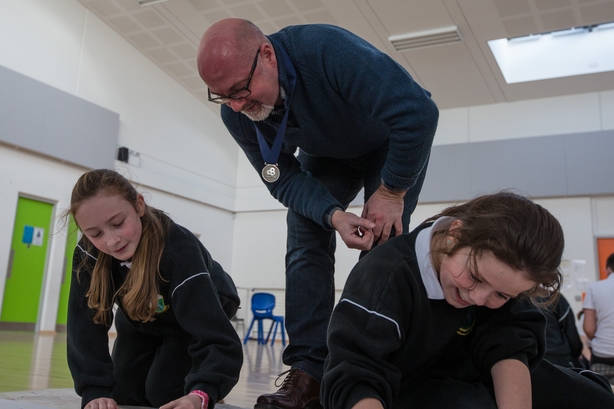 In December I opened Leabharlann Isaac at the school, and got to meet Muinteoir Grainne, Priomhoide Mairead, and the wonderful staff and pupils at the Gaelscoil. After a mountain of sandwiches, I was given the grand tour. What a building! A beautiful blank canvas! Before I knew it we were plotting murals, and a kind of operation transformation that would take place over a single weekend, turning the school into a veritable art gallery. Of course, I wouldn't be able to paint them all myself, so I promised to enlist Ireland's top children's book illustrators to help with the job. We were delighted with our idea - now all I had to do was tell the illustrators!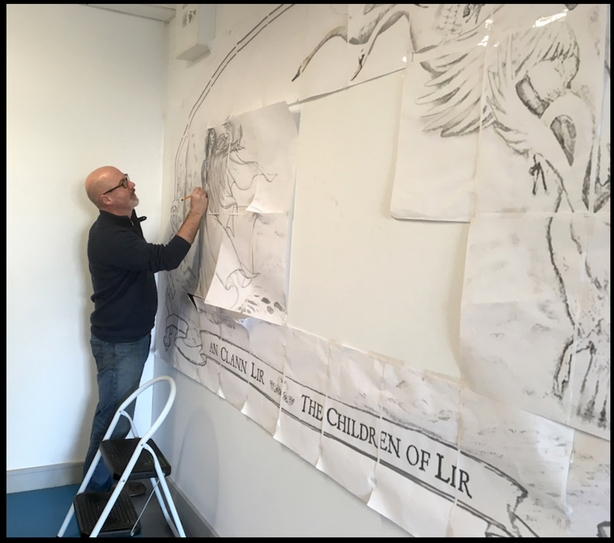 On the drive back from Midleton I start to worry that the deadline is crazy. What if none of my artist friends are insane enough to join in? I start by asking former Laureate na nÓg, Niamh Sharkey. She's a dab hand at big events, and her involvement might (I hope!) convince others to come on board. Niamh agrees straight away, and buoyed up by her enthusiasm I immediately call Chris Judge, creator of The Lonely Beast, and he too jumps at the chance. I am thrilled – and relieved.
Artists it turns out are dying for new challenges, especially ones that they can dive into together. Award-winning illustrator of Gulliver Retold, Lauren O'Neill says "it sounds like a laugh," and tells me to count her in. My old pal Marie-Louise Fitzpatrick and her husband, American illustrator Michael Emberley, are also keen to be involved. Marie-Louise wrote and illustrated a wonderful picture book called The Long March, which tells the story of the funds donated by the Choctaw nation to the people of Ireland during the Great Famine, and as Midleton is now home to a very beautiful sculpture, Kindred Spirits by Alex Pentek, commemorating the Choctaw gift, I know the school would love to see Marie-Louise revisit the subject for her mural.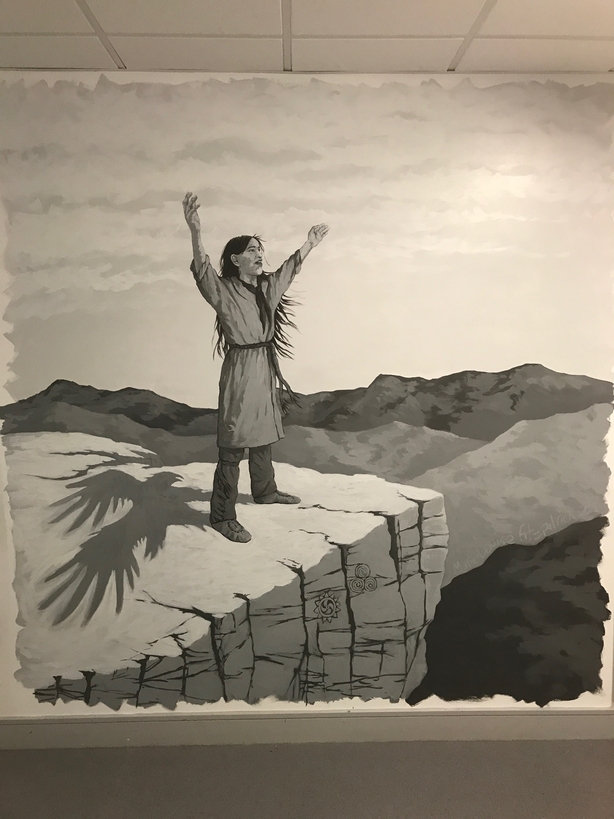 There is a lot of planning, I decide to paint a scene from my favourite Irish legend, The Children of Lir. We keep in touch with each other about our ideas, as the Big Picture weekend approaches, there's a mad flurry of emails and phone calls between the artists, consulting each other on techniques, specialist paints, drying times, and a set of brushes that somebody found in Aldi and which everybody agrees are "the business". There's a constant stream of couriers bringing materials to the school, and we can but hope it all arrives in time. Then, on the day we are due to travel to Cork, disaster strikes. Michael has a bad chest infection and won't be able to join us. It is a real blow - he will have to do his mural at a later date. Happily Marie-Louise is still coming along.
We arrive in dribs and drabs, and by late evening we have convened for dinner. Everyone is in good humour, if a little nervous about the task at hand. The murals are one thing, but there are over 500 pupils in the school and we have committed to engaging with each and every one of them. Niamh has the brilliant idea that we should do Monster Doodles in the school hall. These mass drawing events were a feature of her laureateship, and are a great way of working with big numbers, while giving each individual child a unique space to call their own.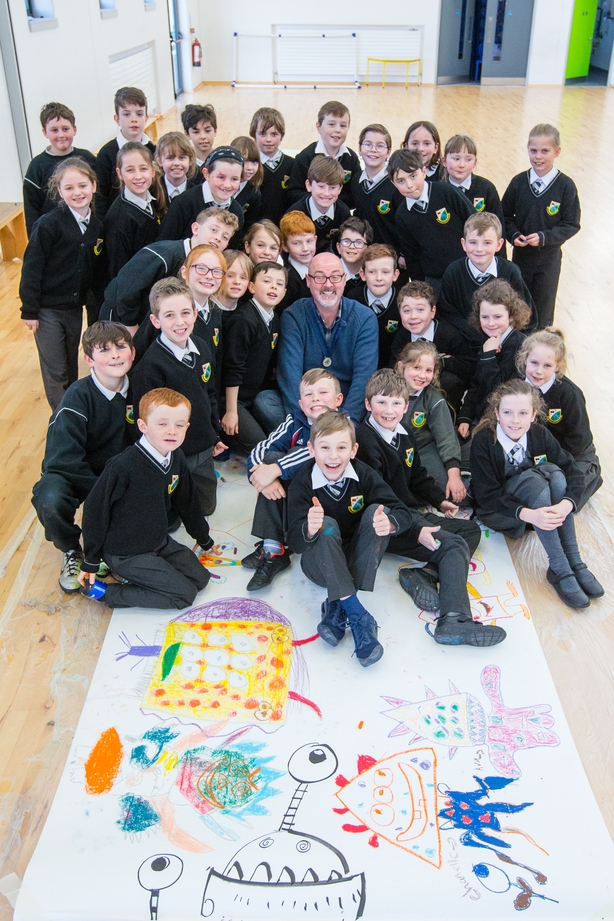 The children love getting messy, and their monsters are spectacular. RTÉ television arrive to film the Doodle, and there are photographers from the local and national papers. We have so much fun – too much, maybe – because when the school closes that afternoon, we are too exhausted to start painting our murals. We use the remaining light to prep our designated walls for the morning.
I have a linear version of my image blown up on forty-four A3 sheets of paper. I jigsaw it all together in position and start to trace the lines onto the wall. After the bustle of the Monster Doodle, it's calming to be suddenly alone, and drawing. Marie-Louise is using printed sheets like me, while Niamh and Lauren are projecting their sketches onto their walls. Chris – ever unflappable - is still composing his image. The light is dying, so we head into town for dinner and an early night.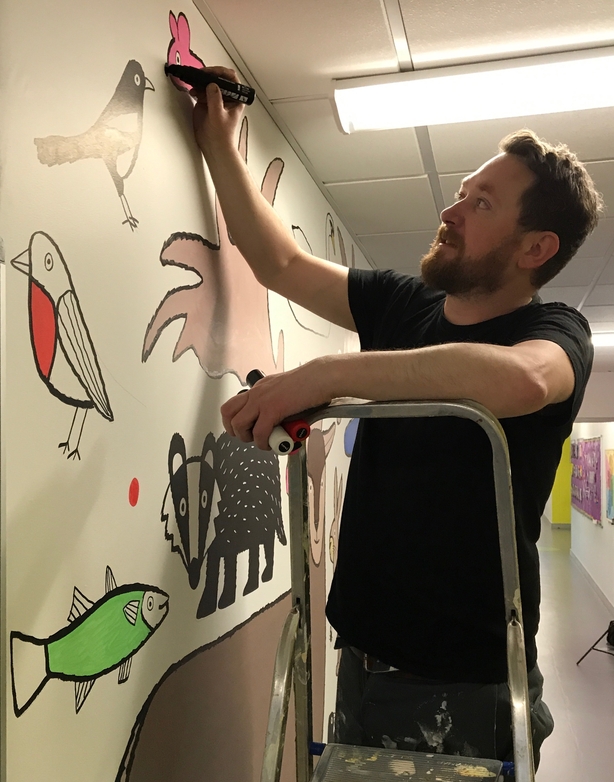 Come Saturday morning, everyone is eager to get started. Niamh and Marie-Louise are at one end of the building, myself and Lauren are at the other, and Chris is slap, bang in the middle. It is very strange to be in an empty school over the weekend. It reminds us of the movie The Breakfast Club, and certainly brings out the mischievous side in the artists. Chris is working beside the drama room and gets us all dressing up in wacky costumes; for another break, we play basketball in the gym. I don't know where all this energy is coming from. Coffee, most likely.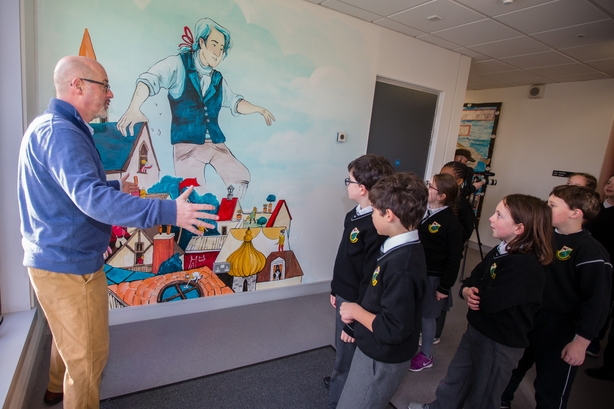 After a slow start, Chris's Irish animals mural is covering huge spaces really quickly. Lauren's Gulliver is taking shape too, and I've a good block done on my mural. At the other end of the building, Niamh and Marie-Louise are deep in concentration. At the end of our hard day's painting we all go for dinner to Muinteoir Gráinne's house. The craic is great, the desserts are copious, and we'd love to stay on 'til the wee hours, but we are exhausted with a long day ahead of us, plus it has started snowing and we are wondering if the school will be open at all for the big reveal on Monday.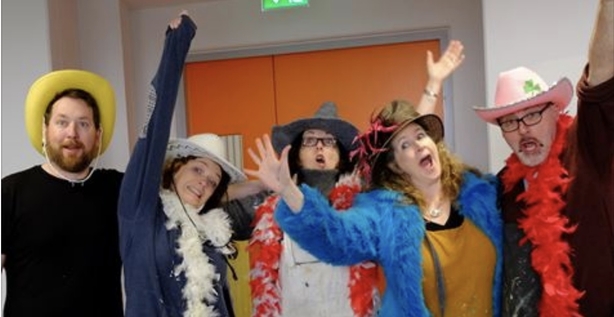 The next morning, I begin to worry that we've taken on too much, but it was my big idea, so I can't let it show. Chris and Lauren are due to leave Midleton today, and through focus and determination they get their murals finished and looking brilliant by mid-afternoon. That spurs the rest of us on. Marie-Louise has completed her landscape, but she still hasn't blocked in her Choctaw boy. I visit to offer encouragement, but as I approach the ominous words, "Keep walkin' PJ!" come down from the top of the step ladder. I have plenty of work to do on my own painting so I take Marie-Louise's advice.
Downstairs I chat with Niamh. Her great golden King of Ireland is looking fabulous to me but she's not entirely happy with it. We push on into the late evening. The light long gone, I apply a few last dabs of paint, and decide that my mural is done. I wrap up my gear and plod wearily down the long corridor to the others. Niamh's completed painting is so vibrant it seems to radiate light, and somehow Marie-Louise, in just a few hours, has painted the Choctaw boy with every detail perfectly realized. We are giddy and tired and relieved. We celebrate with a late supper and a few glasses of wine.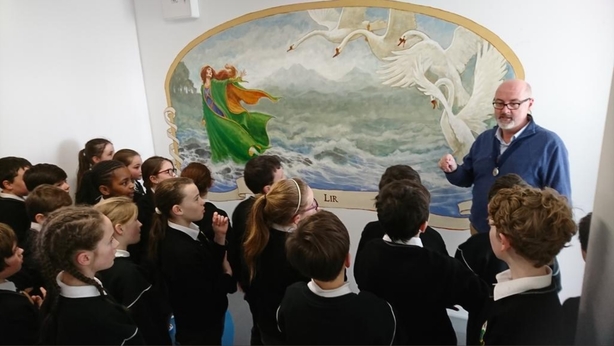 By 8.30am we are back in the school to unveil the murals. The children are amazed by the transformation, and are full of questions. We hope the murals will inspire them to read more about the Choctaw, or to find out who this Gulliver fellow is, or maybe discover if an Irish elk was really as big as the one Chris Judge painted on their school wall. Driving home I am so proud of the work everyone put into this Big Picture project. I can't quite believe we did it in just one weekend. I allow myself a little laugh… "Keep walkin' PJ!"