Read the latest blog from celebrated illustrator and Children's Laureate PJ Lynch...
Just back from holidays, and I am honoured to be asked to help celebrate the National Library of Ireland's 140th birthday. I am mad about libraries and the wonderful work that librarians do, so it's great to talk about the joy I have had from libraries and books over the years. During the speeches everyone, including me, is eyeing up the spectacular birthday cake. NLI director Dr Sandra Collins and I get the job of slicing it. I have heard of people devouring books…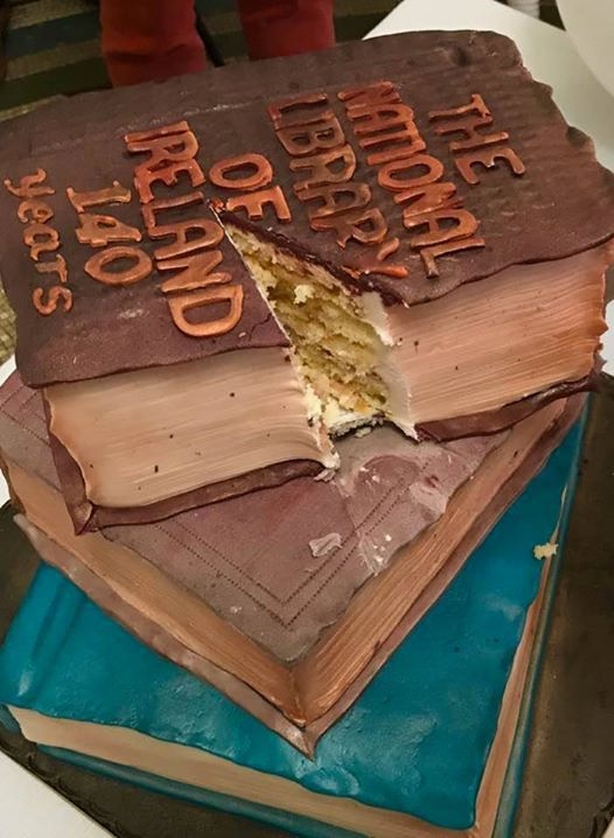 Between gobbling cake, I have fun drawing superfast portraits of lots of the children. Many thanks to all the library staff for hosting a great day.
Only a few days later and I am in another awesome library, the Long Room at Trinity College Dublin, to talk about one of Ireland's greatest cultural treasures, the Book of Kells. Trinity is launching a big competition inspired by the glorious art in the Book of Kells and I am to be one of the ambassadors and judges, along with Senator Lynn Ruane, whose lovely daughter, Jaelynne, came along to help us launch the competition. I can't wait to see the amazing artwork that comes in...
The SCOOP foundation does great work with children in Syria and Iraq, and I am delighted to have been asked to contribute a painting and a recipe to their fund-raising Artists' Cookbook. Big congratulations to Andy Sweeney for pulling together such a super production for such a great cause.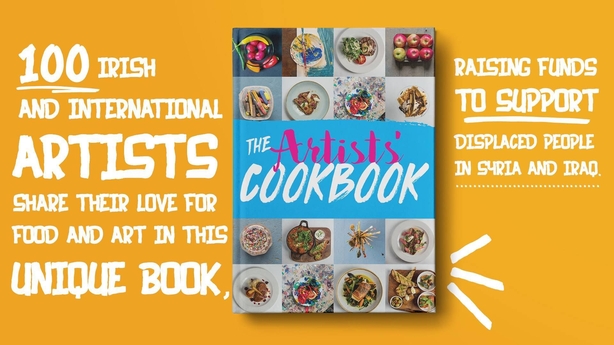 Next thing in a pretty hectic few weeks for me is opening the Irish Film Institute's Family Festival. All the children who are at the IFI for the movies get to help me populate our Big Picture of Dublin's rooftops with cats and dogs - and even a few dragons and monsters, too. By the end, there were a lot of dirty hands and happy faces...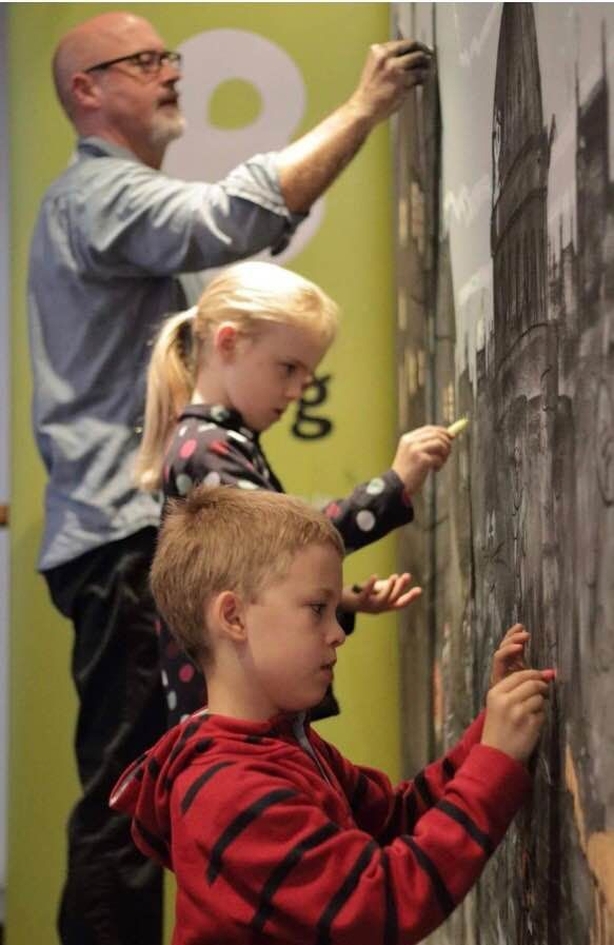 It is a joy to get out of Dublin and head south to the Kennedy country of New Ross, County Wexford. I am meeting up with Ryan Tubridy for an event at New Ross Library about our book Patrick and the President. We had a lovely group of children and adults, but the kids definitely took charge.
After the gig, we are all hugely impressed by the wonderful New Ross Library Park, featuring An Clog Mór Amphitheatre. The park was themed on writing, knowledge, learning and time and it has this giant fountain pen/sundial as its focal point.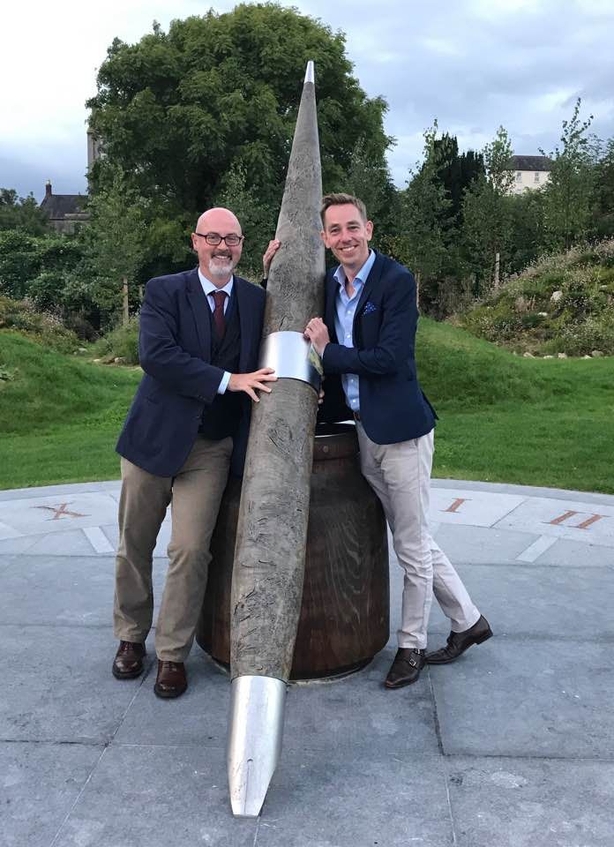 The pen IS mightier than the sword…especially if it's this size!
Home again, and I polish up my Laureate medal in anticipation of Anne Enright's final lecture as Laureate for Irish Fiction at the National Gallery in Dublin. Entitled The Count: What the figures say about being a female Irish writer today, Anne speaks humorously - but with real passion - on the gender imbalance in Irish theatre, publishing and book reviewing in Ireland today.
As one of a small minority of men in the audience, I cringe a little as Anne recounts the many slights that female writers have had to endure from the establishment, but then I reckon that as someone involved in children's books, and an illustrator at that, I know all about being sidelined by the literary establishment. It seems to me that in spite of representing a great percentage of books sold and our importance in terms of developing new generations of readers, children's books have always been looked down upon. And illustrators have always had to take second place behind authors. But things are certainly changing for the better, and Anne ends her lecture positively, noting that the imbalance is being redressed on stage and in newspapers… "I hope we will finally sit side by side. There is plenty of room," she concludes.
I couldn't agree more!
Up early and digging out the wellies, as we are doing a Big Picture wall in the Arts Council's tent at the National Ploughing Championships.
It's a gorgeous day and we head off very early very early to beat the traffic. Soon I find myself in front of our biggest wall yet. Luckily I have plenty of time, so I find a great helper in my young pal Senan, and we get a head start on drawing the scenery before the rest of the children join in. I decide that, given the agricultural vibe going on, we should portray the scene from An Táin where the White Bull of Connacht and the Brown Bull of Cooley battle it out to the death. Gory, but kind of appropriate, I think. There are dozens of warriors and colourful flags to be drawn and coloured, not to mention a lot of blood and guts.
Huge fun, and afterwards it is great to experience the sights, sounds and smells of the Ploughing Championships, including getting to see a lot of very impressive real-life bulls.
I am thrilled to be invited to Áras an Uachtaráain for a reception marking the twentieth birthday of Children's Books Ireland and forty years of Poetry Ireland. President Higgins and his wife Sabina couldn't be more welcoming, and the President, who is known for his devotion to the arts, gives a heartfelt speech on the importance of books and poetry for living life to its fullest.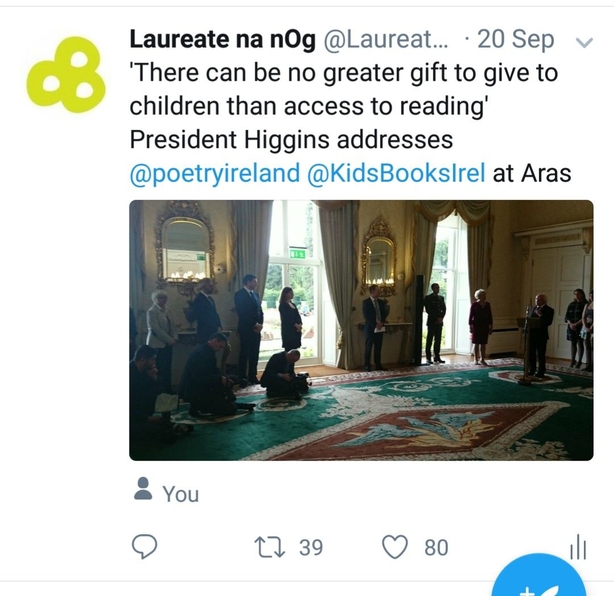 "There can be no greater gift to give to children than access to reading… To children's books people everywhere: keep doing what you're doing, you're doing something right!"
Just a few days later, CBI continues doing it right with their annual conference. There is a brilliant programme of presentations featuring Irish and international authors and illustrators such as Kate di Camillo, Cecelia Ahern, John Boyne, James Mayhew, Lucy Cousins and Chris Judge and, for me, after such a busy few weeks it is a huge pleasure to just sit back and be inspired!
Follow the Children's Laureate on Twitter and Facebook.