Ahead of their forthcoming reunion gig at Dublin's National Concert Hall, Colm O'Callaghan looks back at the career of Corkonian cult heroes Microdisney.
It sounds far better now than it may have been on the night in question but the first live band I ever saw was Microdisney. I was fourteen years old and, six months before The Smiths released Hand In Glove and turned the world upside down, it's not as if I either deliberately sought them out or if, indeed, I knew a single thing about them. But I watched on anyway as they thanklessly worked their way through a lo-fi, mild-mannered set, to mostly deaf ears, just the pair of them – Cathal Coughlan and Seán O'Hagan – not fifty feet away from me, lost on the vast, ornate stage at Cork's City Hall that extended as deep as it did wide.
I'd previously seen the name – and it's a terrific name – on some of the many posters plastered on the stud walls inside The Queen's Old Castle arcade, close to where Microdisney rehearsed in a small room over-looking Daunt Square, at the top of Patrick Street. And they'd feature sometimes in the odd piece in The Evening Echo, one of the local newspapers that chronicled their various mis-adventures. But beyond that I hadn't an iota and sure, why would I have had? Not many else did.
We need your consent to load this YouTube contentWe use YouTube to manage extra content that can set cookies on your device and collect data about your activity. Please review their details and accept them to load the content.Manage Preferences
I'd actually fetched up on Anglesea Street on October 7th, 1982, to see Depeche Mode, the London-based, Bowie-trousered dandies who were pushing their second album, A Broken Frame, and who were in town, I suspect, through the offices of the promoter and businessman Pat Egan, another sharply-dressed blow-in who seemed to be behind every single event of note in Cork at the time. I'd been ferried in from Blackpool by my father, who was based in The City Hall for fifty years and who, with a nod to one of the venue's regular security staff, sneaked me into the belly of the beast using one of the lesser-travelled routes, through a warren of long, cold corridors that smelt of detergent.
A Broken Frame had landed weeks previously and the departure of the band's primary songwriter, Vince Clarke, didn't seem to have altered the cut of Depeche Mode's jib much. In fact if anything, it was a far more cohesive and full-bodied collection of songs than that assembled on their debut, Speak And Spell and, with Martin Gore now running the show, also hinted at some of the darker order that would later come to characterise the band. But here, in decent nick on the back of their strongest singles yet, See You and The Meaning Of Love, Depeche Mode were an outwardly teen-focused pop band and a genuine star turn. And as such, they drew a healthy and diverse crowd to The City Hall, much of it male, many of them replete in cardigans, slip-on shoes, elaborate mullets and skinny ties.
I recognised some of them from around our school, lads you'd usually cross the road to avoid and for whom Smash Hits and gatefold sleeves tended to be mostly off-limits. But the raw lustre of Just Can't Get Enough and New Life, which were among the popular floor-fillers at the ribald teen disco of choice near-by at Saint Francis' Hall, was just  impossible to resist. Pop music at its most lethal has always been a great leveller and, strange as it might sound now, but Depeche Mode, like David Bowie and Queen during that same period and, later, even The Smiths, attracted a decent share of local toughs and hard feens, seduced like the rest of us by the pull of a decent tune, a good time and the prospect of – remote enough in most cases – gamey female company.
And in such a setting, Microdisney struggled to make the weight. They were baited throughout their set and found few favours from an unforgiving and impatient home crowd, eventually leaving the stage to general indifference, polite applause and sent on their way with the odd profanity. Needless to say, I thought they were magic.
It mightn't have been entirely obvious at the time but Microdisney had much in common with Depeche Mode, even if they often made like the very antithesis of what the London group, and it's growing support base, represented. And that's because, notwithstanding their tinny drum machine, loops and wires, chintzy synths and smart shapes, they were forever difficult to pin down, seemingly always at odds with themselves. A band pulling from a wide breadth of reference, much of it classic old-school, dealing in fragile pop songs over which Cathal, every time he opened his mouth, cast a long, loud and foreboding shadow. And that, basically, is the story of the band's entire career :- the eternal collision between the immovable object and the irrestible force.
But by late 1982, Microdisney were making decent headway. Pared back to a core of just Cathal and Seán, they were unrecognisable from the often incoherent post-punk outfit with notions that had featured two years previously on Kaught At The Kampus, a mini-album recorded live at the U.C.C. Downtown Kampus in Cork's Arcadia Ballroom that also included cuts from three other young local acts, Nun Attax, Mean Features and Urban Blitz, and that saw the light on Elvera Butler's fledgling imprint, Reekus Records.
Well read, whip-smart and with a field of influence that extended from Steely Dan to Nick Drake and Van Dyke Parks, the gut of their sound was based around Seán's soft, often acoustic guitar, Cathal's full- force and consistently under-appreciated tenor and his light hands around the keyboard. Like Depeche Mode, Microdisney too were plugging a record, albeit on a different scale. Their debut single, Hello Rascals, backed by Helicopter Of The Holy Ghost, had recently been issued on the emerging London-based, Irish-focused independent label, Kabuki Records, recorded the previous summer 'in a draughty, converted gym in South Dublin'.
We need your consent to load this YouTube contentWe use YouTube to manage extra content that can set cookies on your device and collect data about your activity. Please review their details and accept them to load the content.Manage Preferences
Thirty-five years, four fine studio albums and a series of re-issues and  compilations later, Microdisney are, I think, still to be properly critically evaluated in either a local Cork context or a broader national one - they've long been among the least most important footnotes in contemporary Irish music history. Not, you'd think, that they'd ever be pushed either way but, decades since Cathal, from Glounthaune, and Seán, born in Luton but returned with his family, met at a New Year's Eve party in Cork, all that really exists is a well-intentioned, fan-centred outline. But then Microdisney have never, either, enjoyed the broader appeal and wider regard bestowed on some of those who went before them and plenty of patently lesser acts who followed. Little wonder then that, after they took the Innisfallen ferry out of the harbour for good in the summer of 1983, they rarely returned to 'the village of Cork', as Cathal was fond of referring, at that time, to his hometown.
Beyond Microdisney's excellent airplay-friendly 1987 single, Town To Town, which briefly exposed them to a mainstream radio audience, much of what's known of them is based to a considerable extent on the numerous interviews, feature pieces and liner notes they did over the years and also, of course, on Cathal's lyrics. Mournful, autobiographical, outwardly political, funny, usually self-deprecating and, for a number of years, chemically-enhanced, he liked to sneak an arsenic drop into the compound too, routinely lending Microdisney's aspect a jagged and absurdist edge.
We need your consent to load this YouTube contentWe use YouTube to manage extra content that can set cookies on your device and collect data about your activity. Please review their details and accept them to load the content.Manage Preferences
And so this, after all, is the band who, on it's debut album, Everybody Is Fantastic, announced themselves with the lines: 'My mind, might take hours to change back to normal' while the opening track on it's excellent follow-up, The Clock Comes Down The Stairs draws the memorable conclusion - 'my wife is a horse'.
But if nothing else, Cathal and Seán can forever take credit for how they so quickly and effectively evolved Microdisneys's sound, either by design or otherwise. Less than two years after that tentative City Hall support, they'd released a fine, if arguably under-nourished debut album for the Rough Trade label and were already road-testing two of their finest ever songs, the imperious Are You Happy?, which fetched up on their second album and the imposing Loftholdingswood, which eventually buttressed the excellent three-track In The World e.p., released in 1985.
Having re-located into the bleak squatlands around South East London, and with little by way of financial support from their record company, Microdisney again found themselves in their natural habitat - the outside. The extent of the drudgery and drug-addled penury they endured during their first years in London has been long documented, and no more tellingly so than on The Clock Comes Down The Stairs, Microdisney's stand-out album and a record born out of – and committed to tape against the backdrop of – their dreary, day-to-day sundering.
And yet within the depths of that world weariness, the usual smattering of light and shade too, where the personal and political chaos of the words is often set, mostly effortlessly, against breezy and easy soundtracks, to which both Seán and Cathal – trading, for the duration, as Blah Blah – contribute handsomely. It was the Dublin writer and journalist, David Cavanagh who, on the excellent sleeve notes that accompanied the 1996 re-issue of the album – and not for the first time succinctly captured them better than almost anyone when he wrote 'Microdisney music was pop music. It didn't make them pop stars'.
Gerry Smyth and Sean Campbell, in their 2005 book, Beautiful Day: Forty Years of Irish Rock go deeper again. In specific relation to the circumstances around which The Clock Comes Down The Stairs was recorded, they write 'this period of experimentation had a transformative effect on the band, giving them a heightened perspective on mid-1980s London, with its burgeoning materialism and increasingly right-wing politics'. And no better boys to mine that seam either.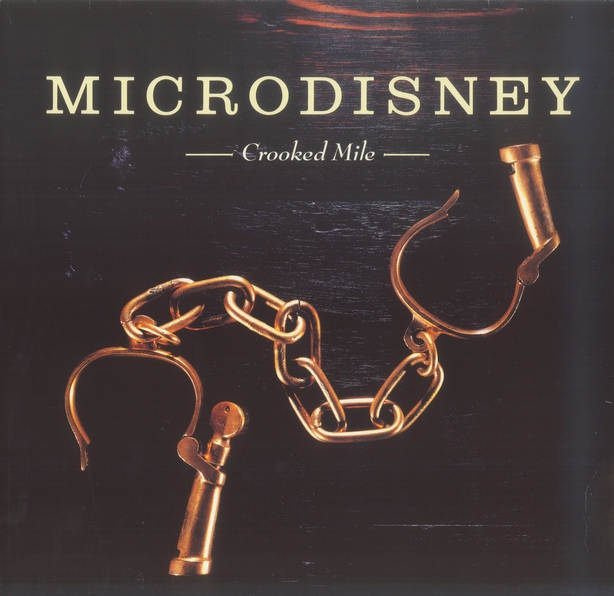 The two major label releases for Virgin Records, 1987's Crooked Mile and 39 Minutes, which was released the following year, saw the band's sound bulked up and Cathal's colloquial drawl watered down to the point where, in the pursuit of chart positions and radio rotation, the tension between the sweet and the carnage that had long determined Microdisney was nowhere near as obvious. And while it's a chronic over-simplification in many respects, the extent of that fork in the road is best seen in the tone and form of what Cathal and Seán went on to do next and with whom.
Coughlan formed the muscular, foaming Fatima Mansions who, on stage and on record, were a positively lethal deal while O'Hagan fetched up with the avant-indie outfit, Stereolab, before unfurling a long career as leader of the sun-blushed, semi-horizontal High Llamas, who owed to and borrowed liberally from Brian Wilson, among others.
We need your consent to load this YouTube contentWe use YouTube to manage extra content that can set cookies on your device and collect data about your activity. Please review their details and accept them to load the content.Manage Preferences
It's worth making the point that The Fatima Mansions enjoyed far more support and generated far more attention in Ireland – and in Cork, particularly – than anything that Microdisney had managed previously. Whether that was because the band's sound – which, although always outwardly aggressive, oscillated from the loud and furious to the serene and calm, often within the same verse – was more in keeping with the prevailing mood of much of the underground of the day or whether it was, purely, because the band was far more visible in Ireland throughout it's existence, is up for debate. As is often the case with this sort of basic revisionism, the actual answer may well lie in the half-way; Microdisney were indeed a band out of time and a band out of town.
A couple of summers ago, Theo Dorgan, the Cork poet, writer and long-time Na Piarsaigh clubman was asked, in the course of an Irish Examiner hurling preview, if he ever missed living in Cork. 'I don't', he replied, 'because I never left. I just live somewhere else'.
And for several years I was one of those who routinely annoyed Cathal Coughlan by putting the same question to him. But while he rarely articulated any degree of over-sentimentality for his hometown – and is far removed from that most risible of species, the professional Corkman in exile – I long suspected he was way more wired into the gut of the city and beyond, its people and prose, its songs and its ways – many of which are unspeakably bad, as many again unspeakably mad – than he's ever given credit for. In particular, I detected a keen ear for the O'Riada/Muskerry singing tradition which, although never apparent in Microdisney's output, may certainly have helped shape the band's spirit and define its humours.
A point which, as with much of the band's story, may one day become apparent to even the villagers.
We need your consent to load this YouTube contentWe use YouTube to manage extra content that can set cookies on your device and collect data about your activity. Please review their details and accept them to load the content.Manage Preferences
Microdisney perform The Clock Comes Down The Stairs at The National Concert Hall, Dublin, on Saturday 2nd June. This article originally appeared in The Blackpool Sentinel.